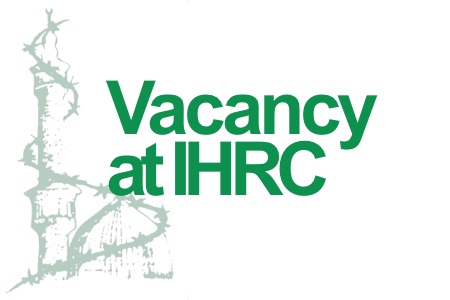 Title: Volunteer Coordinator
Salary: £19,000 pro rata.
Hours: 1 – 1.5 days a week (may include some evenings and weekends)
Term: 1 year contract, subject to 3 months probation.
IHRC hours are 10 am – 6 pm, and our offices are based in Wembley, London. Some work during unsociable hours may be required.
Deadline for application: 15th March 2019.
Interview Date: Week beginning 1st April 2019
If you are interested in this opportunity, please review the job description. Applicants should provide a CV with a covering letter briefly outlining why they want to work for IHRC and showing how you meet the essential criteria and main purposes of the job to huda@ihrc.org. If shortlisted, applicants will be asked to provide at least two full references.
About the organisation:
Islamic Human Rights Commission (IHRC), is a not for profit campaign, research and advocacy organisation founded in 1997. It is constituted as a company (no. 04716690) with a charitable arm (Islamic Human Rights Commission Trust, registered in the UK, no. 1106120). IHRC has consultative status with the United Nations Economic and Social Council.
Purpose of post
We are looking for a Volunteer Coordinator to provide support, development and oversight to IHRC's volunteers and interns; with a focus on volunteering in London. The role will support the team at IHRC with administrative work and to assist in implementing the volunteer strategy and plan, ensuring it is aligned to IHRC's overall objectives, to enable further growth in the contribution which volunteers make to the delivery of these objectives.
We are looking for a self-motivated candidate to become the Volunteer Coordinator. The Volunteer Coordinator will be responsible for the day to day management of volunteers and interns. The successful applicant will facilitate and manage the recruitment, training, supervision and retention of our volunteers. They are also responsible for maintaining volunteer records, rosters and schedules to ensure that they are utilised for the purpose of promoting and supporting the work of IHRC.
Duties and Responsibilities


Work closely with the management team to deliver on IHRC volunteering and internship programme. Key responsibilities are to:


Manage communication between volunteers and the various IHRC departments
Review the existing Volunteering Policy, Volunteering Plan and Handbook and write new ones for IHRC that complement existing documents
Devise volunteer role descriptions and recruitment documentation that integrates with the existing volunteering programmes
Maintain the current volunteer database and under the supervision of the management team seek to extend the IHRC volunteer database, locally, nationally and internationally
Together with the assistance of the management team, develop community networks to support the recruitment of volunteers
Maintain efficient administrative processes and procedures
To maintain regular contact with existing volunteers by telephone, messaging and email on a weekly basis
Support volunteer activity and maximise the effectiveness of the programme
Co-ordinate the delivery of internal and external training for volunteers and evaluate through feedback and consultation
Promote the programme using conventional and social media
Monitor and evaluate the success of the volunteering programme through regular feedback from volunteers
Provide progress reports for relevant internal teams and external stakeholders as required
Undertake any other appropriate duties as required by IHRC
Essential or Highly Desirable Qualifications, Knowledge, Skills and Experience:
A good level of education
Experience of volunteer management and ability to lead a team
Able to prioritise tasks and manage workload under pressure
Ability to plan/organise own workload and that of others
A good understanding of Islam and Muslim society
A passion for human rights
Experience of working with community groups in a public, private or voluntary setting
Experience of working in partnership with the voluntary, community and public sector
Able to identify and engage with relevant networks in order to promote project and aims and work with a range of people in different settings and with different abilities
Excellent interpersonal skills
Excellent communication and presentational skills with the ability to deliver material to a wide range of audiences, including regular reports to line manager and management team on the project progress and project plan
Manage own time and deliver agreed outcomes and ability to work independently but be guided by the management team where appropriate
Able to meet the travel requirements of the role
Computer literate