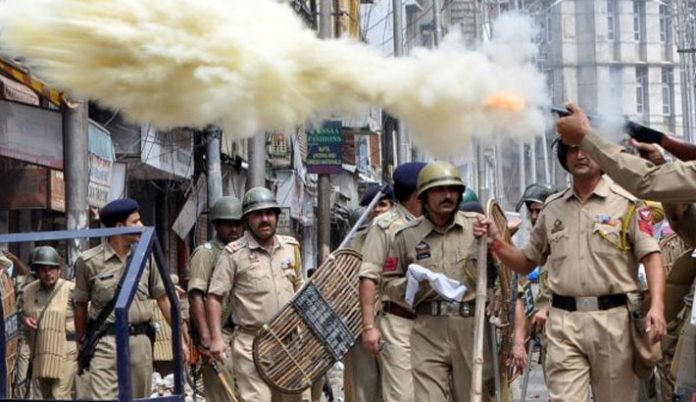 [Updated from 8 November 2016] Join the campaign for justice for Kahsmir.
---
Background
Campaigners wanting to take action in support of Kashmir and the rights of its people are encouraged to contact their Minister of Foreign Affairs and request their government immediately intervene in this matter. An action alert with a model letter can be found here. Further campaign actions will be posted shortly.
For an excellent summary of what has happened in the last few days and why the British government and the opposition must take action please read Shaista Aziz's article 'Both the UK government and Labour must do more for Kashmiris' here.
IHRC is calling on the international community to demand India not only pullout its recent troop surge of 38,000 but demilitarise the area which currently is one of the most militarised areas in the world with 700,000 troops deployed.
For latest commentary and UK based actions visit the South Asia Solidarity Group's Facebook page. Their monthly vigil against the rise of fascism in India features ongoing protest against the violations in Kashmir. The next is 17 August.
Find details of upcoming demonstrations after the Current Alert below.
Stand With Kashmir have issued a primer on how to campaign, which you can find below.
CURRENT ALERT:
ALERT: Kashmir – Demand international community intervene to end India's occupation
DEMONSTARTIONS:
StandWithKashmir demonstration, London, UK – External Link. Saturday 15 August, Trafalgar Square.
BRIEFINGS & ARTICLES:
Kashmir and Self-Determination: International Law as a Way Forward – An introduction to the situation in Kashmir, through a discussion of self-determination.
In 1947, Great Britain partitioned its South Asian colony India, into two new independent countries: 'Hindu' India and 'Muslim' Pakistan. The status of the colonies 565 princely states was impacted greatly as a result of this partition. These small states which previously had no allegiance to either dominion, following Viceroy Lord Mountbatten's recommendation had to choose between these two new nations.
Half Widows in Kashmir – The figures for 2010/11 shows that there are more than 1500 women currently living a miserable life as their husbands are either disappeared or missing.
India's crackdown in Kashmir: is this the world's first mass blinding? – [External link] A bloody summer of protest [2016] in Kashmir has been met with a ruthless response from Indian security forces, who fired hundreds of thousands of metal pellets into crowds of civilians, leaving hundreds blinded.
In India and Israel, the burden of protest falls on the victims of injustice – [External link] But Obama failed to acknowledge to his highly politicised audience the fact that the United States enabled, and often required, the "relentless tyranny of governments that deny their citizens dignity"
Kashmir: Act before foreign forces land in Srinagar – [External Link] Dozens of people, mostly school-going young men and women, have succumbed to the bullets fired by the security forces directly into their chests.
VIDEOS:
A journey through River Vitasta (Pawan Bali and Mohammad Urfi) – [External link] Vitasta is the ancient name of the river Jhelum that flows across the two divide parts of Kashmir. This film features the stories of people caught in the conflict and of families separated by the Line of Control between India and Pakistan.
Tales of Siege (Sheikh Adnan) – [External link] Filmed during the 2016 siege by a young Kashmiri filmmaker Sheikh Adnan.
The following videos feature raw footage of human rights violations in Kashmir
MEDIA:
Speakers seek UN role for Kashmir settlement; 2011 – Speakers at a seminar have said that human rights violation in occupied Kashmir are on the rise due to impunity that the Indian troops enjoy under draconian Armed Forces Special Powers Act in the territory. The seminar on Rule of Law and administration of Justice was organized by Islamic Human Rights Commission UK on the side lines of the 22nd session of United Nations Human Rights Council in Geneva.
ARCHIVED ALERTS:
Demand an end to the siege of Kashmir – IHRC are deeply concerned by the draconian and oppressive tactics of Indian forces in Indian Occupied Kashmir. Write to your MP and deamand their condemnation
Archived alerts – 1, 2, 3, 4, 5, 6
PRESS RELEASES:
Kashmir – Immediate action from the international community required – Today's decision by the Indian government to revoke the special status of occupied Kashmir is a setback to peace efforts and institutionalises further the persecution of its inhabitants.
International community should speak out against Indian actions in Kashmir – India has an atrocious human rights record in Kashmir, where forced disappearances, summary executions and rape are common practices in the Valley.
We Stand With Kashmir primer