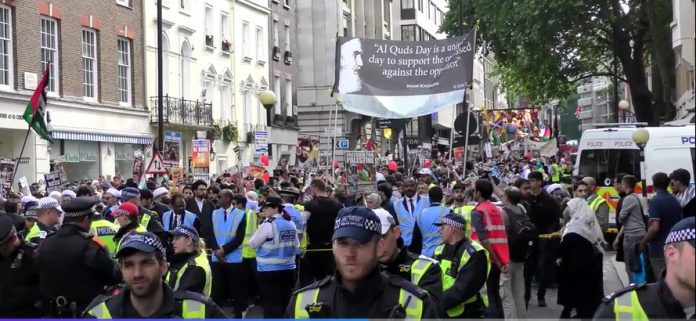 Hundreds of anti-Israel protesters marched through the streets of London for the annual Iran-initiated Al Quds Day march on June 10.
The group made their way in front of Saudi Arabia's embassy in Mayfair to Downing Street, where the British prime minister is based. Heavy police presence marked the protest as the demonstration was met by a crowd of Israel supporters along the route.
In the video, protesters chanting "Palestine will be free!" and calling for the boycott of Israel and an end to the country's violence can be seen alongside pro-Israel groups with Israel and UK flags, as well as their signs reading "Terrorist flags off our streets.
The video can be found on YahooNews published on 10 June 2018.