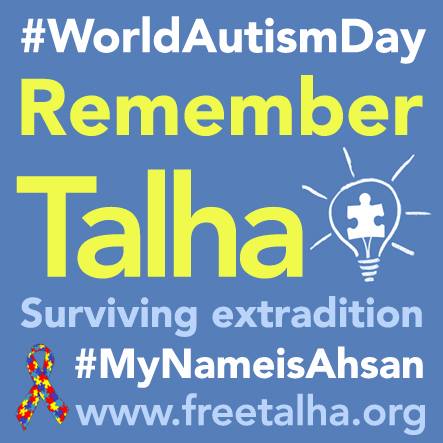 ---
REMEMBER TALHA
Autism is a condition that affects how individuals interact with the world and the people around them. This World Autism Awareness Day we're remembering Talha Ahsan. The British-born poet has Asperger Syndrome (a form of autism that changes how a person processes information) and was extradited to the US in 2012.
Spead awareness of Talha's plight by using the hashtag #MyNameisAhsan – tweet us your thoughts and how you're choosing to commemorate World Autism Day.
Talha's disability is aggravated by the conditions he is in – forced to stay in a sensory deprivation cell; he still persists and his amazing poetry can be found in the IHRC Bookshop. Make sure that he is not alone in his fight for justice by visiting Free Talha.
MY NAME IS KHAN
My Name is Khan follows the story of Rizwan Khan – a character with Asperger Syndrome. Lead actor Shahrukh Khan describes it as a 'disabled man's fight against the disability that exists in the world — terrorism, hatred, fighting…' In a post-9/11 world he faces a myriad of injustices. Buy it from the IHRC Bookshop now.