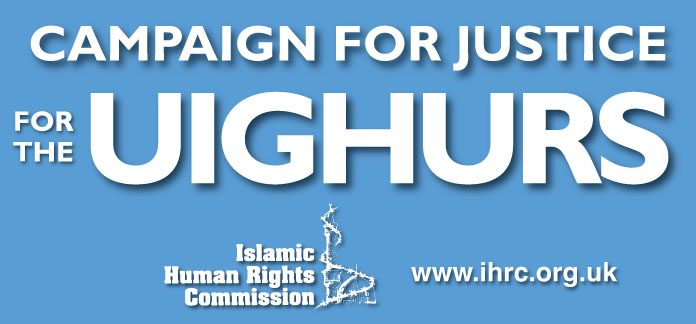 Launched 26 April 2019 [last updated 23 August 2019]
---
Join us on 21 August at 6.30pm BST (London, UK time) online www.ihrc.tv for the event, 'What's happening to the Uighurs?'. Read and watch more below to find out how you can help.
What's Happening?
The situation for Uighur Muslims in China has been a concern for many years. Reports of persecution included forced transfers, arrests without charge, executions, closures and demolition of religious centres and mosque, mass violation of religious rights and more.
IHRC is calling on campaigners to demand key Muslim and NAM countries demand China ends its persecution of the Uighurs. Many Muslim countries have key or growing economic ties with China. IHRC is calling on these countries and asking all campaigners to likewise call on them to take action. We will be issuing a weekly call between now and the end of Ramadan (early June 2019) for campaigners to write to two Muslim country leaders.
Please return to this page each week or join our main 'IHRC Updates' mailing list.
IHRC has sent researchers this year to assess the veracity of recent reports and they will be publishing their findings soon. You can search our site using the terms Uighur and or read and share the resources below.
What You Can Do
Write to the leaders of Muslim countries. We will be issuing an alert with a model letter, and the addresses of two leaders each week until the end of Ramadan (early June 2019). Find Week 1's materials here. Find Week's 2's material here. Find Week 3's material here. Find Week 4's material here. Please forward any responses you receive to us on info@ihrc.org so we can develop this campaign further.

Share this alert and the reports and resources, and encourage others to join this campaign.
Please ensure you share verified stories and information like those below. Despite this situation existing for decades, mainstream media has only given it importance now, often spreading unverified stories and cases.
Keep visiting this page for updates on the campaign. Bookmark it now, and please share it with friends and fellow activists.
Background resources
Videos
Uighurs: The Forgotten Muslims of China (2009)
Watch and share these three short videos from experts and activists from the region. They spoke at the launch of the IHRC exhibition 'Uighurs: The Forgotten Muslims of China' in London, UK.
Enver Tohti (14 mins)
Per Engström (10 mins)
Angelos Rallis (10 mins)
Reports
PHOTO ESSAY: REFLECTIONS ON CHINESE POLICY IN XINJIANG-UIGHUR AUTONOMOUS REGION (2010)
This photo essay provides an eyewitness account of a brutal pre-planned crackdown on Muslims in July 2009, as well as an overview of population transfers, the destruction of religious and cultural life, economic and social marginalisation and political persecution.
You can download this 100 page report including 100 pictures from this link. Please consider buying a copy here. All profits will towards the work IHRC Trust supports.
BRIEFING: Young-Uyghur Women Transferred from Rural China for Forced Labour in Eastern Urban Areas (2008)
This transfer programme should be placed within the context of the wider-scale phenomenon of suppression and human rights abuses perpetrated by the Chinese authorities against the Uyghur community.
UN Document: Islamic Human Rights Commission's written statement on China in relation to the Universal Periodic Review (2008)