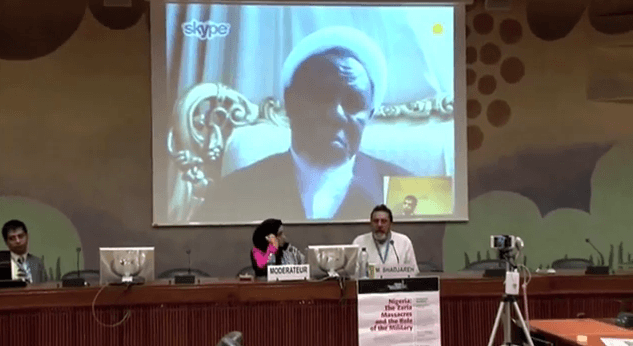 ---
On 19 September 2014, a side panel meeting entitled "Nigeria: The Zaria Massacres and the Role of the Military" was organized by IHRC in Geneva at the United Nations during the 27th session of the United Nations Human Rights Council.
---
Watch the video below, or read the report underneath.
Two eyewitnesses, Sheikh Ibraheem El-Zakzaky and Dr. Musa Shuaibu were present on the panel discussion through Skype video link as visa was denied to them and could not be physically present. IHRC's president, Mr. MassoudShadjareh presented the fact finding mission that IHRC undertook after the massacres.
On Friday 25 July 2014, one of the 50 plus nation-wide annual "Al-Quds day" demonstrations in support of the Palestinians was brutally attacked in Zaria by the Nigerian military. Some 33 people were killed, with some dying in custody. At least two more were killed the next day in a similar attack on the funeral preparations.'
Sheikh El-Zakzaky gave testimony on what happened. There was unprovoked and indiscriminate shooting by the Nigerian military on unarmed civilian demonstrators and bystanders. Some were killed after the shooting in custody. Sheikh El-Zakzaky himself lost 3 of his sons in the massacre, Mahmud, Ahmad and Hamid. El-Zakzaky said a fourth son, Ali, was shot in the leg and is currently being treated in hospital.
The military report on the incident was not factually correct and tried to lay the blame on the demonstrators and no government enquiry into the incident has been undertaken.
Dr. Musa Shuaibu gave testimony as a medical doctor who treated the injured in hospital that day. He descriptions of the injuries collaborate that the demonstrators were fired at indiscriminately and some victims were not allowed to reach the hospital for treatment.
Mr. MassoudShadjareh presented the fact finding mission that IHRC led to uncover what really happened that day. He showed slides which show the demonstrators were peaceful, did not hold any weapon and nor did they provoke the military. He also showed how bystanders were watching the demonstrations and did not feel threatened.
The detailed report by IHRC gives details how the Nigerian military started firing without warning, people taken alive in detention were later found dead, other victims were not allowed to seek medical assistance for hours and were brutalized. There was firing by the Nigerian military the next day as well.
The purpose of the side event on the Zaria massacre at the United Nations Human Rights Council recent session was to highlight the human rights violations committed by the Nigerian military with impunity and that there is no avenue for the victims to seek justice from the Nigerian government. The report by IHRC on the massacre is available by clicking HERE