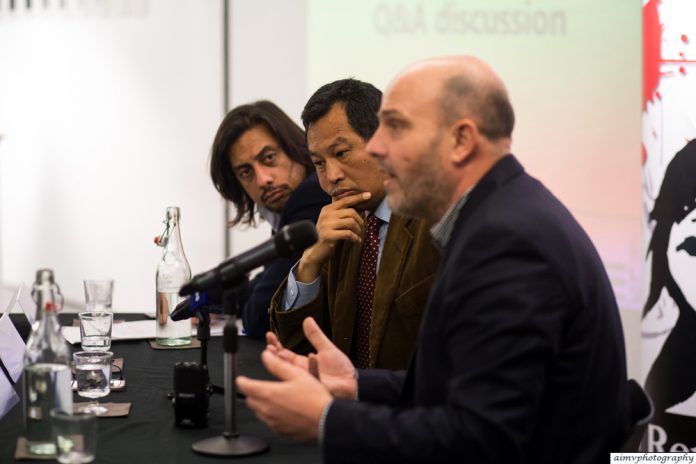 ---
On Sunday 21 January 2018, Islamic Human Rights Commission held its 9th annual Genocide Memorial Day event. The theme of this year's GMD was Failures of International Institutions in preventing genocide: Myanmar's Rohingya and Bosnian genocides.
The conference was opened by Mr Sayed Jalal Massoumi who recited different verses from Surat al Maedah and Surat Al Nisa followed by English translations.
Once again, Nazim Ali chaired the two sessions. The first panel featured Dr Maung Zarni and Demir Mahmutcehajic. Dr Zarni is a genocide scholar and Burmese human rights activist. He has written extensively on democratization, Islamophobia, and Rohingya genocide in his native country of Burma. He started his lecture talking about how genocide and civilization are a paradox. He pointed out how we have created these taxonomies of humans, cultures and societies and how white men have come at the very top. In Maung's words, this is the ideological framework that has been used and continues to be used to justify atrocities and crimes anywhere in the world. He stated that we are the only animal species that kill not simply for food but for our own irrational desires. Foremost, he had words for Aung San Suu Kyi, the Burmese military and Burmese society; denouncing their participation in perpetrating these atrocious crimes against Rohingya Muslims.
Following Dr Zarni, Demir Mahmutcehajic, a human rights activist and one of the founder member of IHRC, spoke about his own personal experience as a survivor of the Bosnian genocide and why after the genocide in Bosnia was committed, perpetrators systematically hid the remains of the dead. Further, he discussed the dehumanisation of the Bosnians as in doing so it became acceptable to kill, rape and assault them.
Before the second panel began, Narjis Khan, a lawyer and poet, performed a powerful poem entitled "Palestine" which impressed the audience. She described the horrendous and cruel living conditions of the Palestinian people under Israel's apartheid regime and how Palestine is an example to follow for its long struggle of resistance and freedom. Click here to read her poem
Nazim Ali introduced Michel Warschawski who spoke via Skype from the occupied Palestine. Warschawski is an Israeli anti-Zionist activist and co-founder of the Alternative Information Center (AIC). He discussed the problem and limitations of "one state" as a solution to the colonial conflict in Palestine and the future of Palestine in the Trump era.
The final speaker was Ramon Grosfoguel, a professor in the Department of Ethnic Studies at the University of California at Berkeley. Grosfoguel examined how the nation state provides us with the question of the human versus non-human and highlighted the idea of one nation with one identity and one population simply does not exist. In his own words, "Nations states are fictions. They don't exist".
The winners of the annual poetry competition for children ages 11-18 were announced by Latifa Abouchakra. Aferdita Hasani was the winner of the first prize for "Reminiscence". She was awarded with an all-expenses paid trip to Bosnia with an accompanying adult. Second prize was awarded to Mustafa Mohamed for "What am I?" who received a £50 IHRC bookshop voucher. Finally, third prize was awarded to Nawal Ibrahim for her poem "Life". She received a £30 IHRC bookshop voucher.
Lastly the names and numbers of various genocidal acts that have happened across the globe over the last two centuries were read out loud. Next, a minute of silence was held in remembrance of all victims of genocides by the speakers and attendees.
Closing remarks were delivered by IHRC's head of Genocide Memorial Day, Raza Kazim. He concluded the conference by thanking the attendees, speakers, volunteers and participants at the annual poetry competition for their efforts in participating. He emphasized that the world should not turn a blind eye to the Rohingya Muslims crisis and encouraged the audience to help those who are victims of persecution and discrimination as well as to speak out against tyranny, injustice and oppression.