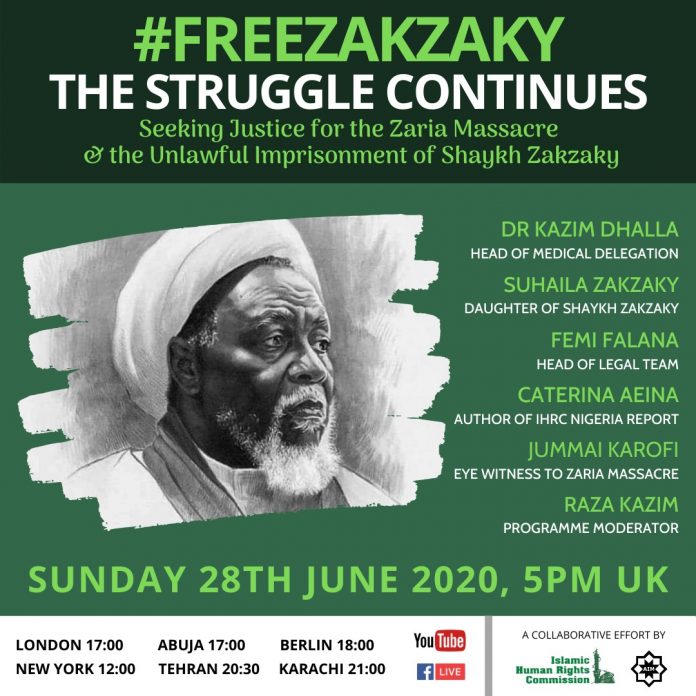 The Zaria Massacre took place in December 2015. Over a thousand were killed, and hundreds arrested. It is nearly 5 years and Sheikh Zakzaky and Mallima Zeenah remain imprisoned, the bodies of those killed remain in mass graves, and those responsible for the atrocity have not been held accountable.
The recent IHRC report sent to the ICC on the Zaria Massacre argues that the Nigerian government is actively seeking to destroy evidence of the events of December 2015 and urges the ICC to take action before it is too late.
IHRC held an online event on Sunday, 28 June to with a range of guest speakers to discuss updates on the matter and what needs to be done to end the injustice. Chaired by Raza Kazim (IHRC), he opens with an introduction into Sheikh Zakzaky and the Islamic Movement of Nigeria's activism, mentioning his slogan 'Our greatest weapon is the truth', a slogan which he has lived by and willing to sacrifice his life for. In a trip to London over a decade ago, Sheikh Zakzaky was speaking to an audience and he said, "My neck and our necks are not more important than the neck of Imam Hussein in trying to bring justice".
First to speak was Jummai Karofi, an eyewitness to the Zaria Massacre. Jummai shared her sentiments as a follower of Sheikh Zakzaky and recounted the emotional ordeal. She said that during the attack by military personnel, they had nothing to defend themselves with and so they threw stones and chanted 'Allah is the Greatest'.
Caterina Aeina, author of IHRC Nigeria Report, talked about some of the specifics of the issues in the case and how the international scene is working towards the case.
Femi Falana, Head of Legal Team, human rights lawyer in Nigeria and representative for Sheikh Zakzaky, spoke about the illegal attacks on unarmed members of the Islamic Movement and detention of Sheikh Zakzaky without trial, as well as the steps that are being taken to free Sheikh Zakzaky. The Nigerian government are losing case after case and are finding fewer reasons to keep Sheikh Zakzaky and Mallima Zeenah imprisoned. There is evidence of political pressure and interference in the judicial process that is keeping them incarcerated.
Dr Kazim Dhalla, Head of Medical Delegation, went on a fact-finding mission with a few other doctors and Massoud Shadjareh (Chair of IHRC), to see Sheikh Zakzaky's and Mallima Zeenah's health condition and to determine what can be done. Dr Dhalla said that they witnessed the 3 forms of human existence in Sheikh Zakzaky: the spiritual, the mental and the physical side. The mental and spiritual picture of Sheikh Zakzaky was that he was in a composed state of mind, and he and his wife was fasting due to Sha'ban. Within two days, the doctors were able to perform a comprehensive assessment and it took two weeks to compile a comprehensive 35-page report. Dr Dhalla noted that in his many years in medical practice, he had not seen multiple and serious pathologies in one person, that of which required immediate medical attention. He listed some of the pathologies of Sheikh Zakzaky: ischemic heart disease, hypertensive heart disease, liver and kidney problems, abnormal thyroid profile, soft body injuries, heavy metal toxicity, blindness in the right eye and vision being rapidly lost in his left eye.
Mallima Zeenah was found to have severe osteoarthritis and she could hardly stand, sit or walk without pain. She also had hypertensive heart disease, stones in her gallbladder, thyroid issues, high cholesterol and heavy metal toxicity such as cadmium, lead and arsenic which are found in bullets. They both also had multiple gunshot injuries. She was in constant pain and unfortunately no treatment was working. They also saw classic symptoms of PTSD such as lack of sleep, poor appetite and anxiety.
Dr Dhalla discussed Sheikh Zakzaky's treatment in India and commented on his and Mallima Zeenah's current condition in an overcrowded prison, which exposes both of them to various diseases and viruses including COVID-19.
The last speaker was Suhaila Zakzaky, daughter of Sheikh Zakzaky. She shared that one of the most surprising aspects during the December 2015 attacks, was that nobody imagined that soldiers would come to people's homes to kill them and as they continued to shoot, family members and followers of the Islamic Movement did not have a full understand of what was happening. She recounted that the soliders did not pick and choose who to kill, rather they shot anybody that moved, infant or elderly. Suhaila spoke about the nature of the current government's movement to imprison prominent individuals that speak out against the regime. She noted that their aggression in order to silence a way of thinking makes them stronger in their beliefs.
Keep up to date on the movement via the Nigeria Digest.