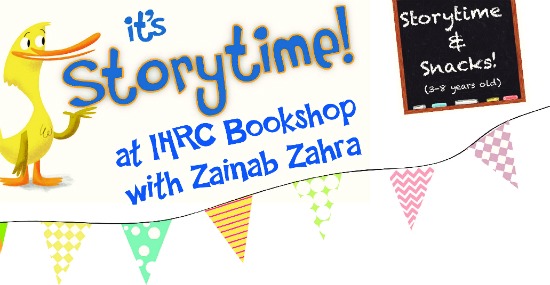 ---
Have your Children asked you "Where is Allah?" Join us on an adventure with Ilyas and Duck to find Allah.
Storytelling sessions are a wonderful way to share the joy of books. During this spring break we are hosting a children's story telling session on Thursday 17th April – bring along your children for a fun packed hour and a half of reading with Zainab Zahra. Story time at IHRC Bookshop not only gives your child the chance to listen to amazing fiction and non-fiction stories but also to interact with other children and share the joy of books.
All children must be accompanied with an adult. All ages up to 12 years are welcome.
Refreshments will be provided.
Come and Visit us at the IHRC Bookshop, Gallery and Information Centre
202 Preston Road Wembley HA9 8PA, London
Please RSVP nazia@ihrc.org
You can download posters for the event in PDF and JPEG format at the end of the page