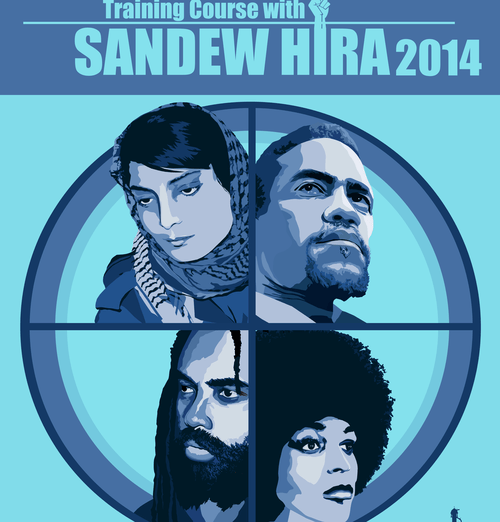 ---
Following on from last year's highly successful 'Decolonising the Mind' training, IHRC are hosting decolonial scholar and activist Sandew Hira on challenging one's own ideological, political and cultural colonisation.
From the Netherlands, Sandew is both an economist and historian. His first book on the struggles of Suriname was published in 1982 and since then he has written much more. He is currently the director of the International Institute for Scientific Research (IISR). The IISR aims to develop a network of organizations with vested interests in mental decolonisation.
WHEN: Saturday 31 May from 9am – 5pm
VENUE: IHRC Bookshop & Gallery, 202 Preston Road, Wembley, HA9 8PA (Nearest tube: Preston Road / Metropolitan Line)
A ticket costs £23 – if you are an OAP, student or unwaged you are elgible for the discounted rate of £18. Please buy tickets HERE. 
Download the complete version of the event artwork by Intifada Street artist Mohammad Hamza below.
PROGRAMME
8.30 – 9am Entree
9 – 9.30 am Introductions and Course outline
9.30 – 10.15am Lecture 1. Knowledge production, White Enlightenment and the mechanisms of colonising the mind: key concepts
10.15 – 10.30am Discussion
10.30 – 11.15am Lecture 2. The legacy of colonialism in five dimensions: geography, economics, politics, race and social relations and culture
11.15 – 11.30am Discussion
11.30am -12.15pm Lecture 3. The concept of scientific colonialism: how colonialism influences Eurocentric science
12.15 – 12.30pm Discussion
12.30 – 1.30pm Lunch
1.30 – 2.15pm Lecture 4. Decolonising the mind: challenges and strategies
2.15 – 2.30pm Discussion
2.30 – 3.15pm Lecture 5. Race, class and organisation for emancipation in the colonies, USA and Europe
3.15 – 3.30pm Tea break
3.30 – 3.45pm Discussion
3.45 – 4.45pm Exercises: techniques of decolonial debate and discussion
4.45 – 5.00pm Conclusions