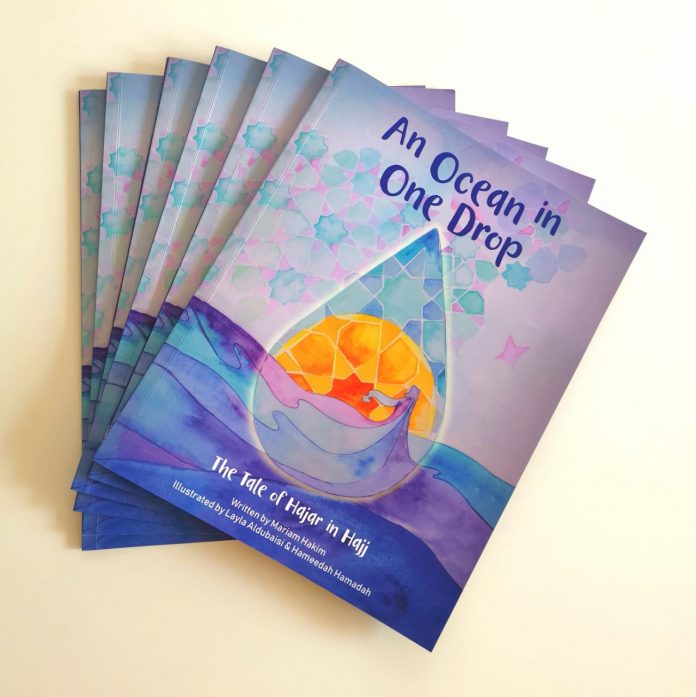 IHRC are delighted to welcome back author Mariam Hakim for a children's storytelling session for her book, An Ocean in One Drop.
An Ocean in One Drop is a children's picture book retelling the ancient tale of Hajar's desert struggle to find water for her infant son. This story is revered by Muslims worldwide and is honoured within the Hajj pilgrimage.The book promotes the power of women's narratives and is retold by Jamila's grandmother, who has returned from Hajj with some wondrous Zamzam water that connects to this traditional tale.
WHEN: Monday, 17 February 2020
TIME: TBC
WHERE: IHRC Bookshop, 202 Preston Road, Wembley, HA9 8PA
BOOK YOUR TICKET ON EVENTBRITE
The book is available to purchase online and in-store.
Free event
Refreshments available
Wudu and prayer facilities available
IHRC Bookshop is a minute's walk from Preston Road Underground station (Metropolitan line). Free parking on nearby residential roads is also available.
About the event:
This event is for families of all ages. Mariam Hakim will do a presentation and reading of An Ocean in One Drop, themed arts and crafts workshop and a book signing.
About the book:
An Ocean in One Drop is a children's book that tells the background story of the woman honoured within the Islamic Hajj and Umrah pilgrimage; Hajar.
During this pilgrimage Hajar's story is expressed through the core ritual of Sa'ee, which ends with pilgrims drinking holy Zamzam water. This ritual remembers Hajar's experience of being stranded in the desert, alone with her infant son, searching for water and help.
The Sa'ee tasks each and every pilgrim with reliving Hajar's story and following her footsteps, running between two large hills seven times.
An Ocean in One Drop recounts Hajar's desert struggle to young audiences, through the story of Jamila and her grandmother – who explains the importance of this pivotal moment within the Islamic faith.
Using poetic rhyming couplets and stunning water colour visuals, this children's book explores Hajar's narrative through the opposing themes of water and desert, life and death, and ancient heritage in modern times.
The book promotes the power of women's narratives so that future generations can transcend gender inequality and injustice.