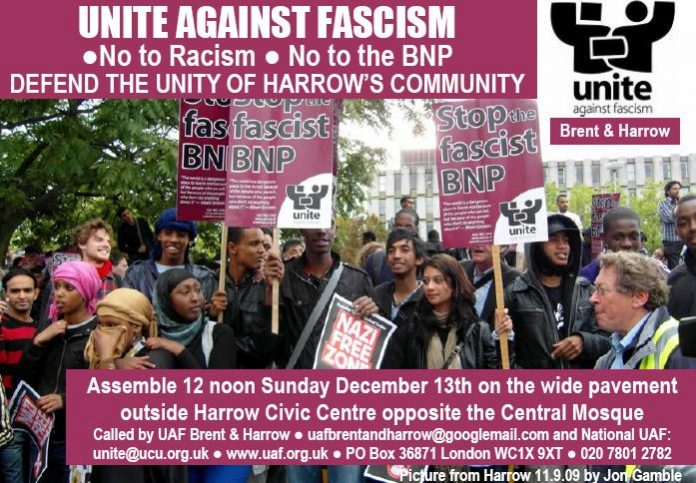 Stop the racists in Harrow this Sunday.
Anti-fascists from across London are set to come to Harrow this Sunday to defend the local mosque from racists for the second time this year.
A group called "Stop the Islamisation of Europe" – which brands all Muslims in Britain as "extremists" – is planning to march on Harrow Central Mosque on Sunday 13 December.
This group, together with the racist thugs of the English Defence League, tried to march on Harrow mosque on 11 September this year. But they were blocked by a magnificent turnout of 2,000 anti-fascists who defended the mosque and prevented the racists from getting near it.
Nevertheless there is no room for complacency. Despite being consistently outnumbered by anti-fascists, the EDL have been getting more aggressive at their anti-Muslim demonstrations.
Last Saturday in Nottingham they attempted to break through police lines and attack the UAF demo. UAF activists in Leicester and Hull received threatening phone calls from the EDL in the run-up to the Nottingham demo.
We need a similar show of solidarity this Sunday to show the racists that they are not wanted in multicultural Harrow.
Assemble 12 noon, Sunday 13 December, on the pavement outside Harrow Civic Centre, opposite the mosque on Station Road (nearest tube: Harrow & Wealdstone).
New layer…