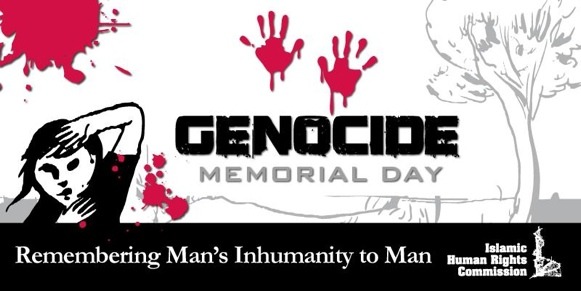 Genocide Memorial Day (GMD) is a day focused on remembering man's inhumanity to man. It takes place on the third Sunday of January each year.  It was started by IHRC in 2010 to commemorate past and ongoing genocides, and to raise awareness around genocide prevention.  Since then events have taken place all over the world. For more information please visit the Background Information page
This year's UK event took place on 19 January 2020. The theme for #GMD2020 was 'Genocide Through Sanctions'. Further events were organised through the Decolonial International Network will be held in Brussels, Amsterdam, Geneva and Mexico.
This site offers various multi-media resources for schools, universities, activists and the media.  It includes lesson plans for schools, documentaries, resource lists, previous event videos, podcasts, essays, reports, academic articles and details of the annual GMD poetry competition in the UK.