This last year, 2008-09 has seen the escalation of the Palestine conflict in the gross violations of human rights, which had taken a new, disconcerting turn. Yawm Al Quds (Jerusalem Day), held annually since 1979, is a demonstration in support of not only of Palestinians but the oppressed people all over the world.
This year's Al Quds Day Demonstration in London was held on Sunday 13th September, which generated and attracted a large audience. Organised by the Islamic Human Rights Commission, a UN accredited organization has spent over a decade of being dedicated to campaigning and raising awareness on the Palestine cause. The Al Quds demonstration attracts Muslims and non-Muslims from all denominations and has the support of a large number of organizations and groups. This year we had strong support from and were joined by various organizations such as Ahlulbayt Islamic Mission (AIM), Stop the War Coalition, CAMPACC, Neturei Karta, Muslim Association of Britain, Muslim Council of Britain, FOSIS, Islamic Centre of England, Friends of Al Aqsa, Friends of Lebanon, Palestine Return Centre, Respect Party, Islamic Student Association UK, British Muslim Initiative, Innovative Minds and Jews Against Zionism. Guest speakers included Roland Rance, Sheikh Mohammed Saeed Bahmanpour, Dr. Daud Abdullah, Yvonne Ridley, Taji Mustafa, Rabbi Ahron Cohen, John Rees with a speech read by Simran Khan and a poem read by Shabbir Rizvi. Nasheed artist Mujahid al Haq and his group sang a medley of nasheeds on Palestine. 
Demonstrators poured in from all over the country, from Birmingham, Luton, Woking, Edinburgh, Manchester and London in large numbers to participate in the march and rally. Such unity and commonality brought Muslims and non-Muslims together on the Palestine issue. Over 3,000 people turned up to march peacefully and protest on the issue of Palestine and Palestinian human rights. A tremendous amount of attention has been drawn towards Palestine due to the war in Gaza earlier on this year by the Israelis. Slogans were chanted, crowds were vibrant and extremely diverse and there was an immense amount of energy being drawn. Sisters and Brothers marching down showing unity and harmony and the presence of all walks of life, the youth, the young and the old, families, children, Sunnis and Shias, Jews, Christians, black and white communities gathered together to show solidarity between different people in the community.
Like every year, Al Quds march generated some unsavory opposition from the likes of Zionists groups, the anti-Iranian pro-Shah group and English Defence League (EDL). The disparity of the racist and Zionist groups was unnerving and disturbing as they were counter demonstrating side by side. Ironically it was an interesting combination to see – the inconsistency and oddness was evident emanating in a way that was almost alarming – did they understand why they were standing next to each other chanting? Did they know what each other stood for in terms of their policies? The EDL chanted slogans such as 'We hate Muslims' and 'Muslim bombers off our street' indicating a worrying level of discontentment and were vocally expressing their dissatisfaction of Muslims and what the event represents. The demonstrators were met by the counter demonstrators upon arrival at Piccadilly Circus who were considerably taunted at. Some covered their faces with scarves, whilst others wore football shirts and held up a sign declaring 'March for England' as they shouted 'English and we're proud of it'. They chanted and pointed fingers as the procession went past Piccadilly Circus en route from Marble Arch to Waterloo Place, Pall Mall.
However, a large number of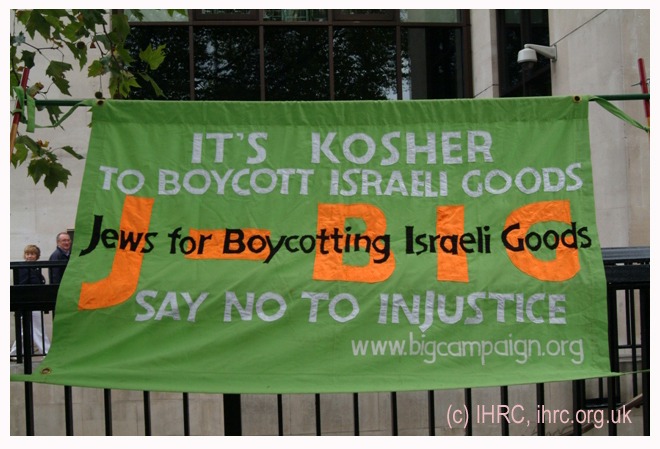 Metropolitan Police were employed to prevent any physical confrontation taking place. There was a heavy police presence in London amid fears that anti-Islamic groups would provoke and stir problems or create trouble during the march. Anti-Islamic sentiments at the march came as a result of the anti-Islamic protestors from the Stop the Islamisation of Europe who demonstrated outside the Harrow Central Mosque two days before the Al Quds march. It has been reported that several arrests were made as activists clashed with young Muslims and anti-fascist groups on the anniversary of the September 11 attacks. The presence of right-wing activists marked the latest in a series of confrontations in London, Luton and Birmingham. Thankfully, the Al Quds event passed off without any outbreak of violence or arrests. Counter protestors gathered to vocally oppose the demonstration whilst the police were on their guard and made a tremendous and conscientious effort to ensure and guarantee the safety of the demonstrators.
The media coverage and attention included from Sky, BBC, GMTV, Press TV and others. Articles were written by the Guardian, Daily Mail, the Independent and the Times Online. Media attention was drawn as a result of Greater London Authority (GLA) revocation of permission to use of Trafalgar Square in the final hours of preparation and the security and threats posed by counter demonstrators. Despite the GLA's revoking its permission of the use of Trafalgar Square worked in our favour as we were blessed with an impressive crowd of demonstrators. The GLA buckled under pressure due to the potential threats from anti-Islamic groups by ruling that the rally could not take place at Trafalgar Square as it had been doing so over the last 27 years. The GLA denied the decision last-minute and said permission to use the site was refused on the basis of not being able to acquire public liability insurance. Threats can be blamed by far-right groups such as the EDL who had issued a note on their website calling members to attend the march in an attempt to foil and disrupt it. Ironically the counter demonstrators were no match for the crowd that had gathered in support of Palestine and the oppressed people all across the world.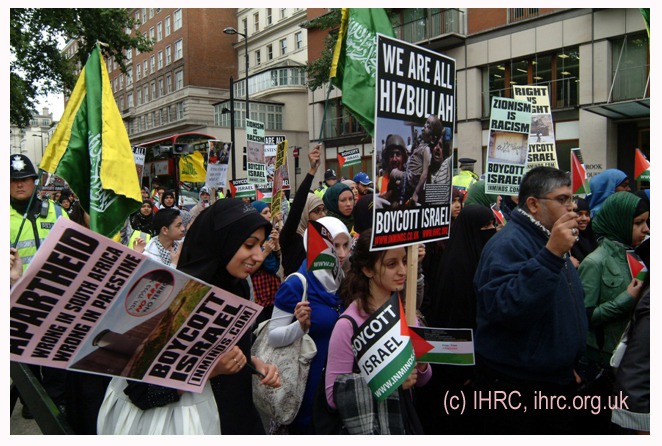 Despite several obstacles IHRC faced during the lead up to the event, it was nonetheless another successful event in support of the oppressed. A great thank you to all those who attended and participated in the march for a worthy cause and who played a role in making the event successful.
A gallery of photos of the evnt can be seen
here
.
By Meherun Nessa Khanom