IHRC Trust is raising funds to be sent for immediate aid to those injured by the shooting and other attacks on those taking part in the Arbaeen trek in Nigeria, and those protesting the incarceration of Mu'allim Zakzaky and his wife.
Emergency funds are urgently required for those who have been attacked and are suffering with grievous injuries. Over 60 people are currently dead and there are hundreds more who are injured.
DONATE NOW
Yahuza Habibu is a young child who has been shot repeatedly by the Nigerian army. Rejected by the National Hospital Abuja because of the severity of his injuries, he is currently being treatedelsewhere. Unfortunately, the specialist treatment he needs is not available in Nigeria and your donations are needed to support his treatment and to fund a life-saving operation overseas.
Muhammad is another young child that was shot in the head, as a result of which he has lost his sight partially. The severity of his injuries mean the local hospitals are unable to treat him, and he to needs your help to support his treatment and to fund a life-saving operation overseas.
There are others just like them with untreated bullets in their bodies and life threatening injuries who desperately need your help and support.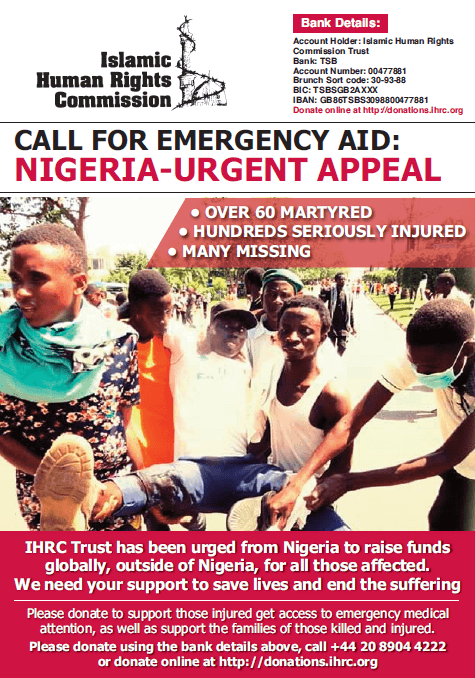 We have already supported 5 people who had bullets lodged in their head and torso. With the generous support of our donors we assisted these individuals in getting emergency operations to remove the bullets, and they are all now recovering.
It is only with your help that we can support the medical expenses of all those who have been injured and urgently require care that they are not receiving as well as the families of those killed or injured.
You can donate to support the medical expenses of those injured in the last few days by CLICKING HERE.
---
IHRC is an NGO in Special Consultative Status with the Economic and Social Council of the United Nations.
If you are reusing this alert, please cite the source.
For more information, please contact the office on the numbers or email below.
Telephone: +44 20 8904 4222
Email: info@ihrc.org
Web: www.ihrc.org.uk
"And what reason have you that you should not fight in the way of Allah and of the weak among the men and the women and the children, (of) those who say: Our Lord! Cause us to go forth from this town, whose people are oppressors, and give us from Thee a guardian and give us from Thee a helper."
Holy Qur'an: Chapter 4, Verse 75
Join the Struggle for Justice. Join IHRC.