—————————————————–
Islamic Human Rights Commission
—————————————————–
20 August 2009
Alert: USA – ACLU files a legal complaint over the detention of an American citizen in a CMU
Contents
1. Summary
2. Background
1. Summary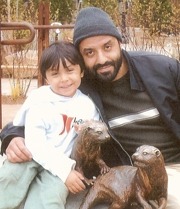 The American Civil Liberties Union (ACLU) filed a legal complaint to the U.S. District Court for the Southern District of Indiana over the detention of an American citizen in Terre Haute's controversial Communication Management Unit (CMU) facility. The unit is located in the medium security federal prison at Terre Haute, Indiana, and is effectively a 'Muslim-only' prison, with over 80% of inmates being Muslim.
Sabri Benkahla, who was born and raised in Virginia and who is a graduate of George Mason University, was studying in Saudi Arabia when he was kidnapped by the Saudi secret police in 2003, the night before his wedding. Mr Benkhala was promptly handed over to the FBI and flown to America. He was subsequently charged with supplying services to the Taliban and using a firearm in connection with a violent crime. After a bench trial, U.S. District Court Judge Leonie Brinkema found him not guilty. Brinkema called his arrest and transfer to American authorities "a Kafkaesque situation."
The Terre Haute CMU, which has been dubbed as 'Little Guantanamo', has been created to house prisoners that the US government views as terrorists. The overwhelming majority of prisoners are Muslims – but none have ever been convicted of terrorism related offences. So far, two CMUs have been formed, in Indiana and Illinois, without following the legal protocol required when establishing such a facility. There has been no public scrutiny or opportunity for public comment and oversight, which the ACLU says shows 'an attempt to skirt obligations of accountability and transparency'.
2. Background
Under the CMU program, telephone communications must be conducted using monitored phone lines and be live-monitored by staff. Calls are subject to recording and must be in English, which is causing severe problems for the families of those inmates who speak no English. All letters must be reviewed by staff prior to delivery or sending. Visits must be non-contact only, also live-monitored, and subject to recording in English. Telephone calls and mail are monitored, the number of phone calls is limited and visits are restricted to a total of four hours per month, according to special rules enforced by the Justice Department's Bureau of Prisons.
Most federal inmates are granted 300 minutes of telephone time per month. At the CMU, the policy is one 15-minute call per week, and this can be reduced at the warden's discretion to three minutes once a month. Federal inmates are also ordinarily granted all-day visiting every week or every other week. CMU grants only two hours at a time, twice a month, with no physical contact, and with inmate and visitor situated on opposite sides of a Plexiglas window.
Some of the prisoners inside the CMU have reported that the prisoners are no longer allowed to pray in congregation or recite the call to prayer and that the prison authorities have become very abusive towards them. More recently, windows are being blocked, so there is no outside view. Prisoners are not allowed to use the yard when trucks unload food or supplies. The restrictions are steadily increasing.
The CMU in Terre Haute currently houses 18 convicts, and will be able to accommodate more than five times that many. Among these are former directors of humanitarian charities, such as Enaam Arnaout of Benevolence International Foundation (BIF) and Dr Rafil A. Dhafir of Help the Needy (HTN). Neither has been convicted of terror-related charges; Mr Arnaout accepted a plea agreement by pleading guilty to one charge of "racketeering conspiracy," and after a long trial Dr Dhafir was convicted of violating the International Economic Emergency Powers Act (IEEPA) for breaching the UN sanctions on Iraq.
For more information regarding Mr Sabri Benkhala and the CMU, please visit:
http://www.aclu.org/prison/restrict/39924res20090618.html
https://www.ihrc.org.uk/show.php?id=3638
https://www.ihrc.org.uk/show.php?id=3662
https://www.ihrc.org.uk/show.php?id=3667
http://www.greenisthenewred.com/blog/communication-management-units-mcgowan/1747/
http://www.democracynow.org/2009/4/17/little_guantanamo_secretive_cmu_prisons_designed
——————————————————————————————
For more information, please contact the office on the numbers or email below
——————————————————————————————
IHRC is an NGO in Special Consultative Status with the Economic and Social Council of the United Nations.
Please help IHRC by visiting https://www.ihrc.org.uk/catalog and making a donation or buying an item from our on-line store.
If you want to subscribe to the IHRC list please send an email to subscribe@ihrc.org
If you want to unsubscribe from the IHRC list please send an email from your subscribed email address to unsubscribe@ihrc.org
IHRC is not responsible for the content of external websites, nor endorses them by providing their link.
If you are reusing this alert, please cite the source.
For more information, please contact the office on the numbers or email below.
"And what reason have you that you should not fight in the way of Allah and of the weak among the men and the women and the children, (of) those who say: Our Lord! Cause us to go forth from this town, whose people are oppressors, and give us from Thee a guardian and give us from Thee a helper."
Holy Qur'an: Chapter 4, Verse 75
Join the Struggle for Justice. Join IHRC.
Islamic Human Rights Commission
PO Box 598
Wembley
HA9 7XH
United Kingdom
Telephone (+44) 20 8904 4222
Fax (+44) 20 8904 5183
Email: info@ihrc.org
Web: www.ihrc.org