Quds Day Arrests
Sheikh Zakzakys' Passport Case
Locations of Quds Day Protests in Nigeria, 2022
Quds Day Arrests
Across the World, rallies and marches were held for International Quds Day. Most of them passed without incident and saw large numbers turn out to support the Palestinian people. Across Nigeria, there were marches in 30 different cities, organised by The Islamic Movement of Nigeria, the list of which can be found below this alert. Although practicing their democratic right to protest the apartheid Israeli State peacefully, the Nigerian security services attacked two of these marches (in Zaria and Kaduna). Zaria had previously been the site of violence perpetrated by the Nigerian Security forces against Quds Day protestors, including the infamous Zaria Massacre, where hundreds of peaceful protestors were murdered, most of whom were children, including 23 pregnant women, and entire families were wiped out of existence. There have been no confirmed deaths. However, 60 demonstrators were arrested, 56 in Zaria and 4 in Kaduna. Once again, the security forces engaged in terrorising policy against peaceful protestors for standing up for Palestine.
(Footage from march in Kano)
Sheikh Zakzakys' Passport Case
Meanwhile, the Islamic Movement of Nigeria leader, Sheikh Ibraheem Zakzaky and his wife Zeena, have taken the Nigerian Immigration Service, Department of State Services and National Intelligence Agency to court. The Nigerian State refuses to give them just cause for why they have lost their passports or why they are not issuing them with new ones. The state officials took Sheikh Ibraheem Zakzaky and his wife Zeena's passports when the couple was wrongfully arrested after the Zaria Massacre. Sheikh Zakzaky needs his passport to go abroad for treatment. He desperately needs appropriate medical treatment abroad due to his failing health, whilst the Nigerian government continues to delay proceedings. It is widely believed that they deliberately withhold their passports as they are concerned that Sheikh Ibraheem Zakzaky and his wife Zeena may expose the heinous crimes against them and their followers if they go abroad. Most of these crimes have been documented on our website at https://www.ihrc.org.uk/zakzaky/ . Yesterday (on 19 May 2022), the case about the passports was once again delayed as the defence attorney representing the Nigerian State (NIS, DSS and NIA) did not turn up to the proceedings, which have now been delayed until June 1st. These delays are nothing new for the couple who, when imprisoned, had not been released for years after the Nigerian supreme court had demanded that they be so.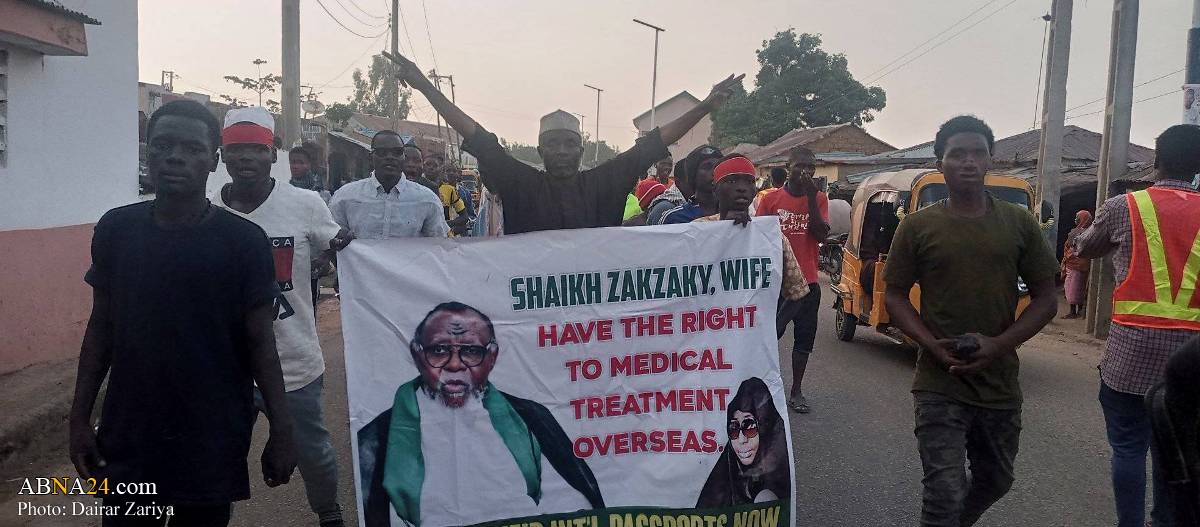 Locations of Quds Day Protests in Nigeria, 2022
Zaria
Kaduna
Abuja
Lafia
Kano
Hadejia
Talatan Mafara
Gusau
Sakkwato
Malumfashi
Dutsina-Ma
Katsina
Lokoja
Saminaka
Jamhuriyar Nijer
Damaturu
Potiskum
Nguru
Jos
Gombe
Yola
Dandume
Bauchi
Daura
Suleja
Udawa
Magamar Jibiya
Illela
Kankia
Funtuwa (yau aka yi).