There will be a Q&A session as well as a book signing with light refreshments. The book A Fundamental Fear will be available on the night for a 15% discount.
"A Fundamental Fear (Zed Books) is a provocative account of the ways in which Muslim identities have come to play an increasingly political role in recent years… Innovative, it shows how Islamic movements — despite the wide variety of their manifestations — are best understood as a continuation of political and cultural decolonization… It is necessary reading for all those who are interested in the Muslim world — in both its state and diasporic forms — as well as academics concerned with questions of 'race' and place in a poststructuralist context."
Thursday 22 September 2011, 6.30 pm to 8.30 pm
Download the poster (jpeg) from here or as a PDF from the end of the page.
{jathumbnail off}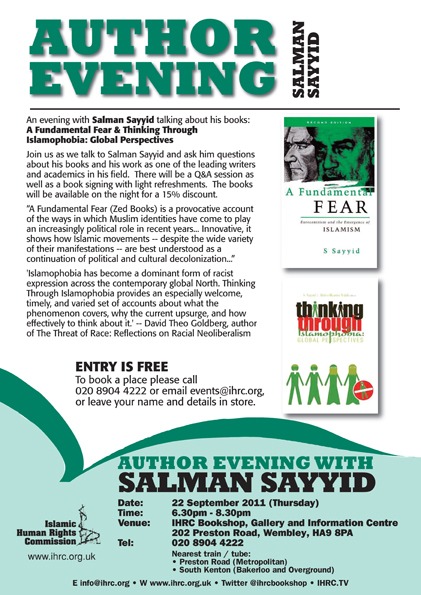 Please email events@ihrc.org to RSVP or leave your name in-store
IHRC Bookshop, Gallery and Information Centre
202 Preston Road
Wembley
HA9 8PA
Twitter @ihrcbookshop