Join us for an author evening with Hafsa Lodi, and guest speaker Mariah Idrissi, to discuss the book Modesty: A Fashion Paradox. This event will be chaired by Mariam Hakim (founder of Waw Stories). Purchase Modesty from the IHRC Bookshop.
The world of modest fashion is ever-evolving; what it means and how it applies to Muslim women (and beyond) can vary vastly. Join us for a no-holds barred author evening where our speakers discuss the issues within the world of covered fashion, and explore the controversies that lie at the heart of the modest fashion movement. The panel will share their thoughts on the language, new developments, political considerations, and hot topics from the world of modest fashion.
WHEN: Tuesday, 20 June, 6.30pm BST
TICKETS: £5-6 – purchase here
WHERE: IHRC Bookshop (202 Preston Road, Wembley, HA9 8PA) or watch live on YouTube (online tickets will be emailed to you an hour before the event is due to begin)
About the book:
Modest fashion has been gaining momentum in the mainstream global fashion industry over the past half-decade and is now a multi-billion-dollar retail sector. Its growing and now consistent appearance on high-profile fashion runways, on celebrities and in the headlines of fashion publications and news outlets, has shown that the modest fashion movement is hugely relevant to consumers. This is particularly true for millennials who are attracted to the feminist influences behind concealing your body, follow faith-based dress codes, or are attuned to social media, where more and more modest fashion bloggers are using imagery to inspire their followers. While the movement can credit European high fashion houses, like Gucci, for making conservative dresses and layering "in style" and "on trend," and subsequent Western labels like DKNY, H&M and Mango for dabbling in the realm of modest wear, it is the newly emerging group of faith-influenced fashion brands who are driving the revolution, along with a new crop of Muslim fashion bloggers. These have helped catapult demure dressing trends globally.
This book speaks to the various personalities and companies who have helped shape the modest fashion industry into such a significant retail sector, while also exploring the controversies that lie at the heart of the movement, such as one pressing question: even if it covers the skin but is flamboyant, modeled with the purpose of attracting attention, and publicly promoted on social media, can fashion truly be modest?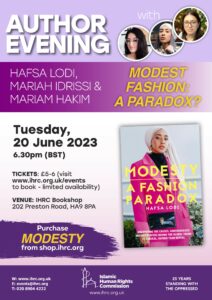 About the speakers:
Hafsa Lodi is an American journalist who has been covering fashion in the Middle East for the past decade. She was born in New York City, and at the age of 14 relocated to the United Arab Emirates with her family, where she attended Dubai American Academy while interning after school with one of the region's leading publishing houses, ITP.
After completing her undergraduate studies at the Ryerson School of Journalism in Toronto, Hafsa moved to London for a year, where she earned her master's degree in Islamic Law at the School of Oriental and African Studies. The relationships between religion, culture and modernity have always fascinated Hafsa, who covered topics like honour killings in Canada's South Asian communities, the use of DNA evidence in rape cases in Pakistan and the industrialization of the Holy city of Makkah, before turning to the fashion journalism beat. While living in Dubai, Hafsa has written for The National newspaper, Luxury Magazine, Mojeh Magazine, Velvet Magazine, Savoir Flair and Vogue India, in addition to working as an online fashion editor for one of the Middle East's largest luxury retailers, Boutique 1. She is a freelance stylist, and also has a part-time clothing line, creating whimsical maxi-cardigans and kaftans during Ramadan, and statement hand-embellished sweatshirts for the winter seasons.
Mariah Idrissi is a Model and Writer from the UK. She became recognised as the world's first hijab wearing model in 2015 when featuring in a global campaign for H&M. 
 Mariah signed to Select Models in 2016 and moved to sign with Premier Models in 2022. In 2017, Mariah was on the cover of Emirates Woman magazine and featured in a Rihanna FENTY beauty campaign. The Telegraph's Fashion News and Features Editor, Bibby Sowray credits Mariah Idrissi as "One of the first to make waves in the industry".
In 2018, she became recognised as a MIPAD – Most Influential People of African Descent by the United Nations. Mariah travelled to Niger with charity 'Islamic Relief' and wrote for The Guardian about their work against violence towards women and girls. Mariah became an ambassador for charity 'Human Appeal' in 2023. She produced a short documentary for Comic Relief around homelessness as one of their 'Creativists'. In 2019 she won the 'Young Achiever' award at the Arabian Business Awards in London.
Mariah has co-written episodes for an online series called 'The Halalian's accumulating millions of views online. She is currently co-writing and co-producing a feature film.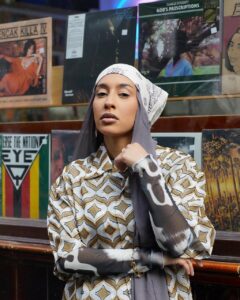 Mariam Hakim is a Communications professional and writer based in London. She is the founder and author behind Waw Stories, a small children's publishing imprint focussing on celebrating powerful stories from Muslim cultures. She is also a school Governor and busy mum!
Mariam's words go beyond writing for children and she has focussed on issues to do with Muslim women's representation, Islamophobia, interfaith understanding and inclusion within publishing. Mariam is interested in how we can better promote the representation and contribution of marginalised communities and what can be done to challenge discrimination against Muslims.
You can follow her online and visit her children's publishing imprint Waw Stories on instagram @WawStories.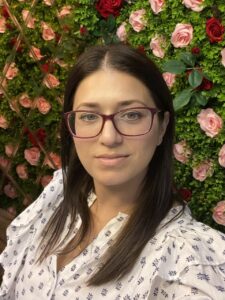 TICKET REFUND POLICY:
Venue and online admission tickets are refundable up to 24 hours before the event is due to begin. The Eventbrite fee is nonrefundable. Please contact events@ihrc.org for more information.