Join us for an author evening with Mostafa Salameh for his book Dreams of a Refugee: From the Middle East to Mount Everest. This book is available to purchase from shop.ihrc.org.
WHEN: Friday, 10 December 2021, 6.45pm GMT
WHERE: watch online on IHRC.TV, YouTube and Facebook
This event is no longer taking place at the IHRC Bookshop. It will be live-streamed on IHRC. TV, YouTube and Facebook. Join the conversation and send in your questions and comments during the live-stream.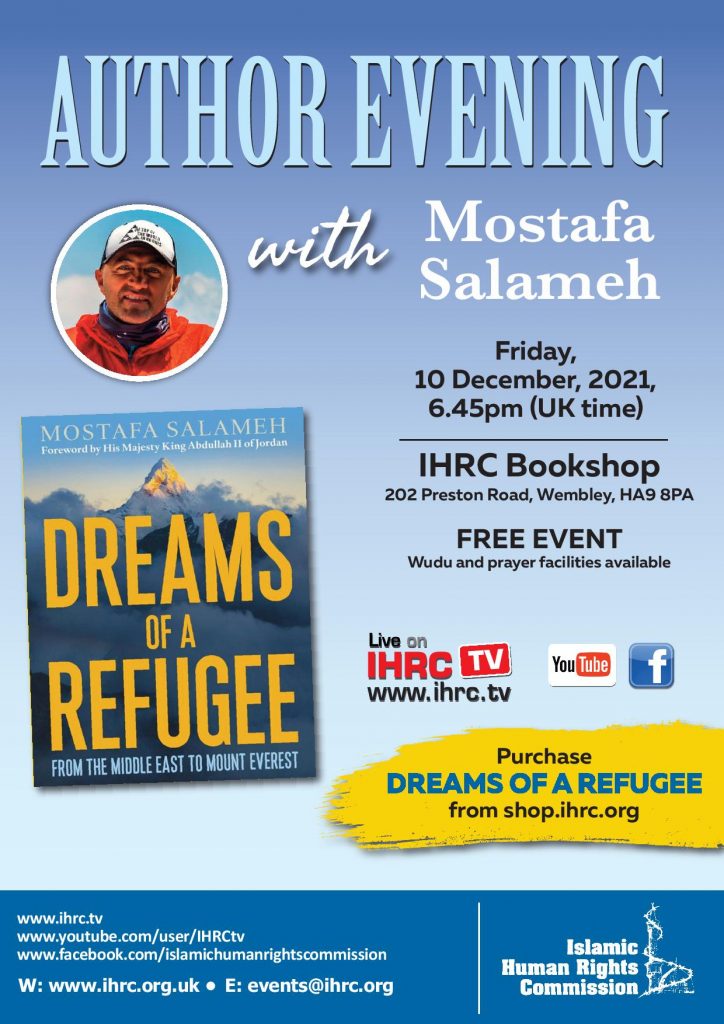 About the book:
Dreams of a Refugee is the extraordinary story of Mostafa Salameh, born in Kuwait to Palestinian refugees. After a childhood in the camps and a series of low-paid jobs, Mostafa was given a rare opportunity to travel to London, working in hospitality at the Jordanian Embassy. From there he moved to Edinburgh, where he took up a life of parties and nightclubbing. Religion played no part in his thinking.
All this was to change. One night, Mostafa awoke having dreamt that he was standing at the top of the world reciting the adhan, the Muslim call to prayer. He took this as a sign that he needed to accomplish something previously unimaginable for a person in his position – to climb Everest. Despite having no prior mountaineering experience, Mostafa sought help from friends and sponsors and, having failed twice, finally summited Everest on Jordanian Independence Day, May 25th 2008. He went on to become the first Jordanian to climb all 'Seven Summits' and reach the North Pole. In early 2016 he skied to the South Pole, via a new route, completing the elite 'Explorer's Grand Slam' and joining a club of only thirteen adventurers ever to have achieved this feat.
Yet exploring is only part of the story. Now a devout Muslim, Mostafa is committed to spreading the message of tolerant Islam, working with refugees and young people to help them further their goals. Through climbing he has raised hundreds of thousands of pounds for charity. His future projects include leading an all-female attempt on Everest, as well as numerous charitable climbs and leadership programmes. Mostafa is also a regular public speaker both in the UK, Middle East and further afield.
This new paperback edition of Dreams of a Refugee includes a foreword by His Majesty King Abdullah II of Jordan, as well as photographs of Mostafa's climbs and his charitable work. Entertaining, inspiring, and often surprising, Mostafa is honest about both the positive aspects of his life and its past excesses, and discusses his discovery of Muslim faith. His message ultimately is a simple one: 'Each of us has an Everest inside us, which we each can summit, if only we dare to dream'.