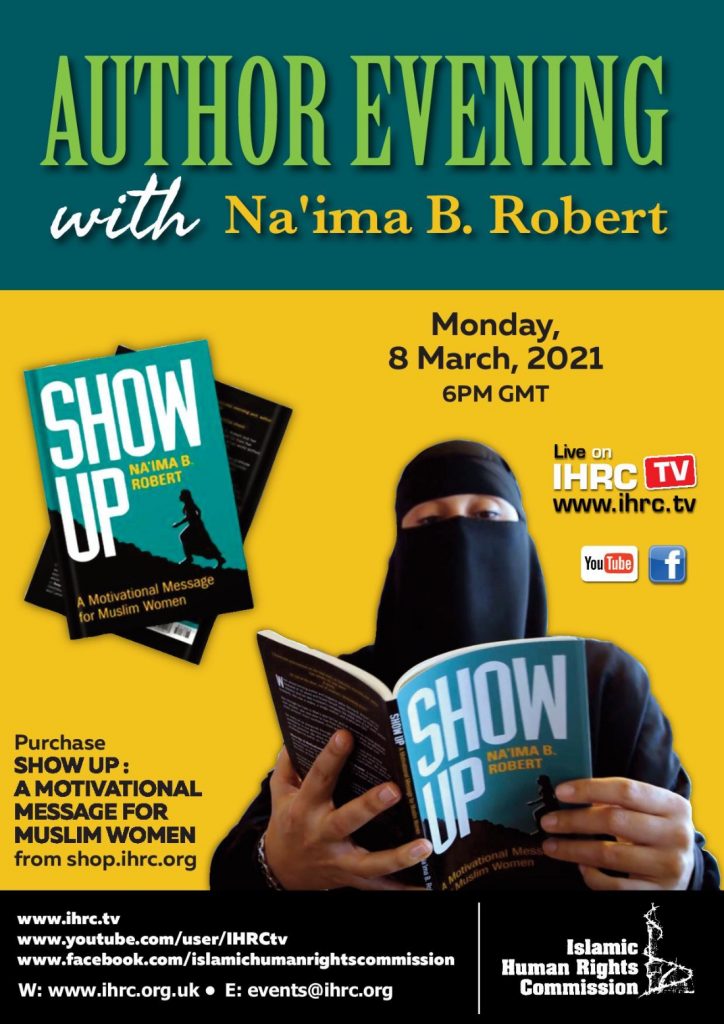 Author Evening with Na'ima B. Robert
Join IHRC for an author evening with Na'ima B. Robert who will be discussing her latest book, 'Show Up: A Motivational Message For Muslim Women'.
PRE-ORDER YOUR COPY OF SHOW UP
WHEN: Monday, 8 March, 2021
TIME: 6pm – 7.30pm (GMT)
WHERE: watch the event LIVE on www.ihrc.tv, Facebook
and YouTube.
Also available at IHRC Bookshop is the following publication by the author: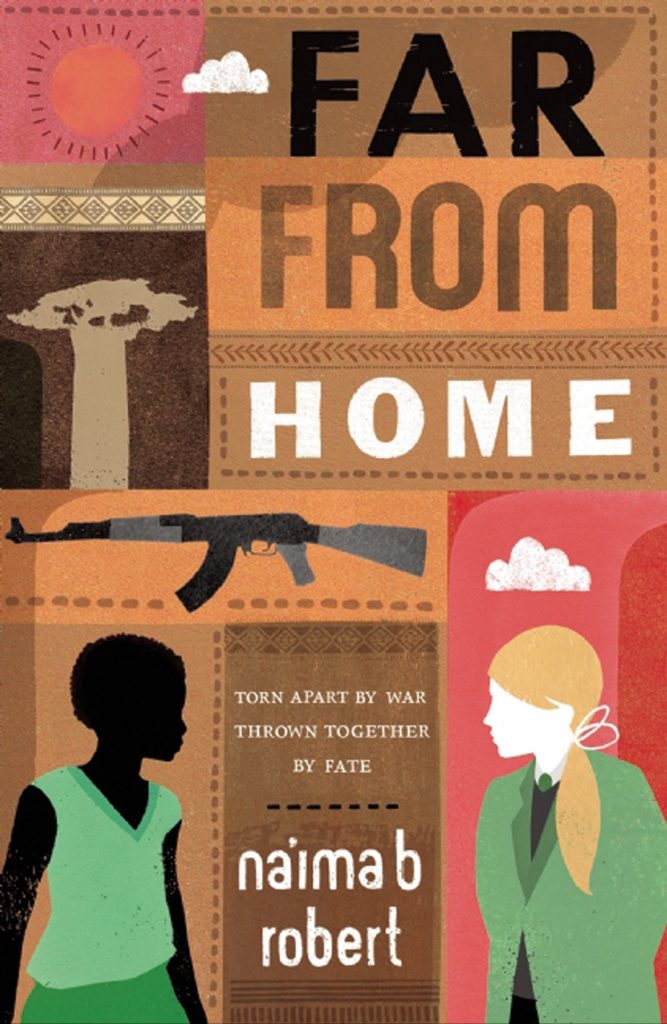 Far From Home / Na'ima B. Robert
Katie and Tariro are worlds apart but their lives are linked by a terrible secret, gradually revealed in this compelling and dramatic story of two girls grappling with the complexities of adolescence, family and a painful colonial legacy.
14-year-old Tariro loves her ancestral home, the baobab tree she was born beneath, her loving family – and brave, handsome Nhamo. She couldn't be happier. But then the white settlers arrive, and everything changes – suddenly, violently, and tragically.
Thirty-five years later, 14-year-old Katie loves her doting father, her exclusive boarding school, and her farm with its baobab tree in rural Zimbabwe. Life is great. Until disaster strikes, and the family are forced to leave everything and escape to cold, rainy London.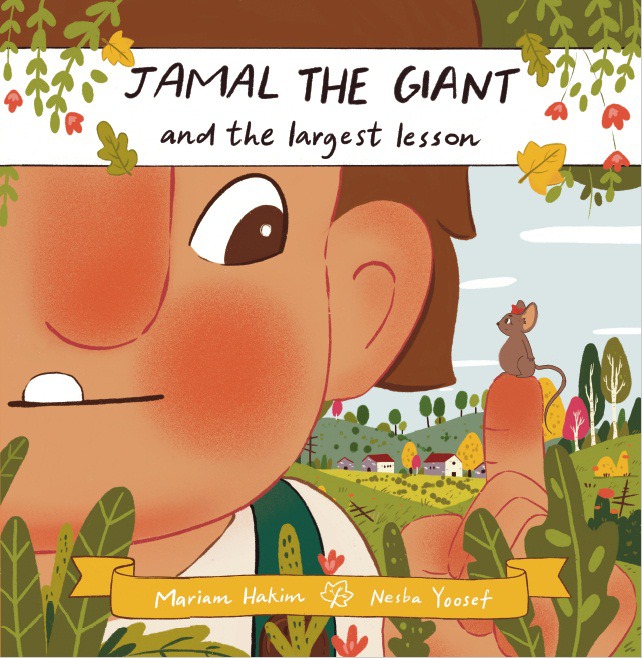 Children's Book Launch: Jamal the Giant and the Largest Lesson / Mariam Hakim
IHRC are delighted to be hosting an exclusive children's book launch with author Mariam Hakim for new book Jamal the Giant and the Largest Lesson.
Pre-order Jamal the Giant from shop.ihrc.org
WHEN: Tuesday, 9 March 2021
TIME: 4pm (GMT)
WHERE: watch the event LIVE on www.ihrc.tv, Facebook and YouTube.
There will also be a GIVEAWAY of 2 copies of Jamal the Giant, so join the live event for your chance to win!
As the Mawlid of Imam Ali (a.s) recently passed, IHRC have some books available about the life and character of the Imam.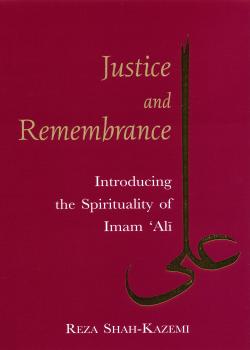 Justice and Remembrance: Introducing the Spirituality of Imam 'Ali / Reza Shah-Kazemi
Ali b. Abi Talib, son-in-law and cousin of the Prophet Muhammad, first Shi'i imam and fourth caliph, is a monumental figure within the Islamic tradition. But despite the immense importance of Imam Ali, there is a dearth of literature in Western languages about his life and thought. This book – the first serious engagement in English with the intellectual principles underpinning his teachings – is therefore a welcome and valuable addition to the sources available. It consists of three parts. Part one introduces the person of Ali in a general manner, and focuses particularly on the spiritual and ethical content of his teachings. Part two evaluates Ali's 'sacred conception of justice'. Part three addresses the theme of spiritual realization through the remembrance of God, the central mystical practice of the Sufis. "Justice and Remembrance" will be of great value to students and scholars of Islamic thought, as well as to those interested in the relationship between spirituality and ethics.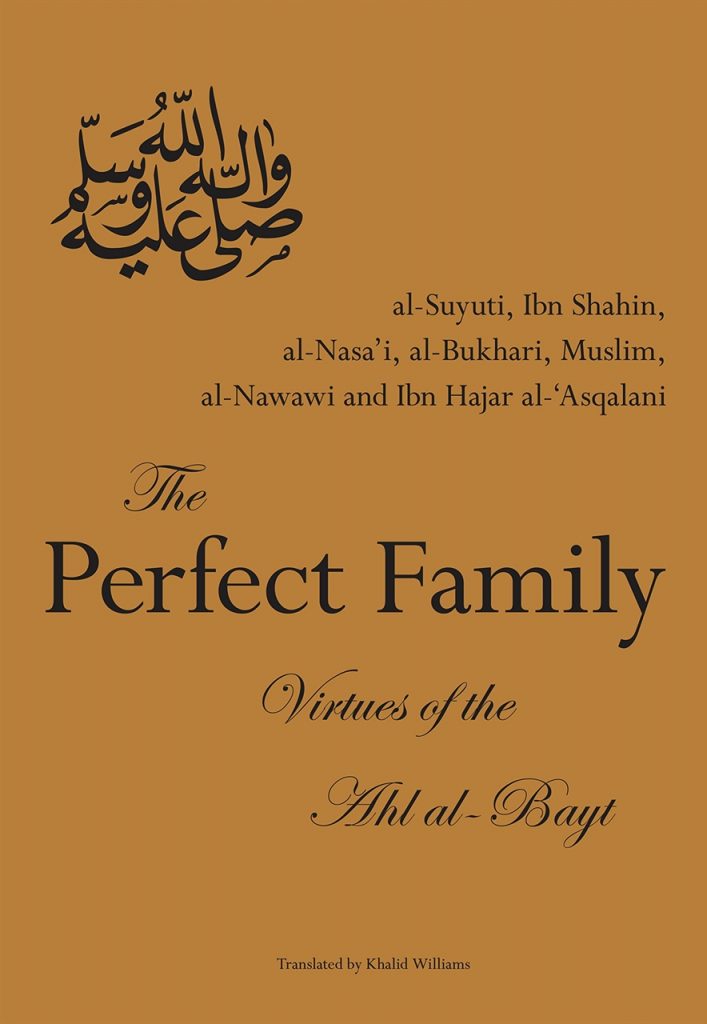 The Perfect Family: Virtues of the Ahl al-Bayt
Translated by Khalid Williams, this is the much awaited work on the virtues and excellences (fadail) of the Prophetic Household, the Ahl Al-Bayt. Selections were made from the writings of only the best and most widely respected of hadith scholars, they include: Imam Bukhari, Imam Muslim, Imam Nasai', Ibn Shahin, Imam Nawawi, Ibn Kathir, Imam Ibn Hajar al-Asqalani and Imam al-Suyuti. 
The work contains four classical works and is further supplemented with chapters from Sahih al-Bukhari and Sahih Muslim with the commentaries of Ibn Hajar al-Asqalani and Imam Nawawi.
Author Evening: "In Search of the Ali Ibn Abi Talib's Codex" with Seyfeddin Kara
Click on the video below to watch Muslim academic, Dr. Seyfeddin Kara, discussing his book 'In Search of Ali Ibn Abi Talib's Codex: History and Traditions of the Earliest Copy of the Qur'an'.

The Long View published their latest issue on January. Click here to read Imam Dawud Walid's thoughts on Black Lives Matter (BLM), Saeed Khan's examination of the 2020 US elections and its outcomes, Jennifer Loewenstein's critique on modern Zionism, Demir Mahmutcehajic's analysis of the Balkan region.