IHRC are delighted to be hosting an exclusive children's book launch with author Mariam Hakim for new book Jamal the Giant and the Largest Lesson.
Pre-order Jamal the Giant from shop.ihrc.org
WHEN: Monday, 15 March 2021
TIME: 4pm (GMT)
WHERE: watch the event LIVE on www.ihrc.tv, Facebook and YouTube
There will also be a GIVEAWAY of 2 copies of Jamal the Giant, so join the live event for your chance to win!
About the book:
"Good deeds erase bad deeds" Holy Quran (11:114)
Jamal the giant has been badly behaved for years. The forest creatures and villagers who live nearby are fed up with his antics and are planning something that will rid them of this problem forever.
But Jamal doesn't like their new idea. Can Jamal make a change for the better just in time? Or is it too late for him to learn the ancient wisdom that good deeds cancel out bad deeds?
An uplifting, sweet story for young hearts about the importance of making amends and improving behaviour through good deeds, which 'erase' bad deeds. Through Jamal the giant, children explore the power of positive behaviour, the impact of our individual actions, and caring for our near neighbours.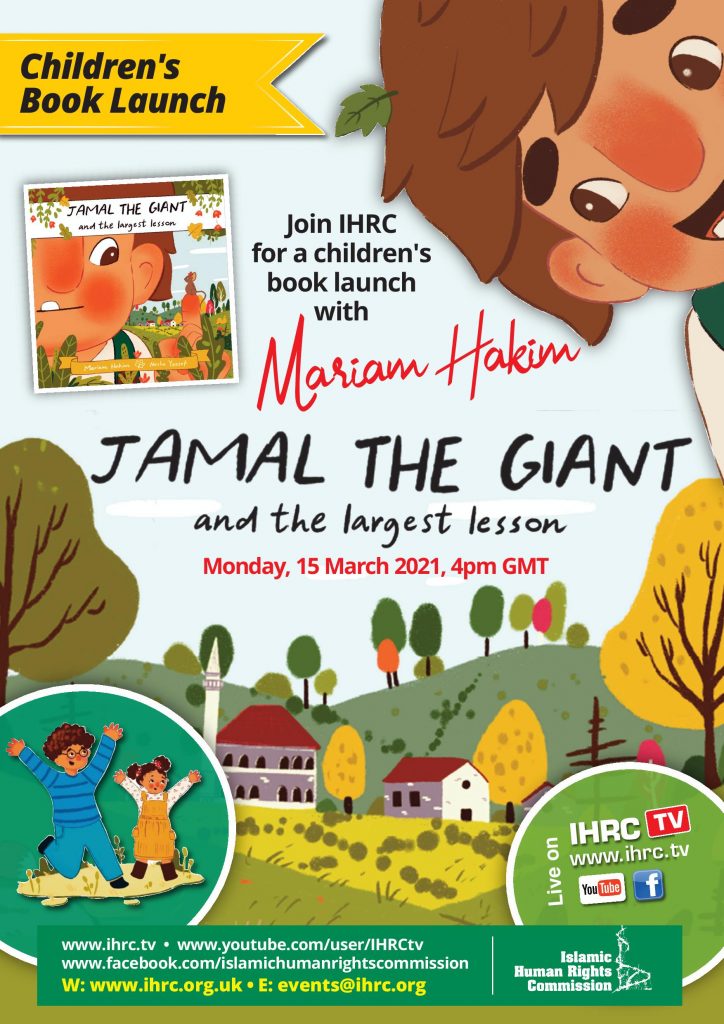 About the author:
Mariam K S Hakim grew up in London and loves travelling the world, having also lived in Switzerland and the UAE. As a child she loved stories and enjoyed reading books so muchthat she went on to study English Literature and Media at University. After working in the charity sector for many years, and becoming a mum, Mariam decided to venture into writing for children. Jamal the Giant is her second picture story book – one of many inshaAllah! You can visit @WawSories to see her storytelling posts and videos on Instagram.