The Annual Al-Quds Day Demonstration and Rally takes place in London on Saturday 4th September 2010. As usual, this will be a major national event with thousands of people coming from all over the country to show their solidarity with the people of Palestine and oppressed people everywhere. And like last year, we also expect a counter demonstration from Zionist and Fascist groups, so it is all the more important that we have the highest possible turn-out.
This year's Yaum al-Quds comes at a time when the Palestinian people are going through particular problems, not least the continued siege on Gaza, the cowardly attack on peace activists trying to provide aid to them, and the unrelenting persecution of the Israeli occupation. Given the grave circumstances facing us, we are obliged to stand for those oppressed more so today than at any time in the past.
This year's Al-Quds Day demonstration is expected to be the largest ever in London, sending a resounding message of solidarity to the Palestinians. But that requires both that people contribute to the preparation for the event, and turn out on the day. Please help us on both counts, in particular by distributing flyers and other advertising material to your friends, families and local community, and arranging for a many people as possible to come to the event.
Those who would like to help are encouraged to do the following:
1. Distribute flyers (available from IHRC).
2. Make use of websites and email lists to spread the word. (poster available here: Poster)
3. Promote the video advertisement (video available here)
4. Arrange coaches from your locality to the event. IHRC is happy to provide assistance to make this feasible. (Audio file advert is available on request)
5. Contact your local Radio Ramadan for advertising slots and promotion.
6. Forward this email to your friends, family and local community.
If you'd like to help with publicity for Al-Quds Day 2010 and need more information, please contact haidari@ihrc.org.
Event details are provided below:
Date:
Saturday, 04 September 2010
Time:
2.00pm
Place:
Assembling at Marble Arch (nearest tube station Marble Arch)
nd marching to the US Embassy in Grosvenor Square for a rally.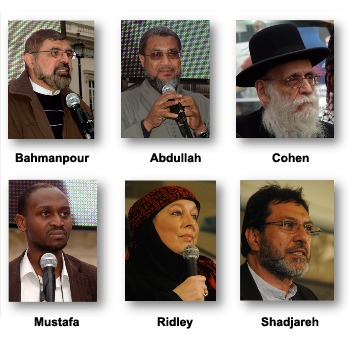 Speakers Include:
Sheikh Bah
manpour
Dr. Daud Abdullah

Rabbi Ahron Cohen

Yvonne Ridley
Taji Mustafa
Massoud Shadjareh
Supporting organisations include:
AhlulBayt Islamic Mission, AhlulBayt Societies, FOSIS, Friends of Al-Aqsa, Friends of Lebanon, Islamic Forum of Europe, Innovative Minds, Interpal, Islamic Centre of England, Islamic Human Rights Commission, Islamic Student Association UK, Islamic Unity Society, Lebanese Community UK, Muslim Association of Britain, Muslim Council of Britain, Neturei Karta UK, Palestine Return Centre and Stop the War Coalition.
Join us to protest for the rights of the oppressed in Palestine!

——————————————————————————————

For more information, please contact the office on the numbers or email below

——————————————————————————————

IHRC is an NGO in Special Consultative Status with the Economic and Social Council of the United Nations.

Please help IHRC by visiting https://www.ihrc.org.uk/catalog and making a donation or buying an item from our on-line store.

If you want to subscribe to the IHRC list please send an email to subscribe@ihrc.org

If you want to unsubscribe from the IHRC list please send an email from your subscribed email address to unsubscribe@ihrc.org

If you are reusing this alert, please cite the source.

For more information, please contact the office on the numbers or email below.

"And what reason have you that you should not fight in the way of Allah and of the weak among the men and the women and the children, (of) those who say: Our Lord! Cause us to go forth from this town, whose people are oppressors, and give us from Thee a guardian and give us from Thee a helper."
Holy Qur'an: Chapter 4, Verse 75

Join the Struggle for Justice. Join IHRC.

Islamic Human Rights Commission
PO Box 598
Wembley
HA9 7XH
United Kingdom

Telephone (+44) 20 8904 4222
Fax (+44) 20 8904 5183
Email: info@ihrc.org
Web: www.ihrc.org
{jathumbnail off}