Join IHRC online on 19 October for a music documentary The Uprising, by musician and activist Pravini Baboeram, which tells the story of resistance against racism in Europe. Tune in on www.ihrc.tv from 4.30pm BST. Send your questions via Twitter @ihrc or via our Facebook page.
WATCH THE OFFICIAL TRAILER HERE
WHEN: Saturday 19 October 2019
TIME: 4.30pm to 8pm
WHERE: IHRC Bookshop, 202 Preston Road, Wembley, London HA9 8PA
FREE EVENT
Refreshments available
Wudu and prayer facilities available
This event will be streamed live on IHRC.TV and Facebook. By attending this event, you are agreeing to being filmed as part of the audience.
IHRC Bookshop is a minute's walk from Preston Road Underground station (Metropolitan line). Free parking on nearby residential roads is also available.
About the documentary:
The Uprising includes commentary and experiences from academics and activists, and the Dutch-Indian singer/songwriter Pravini Baboeram offers a decolonial perspective on the anti-racism movement in the Netherlands, UK and France. She not only provides an analysis of the history and legacy of colonialism, but also a vision on strategy for the future of the movement.
This documentary zooms in on collective challenges of communities of color. In 9 self-written songs Pravini connects the fight against Blackface, the struggle for the recognition of colonial crimes that the Netherlands has committed in Indonesia, the fight for the liberation of Palestine and the struggle in the political field for an inclusive society. "The Uprising" offers a unique view of the resistance against racism in Europe through the eyes of people of color.
With contributions by:
Jessica de Abreu, Stop Blackface (The Netherlands)
Hatem Bazian, Professor of Islamic Law and Theology, Zaytuna College/UC Berkeley (USA)
Houria Bouteldja, Parti des Indigènes de la République (France)
Chaima Demnate, Students for Justice in Palestine (The Netherlands)
Ramón Grosfoguel, Professor of Chicano/Latino Studies, UC Berkeley (USA)
Roberto D. Hernández, Associate professor Department of Chicana and Chicano Studies, San Diego State University (USA)
Sandew Hira, Decolonial International Network (The Netherlands)
Raza Kazim, Islamic Human Rights Commission (UK)
Tunahan Kuzu, DENK (The Netherlands)
Arzu Merali, Islamic Human Rights Commission (UK)
Selim Nadi, Parti des Indigènes de la République (France)
Jeffry Pondaag, Committee of Dutch Debts of Honour (The Netherlands)
Stephen Small, Professor of African American Studies, UC Berkeley (USA)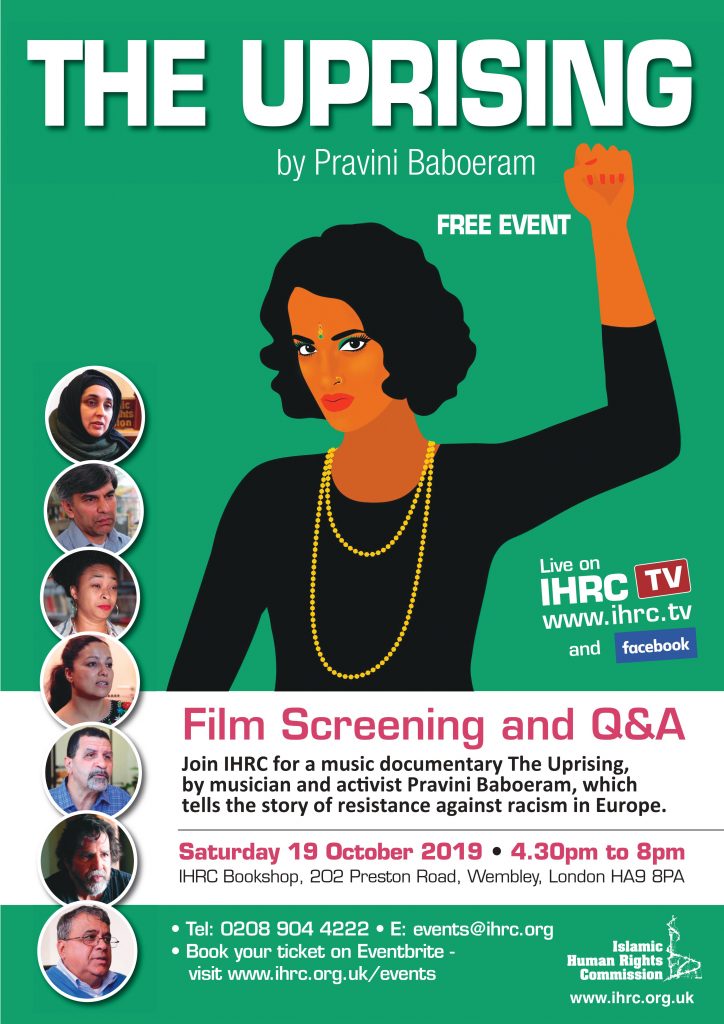 Pravini Baboeram is an artist and activist, creating art to contribute to social change. As an independent artist she has set up her own label Pravini Productions, that has produced 5 albums, 6 singles and 5 international tours. She is co-founder of action committee Holi is not a Houseparty, a campaign against cultural appropriation of the Hindu spring festival Holi, and initiator of the Antiracism Voting Guide. In addition, she led the campaign Tetary Must Rise, a crowdfunding campaign for the replacement of the statue of colonizer Barnet Lyon by the Hindustani warrior of resistance Janey Tetary. Pravini also set up Indian History Month to celebrate stories and contributions of people from the Indian diaspora.