WHEN: Wednesday, 8 August from 2pm to 4pm
WHERE: IHRC Bookshop, 202 Preston Road, Wembley, HA9 8PA
FREE EVENT / LIMITED SPACES / OPEN TO ALL FAMILY MEMBERS
Please RSVP by emailing events@ihrc.org or calling 0208 904 4222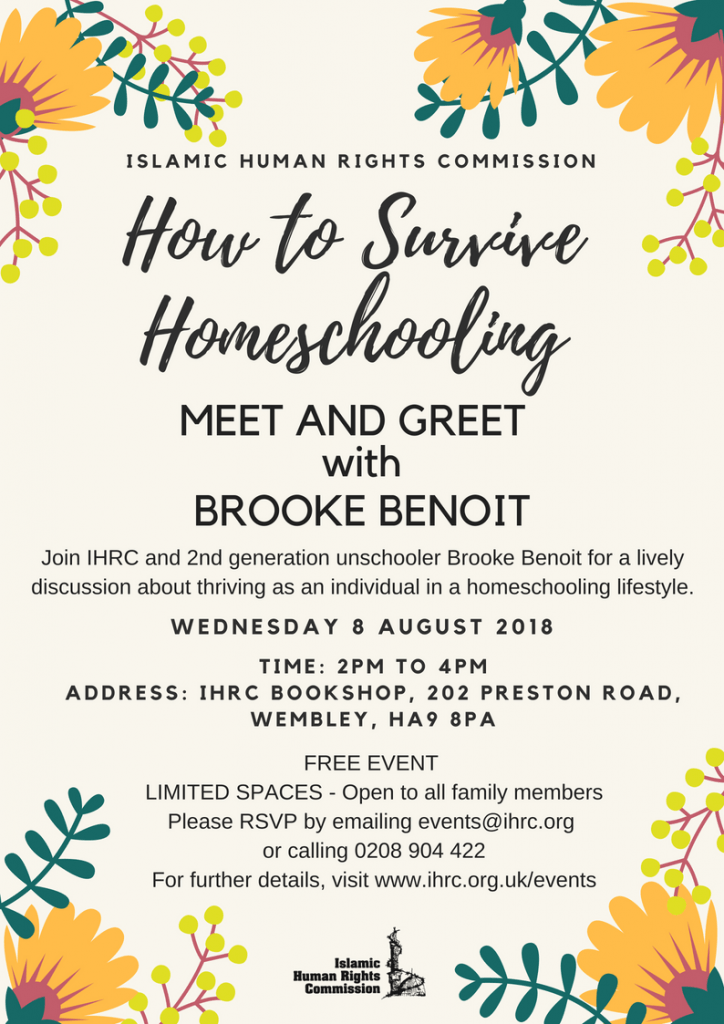 Brooke Benoit is a magazine editor who, dissatisfied with her own education, originally unschooled herself in the 1980's. She currently unschools her seven children, preferring the radical democratic or Sudsbury-style of home educating. Here about her experience and meet other like-minded individuals!
This is your chance to network with other mums and dads, learns how to look after yourself and have some fun too!
How To Survive Homeschooling: A Selfcare Guide For Moms Who Lovingly Do Way Too Much is a unique homeschooling book that puts the parent first. While homeschooling continues to become increasingly popular, the focus remains on the children, with little attention given to the all-sacrificing parent(s) who often struggle to find balance and support in their uniquely challenging role. How To Survive Homeschooling offers holistic strategies for taking care of self, dealing with external pressures and building a support system to manage the daunting tasks of homeschooling.
 
Fitra Journal: Muslim Homeschooling is a bi-annual journal edited by Brooke Benoit and written by an international collection of Muslim homeschoolers sharing their experiences of using a variety of homeschooling methods. The journal publishes personal accounts, methodology explanations, resource reviews and a bounty of general homeschooling information and ideas, always from a deen-centered perspective, giving readers a glimpse of the infinite ways to mould their own home education practices.
Brooke Benoit is a magazine editor and artist who attended the San Francisco Art Institute and earned a degree in Rhetoric from the University of Alaska Anchorage. After homeschooling herself for high school she began college at fifteen years old. When it came time to enroll her children in school, instead Brooke immersed herself in learning the various styles and means to homeschool. She has continued to work, returned to school and moved abroad while homeschooling. Brooke currently facilitates her seven children's education (at home) on the southern coast of Morocco where she also enjoys photography, travel and lively chit-chat.