Inna Lilla wa inna Ilayhi Rajioun – To God we belong and to God we Return
IHRC is saddened by the news of the passing of Fuad Nahdi in London, UK today. May Allah swt bless and forgive him, and grant his family and friends patience.
Read  the 5Pillars obituary of him below, first published here. 
Please remember him with Al-Fatiha.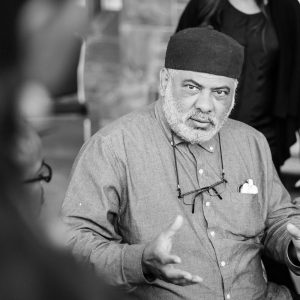 Pioneering Muslim journalist Fuad Nahdi passes away.
The prominent journalist and activist Fuad Nahdi, who was one of the major figures in British Islam in the last 30 years, passed away in a London hospital today.
Nahdi, who was in his late 60s, was the publisher of the pioneering Muslim news magazine Q-News which he founded in 1992.
He later became the Executive Director of the Radical Middle Way organisation which provided faith-inspired guidance to combat exclusion and violence and encourage positive civic action.
In a Facebook message his wife, Humera, said her husband had been dealing with cancer, diabetes and low kidney function. She confirmed that he had been tested for coronavirus but the results have not yet come.
She added: "In these difficult days of virus and lockdowns it is not yet clear how funeral arrangements will take place – but they will not be conventional. We will try to find a way to use technology to give access to people who would otherwise be there. But be assured that while the janaza will be unconventional we will honour Fuad's passing and his legacy in an appropriate way once the world is a little safer insha' Allah."
Born in Tanzania, Nahdi emigrated to the United Kingdom in his early 20s. He went onto make significant contributions in fields of media, community activism and interfaith work and was widely recognised for it in the UK and across the Muslim world.
Nahdi was named one of the world's 500 most influential Muslims by Royal Islamic Strategic Studies Centre in Jordan six times. In 2007, he was named on the UK Muslim Power 100 list which identified the country's Muslims who were making a profound contribution to British life and society.
A graduate of the Centre for Journalism at City University in London, he also read Islamic Studies at the Islamic African University in Khartoum, and at the School of Oriental and African Studies in London.
He worked and contributed to media organisations from around the world including Reuters, Los Angeles Times, Arab News, The Nation, ABC News, Crescent International, Africa Events and BBC World Service.
In 1992, he founded and became editor and publisher of Q-News – The Muslim Magazine (1992 – 2007), which was widely recognised to be the first independent, Muslim current affairs magazine in the UK.
Q-News was bold, argumentative and proudly British. Tackling subjects like domestic violence, HIV/AIDS, mental health, inner-city decline and religious extremism before it was popular to do so, Q-News set a high standard.
It was intended to be an incubator for young Muslims to gain the skills and experience to becoming media professionals, and Q-News alumni have gone on to work for mainstream media organisations around the world.
His later work as Executive Director of the Radical Middle Way saw him become heavily involved in interfaith work, and in 2014 he became the first Muslim to address the General Synod of The Church of England.
Commenting on his life, Faisal Bodi, who worked with Nahdi at Q-News, said: "Fuad was an ardent advocate of a stand-alone English language Muslim media in this country at a time when first generation Muslims were still communicating in the vernacular of their countries of origin.
"Against overwhelming structural obstacles from within and outside the community he succeeded in establishing a newspaper that not only served as a platform for the expression of Muslim concerns but contributed to the national conversation on important issues. For his pioneering work the Muslim community owes him a huge debt of gratitude.
"May Allah forgive his indiscretions, have mercy on his soul and grant him Paradise."
Nahdi's friend Massoud Shadjareh, who is chairman of the Islamic Human Rights Commission, said: "He was undoubtedly one of those individuals who impacted Islam in Britain in a very major way and we all ask Allah SWT to reward him on the basis of his dedication from the time he started his Islamic work with Crescent International, when he was trained by the journalist, Kalim Siddiqui, to Q News and beyond.
"He showed his dedication to Islam in times like the Rushdie affair and the Bosnia war and he always stood on the right path. He was an extremely pleasant man and a very good friend and even when we disagreed he remained loyal. May Allah have mercy on him."
And 5Pillars editor Roshan Muhammed Salih, who was given his first job in journalism by Nahdi, said: "Fuad was a larger than life character who always had a story or joke to tell. He was a brilliant writer and journalist who seemed to know everybody and made magic happen despite being highly disorganised! For me Q-News was his legacy and it was undoubtedly the first professionally-produced Muslim news magazine in the UK. It inspired me to become a journalist and set the standard for others to follow. To Allah we belong and to Him we return."
Fuad Nahdi is survived by his wife, Humera, and two children.