Once again the International al-Quds Day will be observed with rallies all across the World. In the UK it will once again be taking place in Central London, starting at the Home Office and marching to Downing Street, led by a coalition of all faiths and none united against Apartheid.
This year it will take place on Sunday 16th April 2023.
Assemble at 2 Marsham Street, London, SW1P 4DF at 3pm. Bring your flags, placards and voices and support Palestine.
There will be coaches from across Britain, email naveed@ihrc.org for whether coaches are coming from your city.
Supported by the Islamic Human Rights Commission, Muslim Public Affairs Committee UK, Black Lives Matter Coalition UK, Scotland Palestine Solidarity Campaign, InMinds, 5 Pillars, Neturei Karta, Fight Racism Fight Imperialism, Uhuru Movement, Jewish Network for Palestine, Ahlulbayt Islamic Mission, Union of Islamic Students of Europe, Ahlulbayt Sisters, Black Activists Rising Against Cuts, Idara-e-Jaajeriya, Lebanese Society of Scotland and the Convivencia Alliance.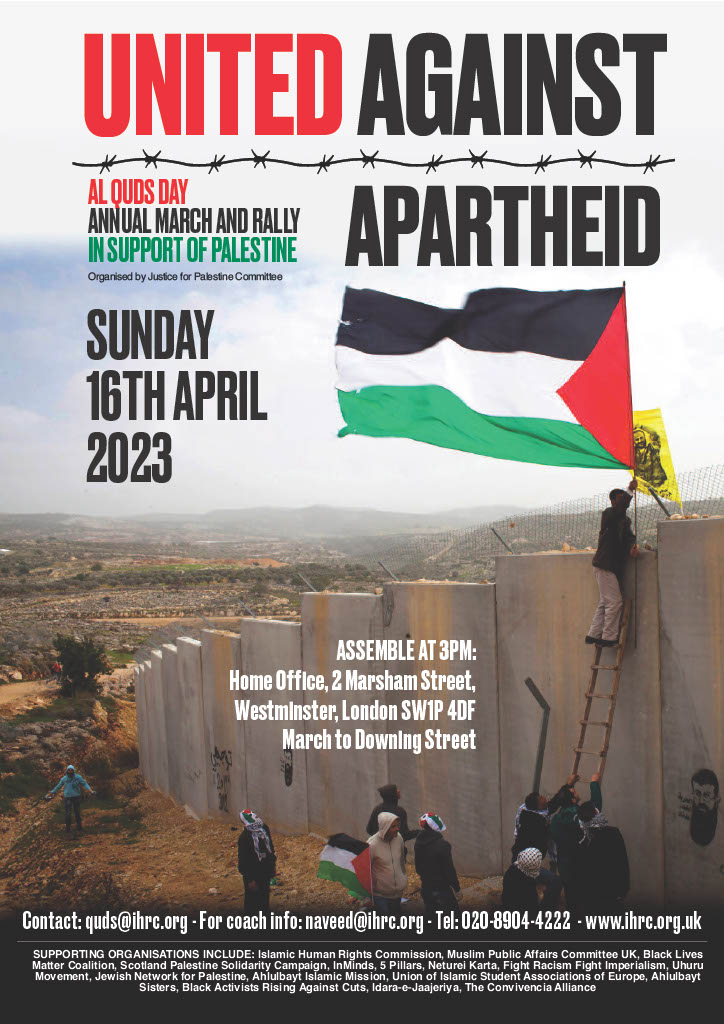 If your organisation would like to support Quds Day please email huseyin@ihrc.org