Islamophobia and Shrinking Civil Society Spaces.
The 2019 IHRC and SACC Islamophobia conferences took place on 14 December in London and Glasgow and were both themed on Islamophobia and Shrinking Civil Society Spaces.  Find links to the videos, reports and other material for both conferences here. 
The conferences discussed the different ways civil society space has shrunk, with a particular focus on Muslim civil society organisations and how Islamophobia is driving much of this. The wider context for this discussion was the rise of discourse in every area of politics which has become toxic, amplified by the echo chambers of social media and reinforced by partisan media outlets. What is particularly worrying in these circumstances is the relationship between powerful groups who are able to influence state policy and media narratives and the minority communities they seek to silence. Whether it is the demonization of immigrant, black and native communities in America, religious minorities in India or pro-Palestinian NGOs promoting BDS in Germany, we see a consistent pattern of powerful groups using the state, media and group violence to silence and suppress those they oppose. 
London speakers: Haim Bresheeth, Abed Choudhury, Ramón Grosfoguel, Narzanin Massoumi, Fatima Rajina, Susann Witt-Stahl.
Glasgow speakers: Moazzam Begg (Cage), Ahmed Uddin (IHRC), Tasneem Ali (Muslim Women's Association of Edinburgh), Omar Afzal (Muslim Council of Scotland), Mick Napier (Scottish Palestine Solidarity Campaign), Malia Bouattia (former NUS President), Nargess Moballeghi (journalist) and Ibtihal Ramadan (researcher at the University of Edinburgh and former tertiary teacher in the Palestinian occupied territories).
London supporting organisations: Intifada Street, CAGE, Cambridge Stop the War, Campaign Against Criminalising Communities.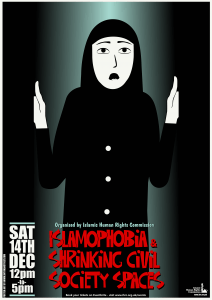 The sixth annual IHRC Islamophobia Conference on Saturday, 14 December 2019.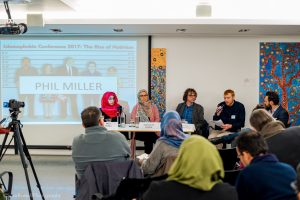 IHRC's annual Islamophobia conference was launched in 2014 and is pat of network of conferences held across Europe around the second weekend in December each year.>

The British state displaces its pro-Israel commitments onto 'the Jewish community', constructed as Zionist and thus vulnerable to antisemitism.   This provides a convenient shield for the state's partnership with the Zionist colonisation project.  This agenda aggravates societal divisions – frightening Jews and dividing them from each other, while also separating them from the Left and Muslims.