PRESS RELEASE
Organisations concerned about the deteriorating human rights situation in Nigeria are to hold a demonstration outside Abuja House in London this Thursday.
IHRC will be among several organisations urging the international community to hold President Bukhari accountable for the worsening situation in the country, particularly in relation to the continuing persecution of the Islamic Movement of Nigeria.
They will urge Bukhari to implement due process, abide by court orders, stop killing innocent people and release those who are being unlawfully detained.
The movement's leader Sheikh Ibrahim Zakzaky and his wife Zeenah, among others, have been in detention since the Islamic Movement was subjected to a brutal attack by government forces in 2015 resulting in the deaths of over 1000 supporters, including three sons of the couple. The attack marked the beginning of an official campaign to crush the movement which claims a mass following in Nigeria and has been highly critical of government policies especially vis a vis the United States and Israel.
Last July the federal government proscribed the Islamic Movement as a terrorist organisation but protests against the decision and the ongoing incarceration of the movement's leader, Sheikh Ibrahim el-Zakzaky and his wife have continued around the country. Along with human rights organisations the UN believes that the persecution of the Islamic Movement arises out of official fear of its mass appeal and what it could become rather than any illegal activities on its part.
Since the 2015 massacre, Nigerian authorities have regularly targeted the peaceful marches, religious gatherings and properties associated with the Islamic Movement, often with fatal consequences and with total impunity.
Thursday's demonstration will include statements made by the participating organisations. These are scheduled to start at 12pm with opportunities for the press to conduct interviews until 3pm.
The demonstration will begin at 10am at Abuja House 2 Campden Hill, Kensington, London W8 7AD and finish at 4pm.
For more information or comment please contact the Press Office on (+44) 20 8904 4222 or (+44) 7958522196[ENDS]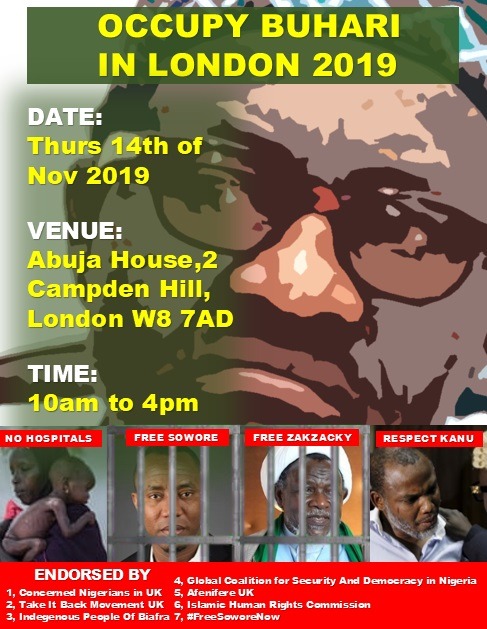 ——————————————————————————————
IHRC is an NGO in Special Consultative Status with the Economic and Social Council of the United Nations.
Islamic Human Rights Commission
PO Box 598
Wembley
HA9 7XH
United Kingdom
Telephone (+44) 20 8904 4222
Email: info@ihrc.org
Web: www.ihrc.org
Twitter @ihrc