Another year has passed as we enter Muharram marking the new year as well as the migration of the Prophet Muhammad (peace and blessings be upon him).
We will soon enter the Day of Ashura on the 10th day of Muharram which marks the deliverance of the Prophet Musa (peace be upon him) and Bani Isra'il from the tyranny of Fira'un. The day will also mark the tragic martyrdom of Imam Hussain, the beloved grandson of the Prophet, and his family in the plains of Karbala (may Allah be pleased with them). We have few announcements for you.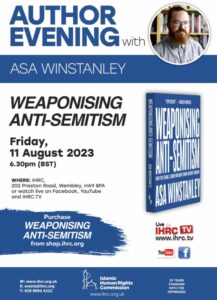 Author Evening with Asa Winstanley: Weaponising Anti-Semitism
Join IHRC for an author evening with Asa Winstanley, to discuss the book, Weaponising Anti-Semitism: How the Israel Lobby Brought Down Jeremy Corbyn – purchase from the IHRC Bookshop.
WHEN: Friday, 11 August 2023, 6.30pm BST
WHERE: IHRC (202 Preston Road, Wembley, HA9 8PA) or watch live on Facebook, YouTube and IHRC.TV
FREE EVENT – pre-booking required for in-person attendance only – please book here (limited availability)
Refreshments provided
Prayer and wudu facilities available
About the book:
Meticulously researched while reading like a fast-paced thriller, this explosive new book details the way the Israel lobby deployed charges of anti-Semitism to destroy Jeremy Corbyn's bid for power as leader of the Labour Party.
In an electrifying account, investigative journalist Asa Winstanley shows how Labour's anti-Semitism crisis was manufactured by pro-Israel groups. Despised and feared by Israel and its allies because of his long-standing support for the Palestine solidarity movement, Jeremy Corbyn became a target of enemies determined to abort his left-wing project.
Imam Achmad Cassiem Tribute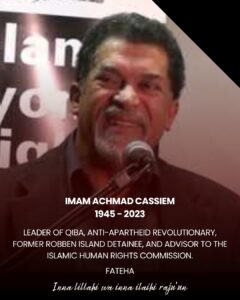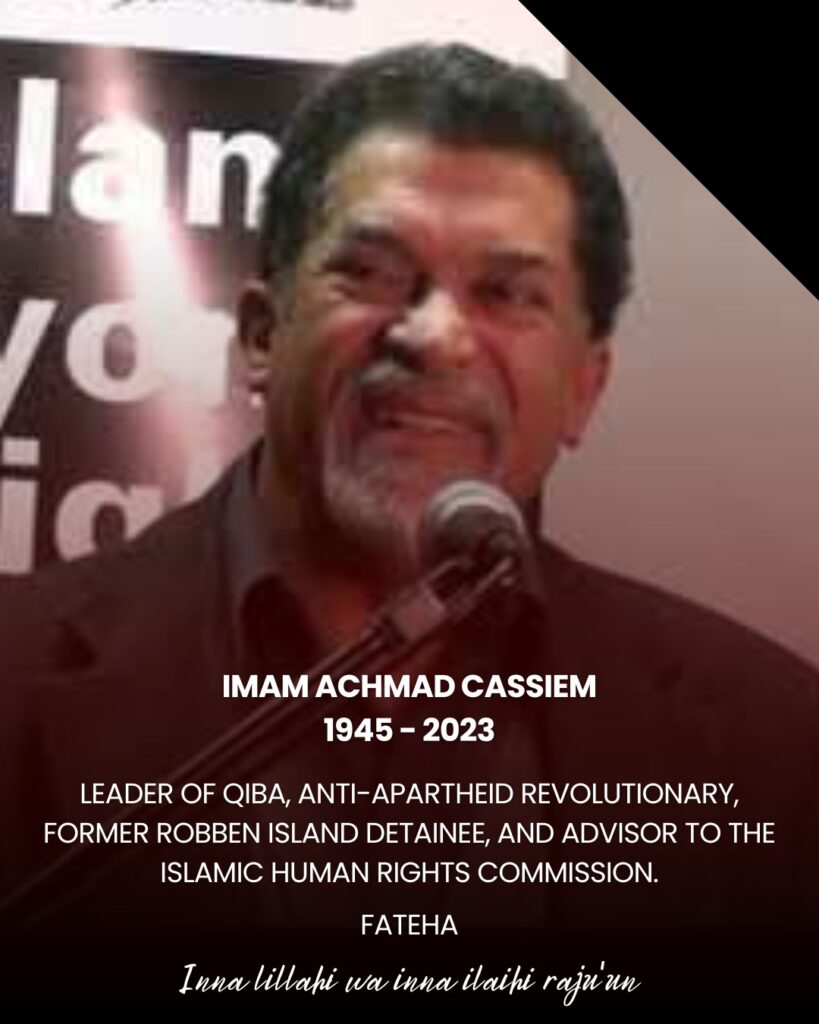 On 14 July, our beloved friend, Imam Achmad Cassiem, leader of Qibla in South Africa, anti-Apartheid revolutionary and advisor to IHRC returned to his Creator. May Allah grant him Jannatul Firdaws. We will be posting tributes, and an obituary here in the coming days.  We hope that this will contribute in a small way to ensuring that his incredible life continues to inspire the coming generations.
In this work, Quest for Unity, he lambasts the continuing divides amongst Muslims that see them, in his opinion, ally themselves with oppression, through disregard for Qur'anic injunctions to unite.  Through the command for unity, Cassiem discusses the concept of justice and a just social order. Click on the title to purchase a copy.
Watch: Author Evening with Shaykh Hamid Mahmood: Our Fatima of Liverpool
Two weeks ago IHRC hosted Shaykh Hamid Mahmood, founder and head teacher of the Fatima Elizabeth Phrontistery, to discuss his book Our Fatima of Liverpool co-authored by Shaykh Yahya Birt. The Shaykh explores the early Victorian convert and a pioneer of the British Muslim dawah. Click on the two videos below to watch the full event.
Shaykh Hamid Mahmood is an Islamic scholar and educator based in the UK. He completed his Alimiyyah programme and gained ijazah from the Institute of Islamic Education, Dewsbury (West Yorkshire) and went on to recieve a Bachelors in Abrahamic Religions at Heythrop College, University of London and a Masters in Islam and the West at Queen Mary University. Shaykh Hamid is also a qualified teacher having completed the PGCE at St Mary's University College.
Second part of the livestream. Shaykh Hamid founded the Fatima Elizabeth Phrontistery, a madrasah, which specialises in facilitating the cultural, experiential, conscientious, critical and creative growth of children – through to their later teens – by means of a holistic pedagogy infused with a synthesising of traditional and contemporary ideas in order for them to have a well rounded Islamic worldview.
The Muharram Sale is now on where you can receive 15% discount off all items. The sale ends on 18 August. The discount code is MUHARRAM2023.
Below are some of the books we have available at IHRC Bookshop: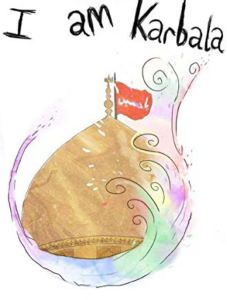 I am Karbala – Safoo Publications
I am Karbala is an introduction to the concept of Karbala with colourful illustrations and informative rhymes to encourage the love of Imam Hussain.
IHRC Bookshop also stock I am Ashura by the same publication.
Halal Investing for Beginners – Ibrahim Khan and Mohsin Patel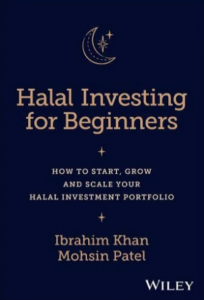 An intuitive and eye-opening guide to halal investing In Halal Investing for Beginners: How to Start, Grow and Scale Your Halal Investment Portfolio, a team of Oxford-educated Islamic finance gurus deliver a one-of-a-kind investing roadmap for Muslims who want to watch their savings grow while abiding by Islamic law. You'll learn to distinguish between halal and haram investment products, get key strategies for saving on your taxes, learn to build a variety of portfolios, and more.
In the book, the authors introduce and explain the wide variety of investment products available to investors who wish to restrict their financial activity to that which is consistent with Shariah law, including asset categories like equities, gold, art, start-ups, and even property. You'll also find: Advice for every stage of life, including how to go halal for the first time, how to write an Islamic will, and how to build a halal pension Portfolio construction guidance for every risk tolerance, from high-growth to low risk Explanations of the important difference between "ethical" and "ESG" investment products and halal investments An essential resource for Muslims who seek to invest while remaining true to their faith and values, Halal Investing for Beginners is the intuitive and easy-to-follow investment tutorial that everyday Muslims have been waiting for.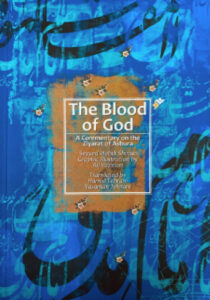 The Blood of God: A Commentary on the Ziyarat of Ashura – Seyyed Mahdi Shojaei

Fourteen centuries ago on the plains of Karbala, the martyrdom of Husayn, the grandson of Prophet Muhammad, his family members and his loyal companions took place. It was a calamity of such cosmic proportions that all other tragedies in human history pale in comparison to it. Since then, Husayn has remained an icon of resistance for all Muslims and even non-Muslims around the world in their fight against the oppressors of their times.
Even Mahatma Ghandi professed that he learned from Husayn how to resist colonialism. This book evokes the sad passages of that tragedy and explains why the bond between the lovers of Husayn and his legacy has gone from strength to strength in history to the point that in our time every year tens of millions from all over the world flock to his shrine to renew their pact with him and declare their disavowal of tyrants in any place or any era.
Seyyed Mehdi Shojaei has published over 100 works such as short stories, plays, novels, screenplays, satirical fiction and children's stories. As a trailblazer in the field of modern religious literature, he has left his indelible imprint on contemporary Iranian culture. Ali Vazirian is a graphic designer, art director and painter whose work has been exhibited around the world. He is also an award winning director and screenplay writer who has served as a jury at many film festivals.
From Medina to Karabala: In the Words of Imam Al Husayn – Ayatollah Muhammad-Sadiq Najmi
A complete collection of Imam al- Husayn's discourses, both oral and written, from his first conversation with al-Walid b. 'Utba, the governor of Medina and Marwan b. al-Hakam, to the last words to leave his blessed lips of the day of Ashura.
Find out the truth of Imam al- Husayn's mission in his own words With the original Arabic text, maps of Imam al-Husayn's journey and a commentary on each discourse.