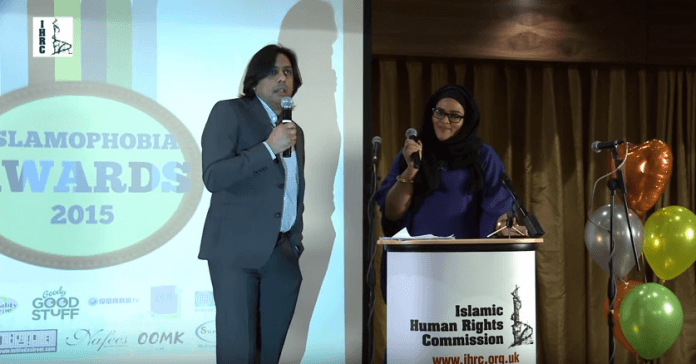 ---
Centred around a gala dinner, the 'awards' themselves are both entertaining and raise awareness of a serious and growing prejudice. Real awards are given to those who have battled against Islamophobia – often against enormous odds.
Take a look at the EVENT REPORT for more information on winners, nominees, press coverage, our gallery and more!
The awards are decided upon through voting by the public. If you are interested in viewing the award show please view the links below.
Click here for part 1: Intro to the Islamophobia awards 2015
Click here for part 2: UK Islamophobe Award
Click here for part 3: Positive award: Arun Kundani
Click here for part 4: Spoken word performance by Hodan Yusuf
Click here for part 5: Postive award for Abdel Rahmene Azzouzi
Click here for part 6: Positive award for the Community of Cold Lake, Canada
Click here for part 7: Most Islamophobic book/movie/tv series
Click here for part 8: IHRC Casework
Click here for part 9: Nazim Ali's stand up
Click here for part 10: Positive award for Imam Achmad Cassiem
Click here for part 11: Most Islamophobic News media
Click here for part 12: International Islamophobe award
Click here for part 13: Closing speech