From: Islamic Human Rights Commission
16 June 2020
Nigeria Digest #122 (Volume 3 issue 54) – Take Action write to the African Union
#FreeZakzaky protesters continued in Nigeria
You can find all the latest actions and information, as well as background to the campaign and information, videos and audio and details on the Sheikh on the Free Zakzaky campaign page.
Introduction
Action Alert
Articles
Videos
Archive
Introduction
We are continuing to ask people to write to the African Union and demand its intervention in the case. During this week, #FreeZakzaky protests continued in the Nigerian capital Abuja. Also find details of how to campaign below.
Please help support those injured by police brutality, and the families of those killed by the security services, by donating to the IHRC Trust Nigeria Fund here.
Above all, please remember all the oppressed in your prayers
#FreeZakzaky!
Action Alert
Please send an email to the African Union and demand its intervention in this case. A model email and contact details of the African Union are provided below. Please forward any responses you receive to IHRC at wajahat@ihrc.org
Model email
If you are emailing, please use the following in the subject line:
Outrage over denial of amnesty for Zakzaky's amid COVID-19 crisis
H.E. Moussa Faki Mahamat
Chair African Union Commission
PO Box 3243 Roosevelt Street (Old Airport Area) W21K19,
Addis Ababa, Ethiopia
Re: African Union's Failure To Save Innocent Lives amid COVID-19
Dear H.E. Mousa Faki Mahamat,
I am shocked to find out that the Nigerian President's amnesty on the 9th of April, 2020 to 2500 prisoners did not include Sheikh El-Zakzaky, his wife Muallima Zeenah and indeed other political prisoners.
Sheikh El-Zakzaky and Muallima Zeenah continue to be held in illegal detention despite a 2016 Federal High Court ruling that their detention was unlawful and unconstitutional. I am writing to you to urge the Nigerian government to release Sheikh Ibraheem el-Zakzaky and Muallima Zeenah immediately. Their continued illegal detention in Kaduna State Prison poses a high risk to their health especially during the current COVID-19 outbreak.
This is a policy that needs to be implemented quickly in Nigeria, not just for the Sheikh and his wife who both suffer from underlying health conditions, but for all political prisoners wherever possible in the interests of justice but also for the sake of peace and cohesion in Nigerian society as a whole.
[Your name]
African Union's Contact Details:
Email: dic@africa-union.org
Postal Address: PO Box 3243 Roosevelt Street (Old Airport Area) W21K19 Ababa, Ethiopia
Tel: +251 11 551 7844
ARTICLES
Find all the articles selected this week on our website. Here are a selected few.
#FreeZakzaky Protests Continued in Abuja, Nigeria
09 June 2020
Followers of Sheikh Ibraheem Zakzaky staged #FreeZakzaky protest in renewed demand for immediate and unconditional release of the Sheikh and his wife Malama Zeenah. At Wuse District of FCT, Abuja.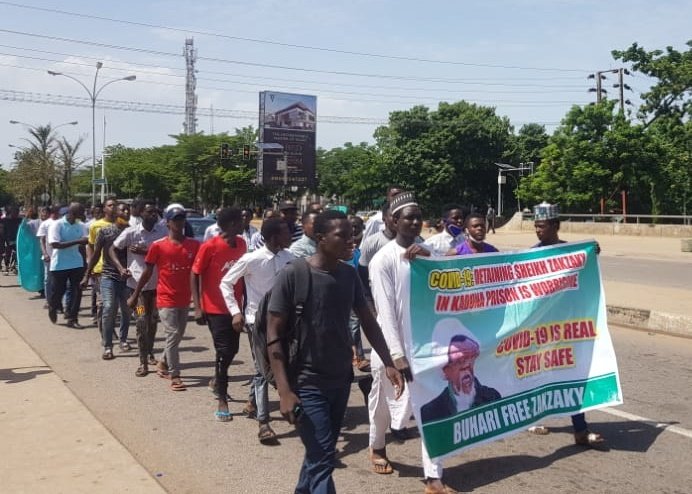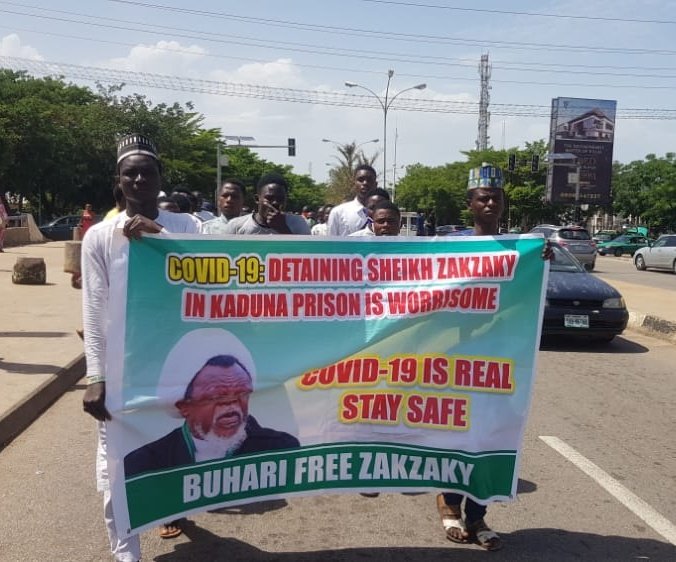 MWM Pakistan Demand Nigerian Authorities To Free El-Zakzaky Immediately
09 June 2020
Sheikh Zakzaky is an innocent political leader but Nigerian government is unwilling to do justice – Says Pakistani Mujtahid Allama Maqsood Domki a Pakistani spokesman from Majlis-e-Wahdat-e-Muslimeen (MWM) has spoken out regarding continued detention of leader of the Islamic Movement in Nigeria Sheikh Ibraheem Yaqoub El-Zakzaky (H).
Speaking on Tuesday 9/6/2020 with some Nigerian students in Pakistan, Allama Maqsood demands Nigerian authorities to free the political leader immediately and ensures his immediate medical treatment.
He expressed concern over the worst sort of victimization of a great political opposition leader in Nigeria.
Allama Maqsood Ali Domki appreciated Sheikh Ibraheem Yaqoub El-Zakzaky as one of the leading and great revolutionary leaders for the entire Islamic world, let alone Nigeria. On behalf of Pakistani nation, he expressed solidarity with Islamic Movement of Nigeria's head Sheikh Zakzaky. Click here for further details.

A Glance At Brief Biography of Sheikh Ibraheem Zakzaky
10 June 2020
Sheikh Ibraheem Zakzaky, Leader of the Islamic Movement in Nigeria was born on 5th of May 1953 (15th Sha'ban 1372 AH). His early education was at the traditional Quranic and Islamic Schools from tender age to the age of sixteen in the historic city and traditional center of learning. He did not attend formal primary school. His first contact with formal education was in 1969 at the Provincial Arabic School, Zaria-a school where the then Zaria NA was locallu training Arabic teachers for its primary schools. Click here for details.
VIDEOS
Find more videos from recent weeks as well as the archives on the Free Zakzaky audio and video page.

Find a selection below.
ARCHIVE
Click here to read IHRC PRESS RELEASE – Nigeria: Evidence emerges of mass burials after Arbaeen massacre, published on 24 November 2016
Click here to read A Letter by IHRC Chair Massoud Shadjareh to President Buhari regarding possible attacks on Arbaeen processions in Nigeria, the letter was sent on 08 November 2016.
Follow the IHRC #FreeZakzaky campaign for all the latest action alerts, press releases, reports, background, videos and more.

The Nigeria Digest is a weekly summary of the campaign to free all who are illegally detained focusing on the Islamic Movement of Nigeria.
The opinions expressed on this site do not necessarily reflect the views of IHRC.
Copyright © IHRC, All rights reserved.