---
Islamic Human Rights Commission
NIGERIA DIGEST 09 SEPTEMBER 2017 (Volume 1 Issue 3)
Introduction
Action Alert
Articles and Resources Digest
Introduction;
Welcome to the Nigeria Digest. You will find an overview of events including demonstrations in Kano, Sokoto, Jos, Abuja, details of the Amnesty Press release on enforced disappearances in Nigeria and IMN campaigns.
After the last two week's call to action to write to the African Union IHRC has also written to Mr Moussa Faki Mahamat, African Union Commission Chairperson, demanding their immediate intervention in this matter. We are calling on all campaigners to continue with the same action which is reproduced below. Please share this campaign call and information with your friends and other interested people.
To enable images please click on "always show content from this sender" a message on top of your email just under sender's address.
Free Zakzaky!
Action Alert: Nigeria – Demand African Union intervene in Zakzaky case
1. Background
2. Requested Action
1. For background on the cases please visit:
https://ihrc.org.uk/activities/alerts/11586-urgent-alert-nigeria-army-advancing-on-house-of-muallim-ibraheem-al-zakzaky-
2. Write to the African Union and demand they intervene in this case, firstly by writing to the AU charter body set up to monitor human rights, the African Commission on Human and Peoples' Rights. A model letter / email is provided.
Please send your communication to;
Adv. Faith Pansy Tlakula – Chairperson of African Commission on Human and Peoples' Rights
Address: 31 Bijilo Annex Layout, Kombo North District
Western Region P.O. Box 673 Banjul, The Gambia.
E-mail: au-banjul@africa-union.org
Model email / letter
Date
Dear Adv. Faith Pansy Tlakula
Re: Sheikh Zakzaky and the Islamic Movement of Nigeria
I write with regard to the persecution of the above, in particular the continued illegal detention of Mu'allim Ibraheem Zakzaky, Muallima Zeenah and hundreds of other IMN members.
You will recall that even the Nigerian courts held that Sheikh Zakzaky's detention was illegal at the end of last year and demanded the Sheikh's release. The fact that he and his wife remain in detention, both in need of medical treatment is a stain on Nigeria. The African Union must take immediate action to ensure that this travesty of justice is rectified.
I look forward to your speedy response outlining the actions your office will be taking.
Yours sincerely,
Your signature (if posting)
Your name
ARTICLES AND RESOURCES DIGEST
Rally in Kano Condemning Genocide of Muslims in Myanmar
08 September 2017
The IMN were not left out in denouncing the genocide of Rohingyah Muslims in Myanmar after Friday prayers at Fagge Friday Mosque, Kano where thousands attended the rally to express their sympathy with them.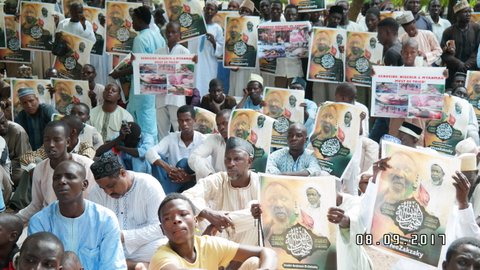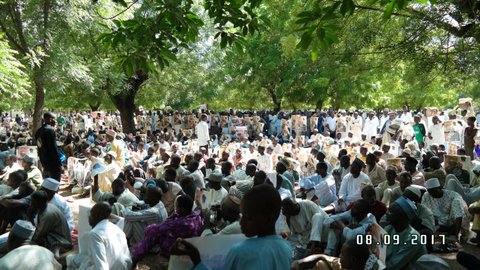 Free Zakzaky Protest in Sokoto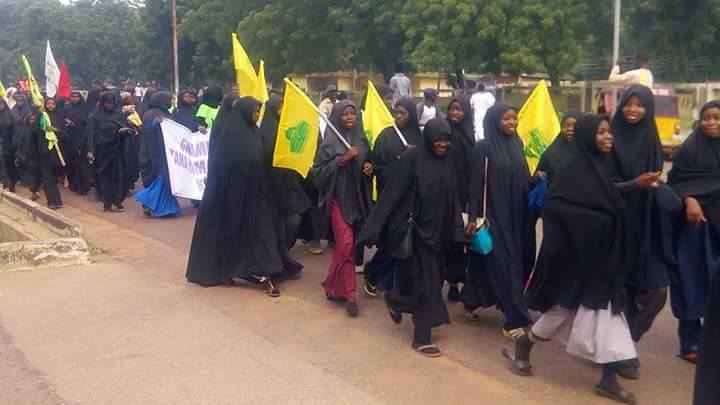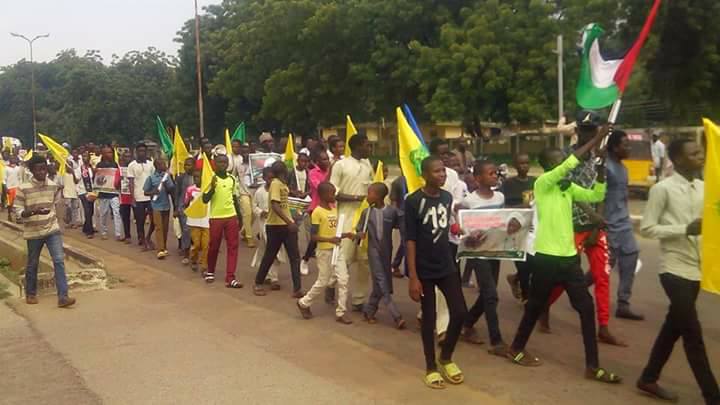 Islamic Human Rights Commission hold list of 783 missing persons of IMN
02 September 2017
IHRC hold list of at least 783 missing persons after Zaria massacre on brothers and sisters of the IMN by the Nigerian army in December 2015.
Stop Violating Laws, Free El-Zakzaky Now – Sagay Tells Buhari
01 September 2017 nextedition
The Chairman of the Presidential Advisory Committee Against Corruption (PACAC), Itse Sagay, is one of President Muhammadu Buhari's most trusted advisers and supporters. But in this concluding part of his interview with our team, the professor of International Law, pointedly asked Mr. Buhari to free the leader of the Islamic Movement of Nigeria (IMN), Ibrahim El-Zakzky, among other controversial issues he spoke about.
Eid message and Prayers by FreeZakzaky Campaign Committee
01 September 2017
On the auspicious occasion of Eid, the #FreeZakzaky Campaign Committee wishes all its followers, supporters, friends and well-wishers worldwide happy Eid.
Our Lord, on this day: reward our acts of worship, self-denial and sacrifice; Accept our fervent prayers; Our Lord! He who gives answers to the cries of the persecuted! He who pulls out the grief stricken from agony and anguish! He who comes to help those who shed tears in helplessness!
Free Zakzaky rally in Jos on 1st of Sept 2017 after Eid prayer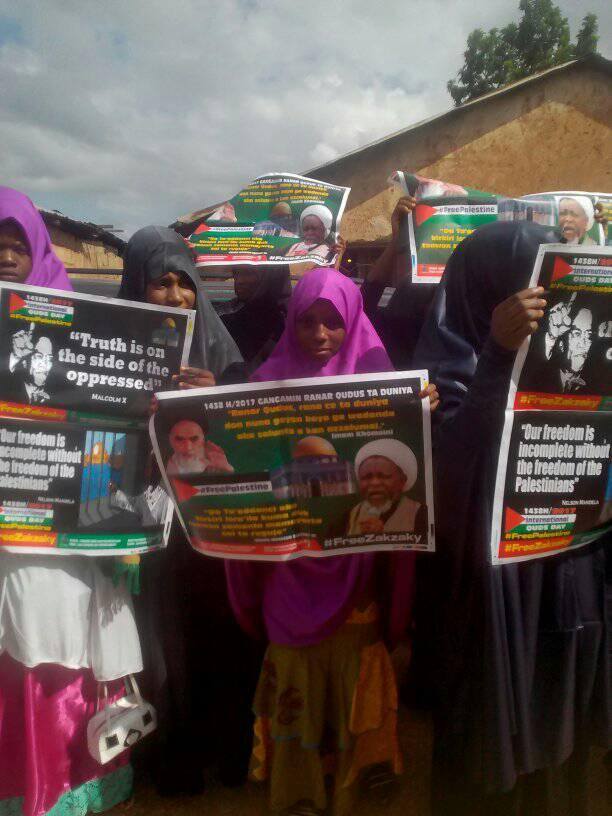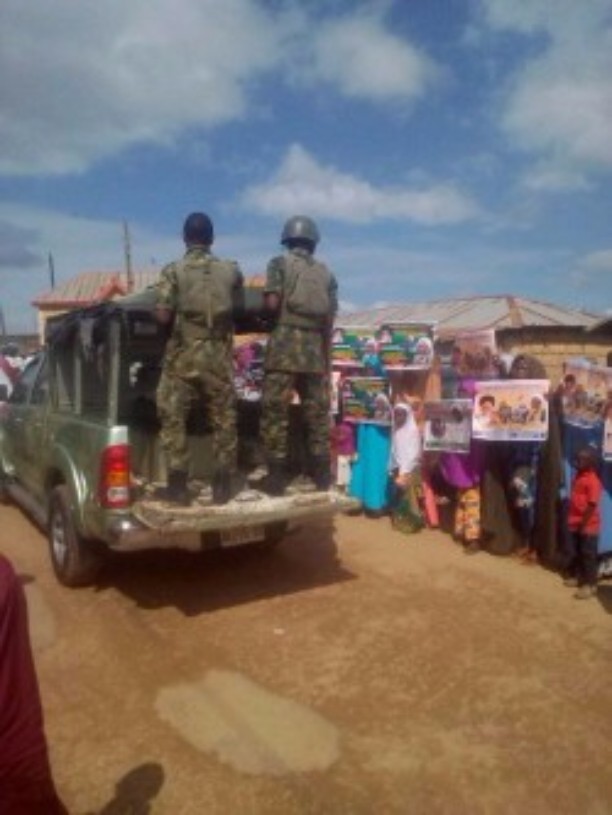 Nigeria: Hundreds forcibly disappeared to instill fear — Amnesty
30 August 2017
Enforced disappearances are being used to instill fear into civilian population living in areas of the country wracked with conflict and insecurity, said Amnesty International as the world marks the International Day of the Disappeared on 30 August.
The organisation fears that hundreds of people are being held in secret detention – a conduct prohibited under the International Convention for the Protection of All Persons from Enforced Disappearance, to which Nigeria is a state party – across the country by the Nigerian authorities and calls on the government to release details on the fate and whereabouts of all those who have been disappeared.
#ObeyCourtFreeZakzaky Protest by students in Abuja on Wednesday 30 august 2017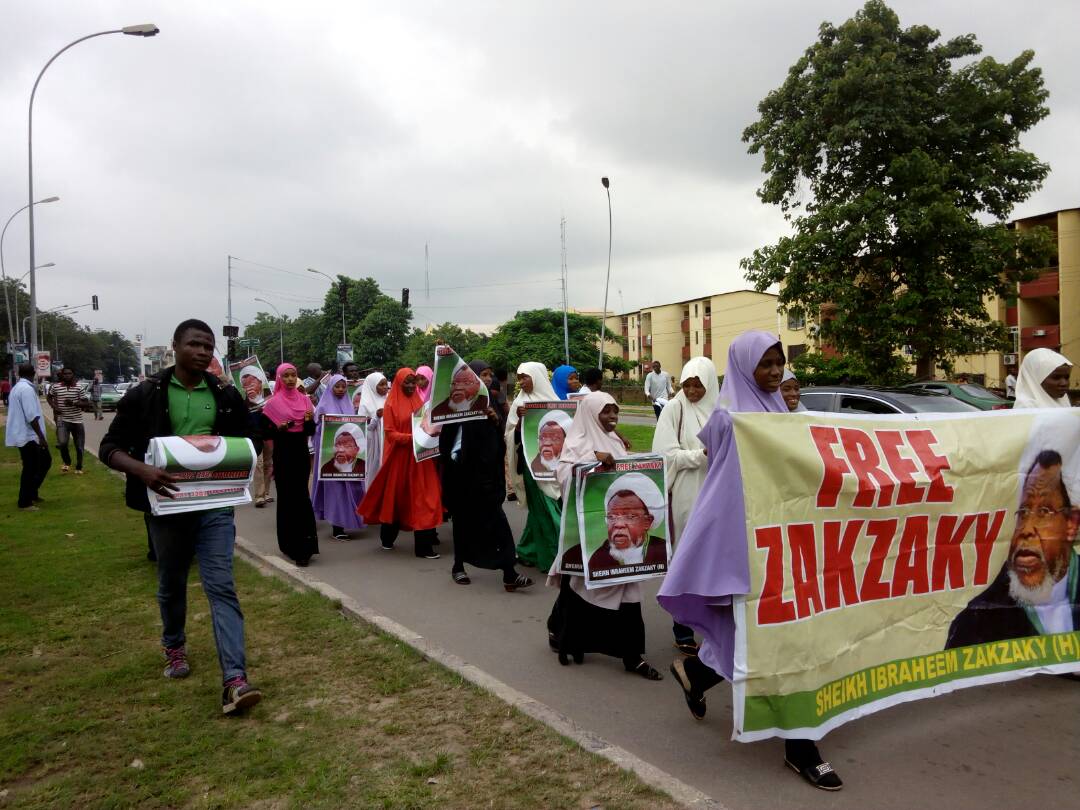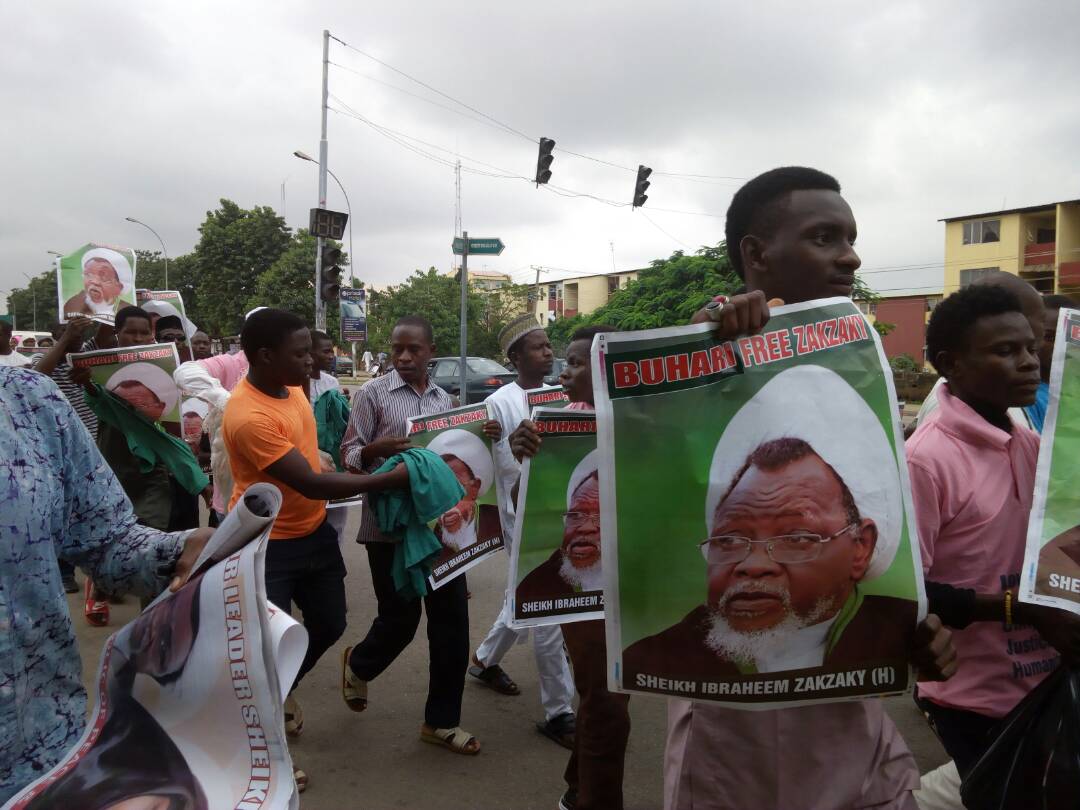 PRESS RELEASE:
WE BELIEVE IN GOD AND GOD IS JUST – All we are saying is Free Zakzaky
30 August 2017
The world is aware of the unprecedented calamity in the history of Nigeria as a "Nation" – The #ZARIAMASSCARE. It is known to the world that the United Nations Organization made a declaration in its Charter in 1945 for the guarantee of these three basic rights: the right to life as sanctity, the right to human dignity and the right to own private property. The Nigerian constitution devoted the whole Chapter IV to Human and other citizens' rights, including freedom of conscience, the right to choose your religion, freedom of association, freedom of movement and the right to fair hearing.
IHRC is an NGO in Special Consultative Status with the Economic and Social Council of the United Nations.
Islamic Human Rights Commission
PO Box 598
Wembley
HA9 7XH
United Kingdom
Telephone (+44) 20 8904 4222
Email: info@ihrc.org
Web: www.ihrc.org
The opinions expressed in this email do not necessarily reflect the views of IHRC
{jathumbnailoff}