Islamic Human Rights Commission
NIGERIA DIGEST 20 May 2018 (Volume 2 Issue 22)
Introduction
Action Alert
Articles and Resources Digest
INTRODUCTION
Below please find an update on the accelerated FreeZakzaky protests against the forcible arraignment of Sheikh Zakzaky. Earlier this week Sheikh and his wife were forcibly moved from Abuja to appear at a court in Kaduna and since then their whereabouts are unknown. Given the previous brutality exhibited towards Sheikh Zakzaky in particular by the security services there is genuine cause to fear for his health and well being.
In this week's Action Alert, we request campaigners to write to different organisations demanding the  immediate release of the Sheikh and all those unjustly imprisoned.
Please forward any responses to any campaign letters/ emails you have sent to us and please keep the pressure up and send (follow up) letters / emails.  A model letter is provided below in the Action Alert.
To find out more about the Zaria massacre, read IHRC's submission to the International Criminal Court HERE
To find out how you can help further, please visit the IHRC FreeZakzaky campaign page HERE
Note: To enable images in this digest please click on "always show content from this sender" – on top of your email just under sender's address.
Free Zakzaky!
ACTION ALERT: Leader of Islamic Movement Under Immediate Threat From Govt. Forces
1. CLICK HERE to send an email to the Commonwealth and demand their intervention in this case. Due to urgency of the matter we urge you to write to other organisations as well. A model letter and contact details of various organisations are provided below.
2. If you receive a response please forward it to IHRC at info@ihrc.orgModel email / Letter
[Address]
[Date]
I am writing you to bring to your attention a matter of the utmost urgency. Nigerian government forces forcibly moved the leader of the Islamic Movement of Nigeria Sheikh Ibrahim Zakzaky and his wife to Kaduna, despite their life threatening medical conditions, they were forced to attend a court session in Kaduna against their will and since then their whereabouts are unknown. Last week Sheikh Zakzaky declined to attend the lower court because the government violated an earlier High Court judgement ordering his immediate unconditional release.
On 02 December 2016 the Federal High Court in Abuja ruled that Sheikh Zakzaky and Muallimah Zeenah should be released within 45 days. The court described their detention, which began in December 2015 as illegal and unconstitutional.The deadline for the court order expired on 16 January 2017 but the Nigerian Government has refused to obey the court order. the Nigerian government has kept him detained illegally for over two years now and Sheikh Zakzaky and his wife still remain in the custody of the state, in clear contempt of the court order.
Sheikh Zakzaky is being unlawfully detained and the current trumped up charges against him are part of a wider effort to cover up the gruesome crimes committed by members of the security forces in Zaria in December 2015 that left at least 1000 civilians dead.
The attempted move to Kaduna is also a desperate effort to deflect attention from the ongoing daily FreeZakzaky demonstrations in the Nigerian capital, Abuja. Security forces have regularly attacked peaceful FreeZakzaky protesters, they have killed at least 6, arrested, tortured and injured hundreds of them with live bullets and teargas over the last few months.
The state's denial of medical treatment to Sheikh Zakzaky has led to a severe deterioration in his medical conditions and any attempt to move him forcefully will put his life in danger.
I am extremely concerned as Sheikh Zakzaky suffered a stroke in early January and his condition has been further aggravated due to the continued unlawful detention and denial of access to adequate medical treatment. He was shot by security forces more than two years ago, losing his left eye in the process and is currently at risk of losing the use of his other eye.
It is imperative that you apply pressure on the Nigerian authorities so that they do not move Sheikh Zakzaky and endanger his life. it is also critical that they adhere to the High Court judgment of December 2016, and release Sheikh Zakzaky and his wife immediately.
Yours sincerely,
[Name]
CONTACT DETAILS AND SALUTATIONS:
Commonwealth Secretariat Contact Details:
Rt Hon Patricia Scotland QC
Commonwealth Secretariat
Marlborough House
Pall Mall
London
SW1Y 5HX
Email: info@commonwealth.int; geneva@commonwealth.int
African Union Contact Details:
African Union Chairperson
Mr Paul Kagame
Roosevelt Street (Old Airport Area), W21K19,
Addis Ababa, Ethiopia
Email: au-banjul@africa-union.org ; DIC@african-union.org
Nigerian Ambassador / High Commissioner in your country
Please find the name, address and contact details of the relevant diplomat in your country here:
https://www.embassypages.com/nigeria
ARTICLES AND RESOURCES 
Nigerian Army Snoops Around Jos Center Of Islamic Movement, Plot Attack
19 May 2018
Reports from Jos this evening indicate that about a dozen battle ready soldiers from the Nigerian army were all around the Jos Islamic center and residence of Sheikh Adam Tsoho, the head of Islamic Movement members in Jos, snooping around, perhaps as a prelude to attacking the center.
They masked soldiers arrived in two vehicles, including a Hilux, and took positions without uttering a word to anybody. They are apparently from their headquarters in Abuja…
Free Zakzaky Protests in Kaduna, Kano, Bauchi, Katsina
19 May 2018
Large number of protesters came out in various Nigerian cities to demonstrate against Nigerian security forces forcibly moving Sheikh Zakzaky from Abuja to Kaduna. Free Zakzaky protesters chanted against this new plot of trumped up charges and demanded immediate release of their leader according to earlier High Court orders. Massive protests were staged in many Nigerian cities on Saturday the 19th of April 201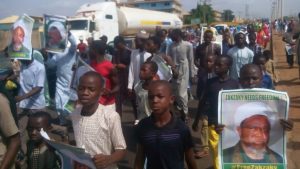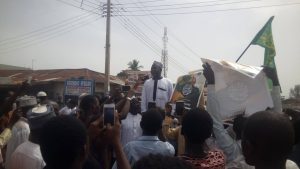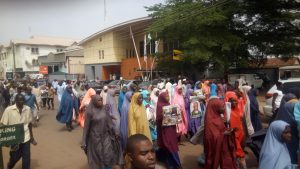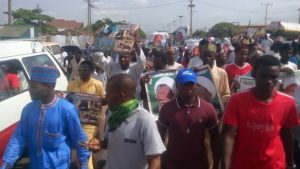 KATSINA: A large number of youth, men and women joined FreeZakzaky protest in Katsina on Saturday 19 May 2018, below are few pictures of the protest.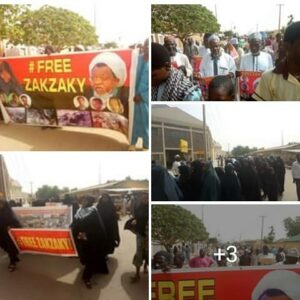 BAUCHI: A large number of youth, men and women joined FreeZakzaky protest in Bauchi on Saturday 19 May 2018, below are few pictures of the protest.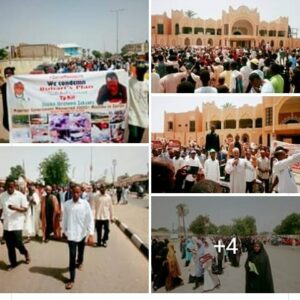 KANO: A large number of youth, men and women joined FreeZakzaky protest in Kano on Saturday 19 May 2018, below are few pictures of the protest.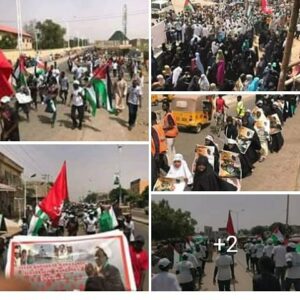 Where Is The Government Hiding Sheikh Zakzaky?
18 May 2018
It is public knowledge that on Tuesday 15/05/08, our Leader Sheikh Ibraheem Zakzaky and his wife Malama Zeenah Ibrahim were brought to a Kaduna high court by force from where they have been detained for over two and half years on the instance of Kaduna state government.
They were charged with spurious charges that included the murder of one soldier. Even though all roads leading to the court were cordoned off during the court case, the few people within the premises of the court and the Lawyers of Sheikh Zakzaky saw him alighting from the car that brought him to court, they also saw him leaving the court premises after the case in the same car. Pictures of his arrival to the court were also shared on various social media platforms.
What is disheartening is the fact that since when our Leader and his wife left court on Tuesday to date nothing has been heard of them. Here is what his only surviving son said in one of the social media platforms: "It is now more than 30 hours since I last heard anything of my parents."…
Sheikh Zakzaky's Lawyers Officially Request To See Him
18 May 2018
Lawyers of the leader of the Islamic Movement in Nigeria, Sheikh Ibraheem Zakzaky, have officially written to the Director of the Department of State Security (DSS) requesting to see their client.
The letter dated 17th May, 2018 specifically demands for an unfettered access to the Sheikh on 21st or 24th of May, 2018. This will be in line with the order given by the court to be given such access within three days of such request by his lawyers.
IHRC PRESS RELEASE: Zakzaky arraignment highlights government contempt of law and due process
17 May 2018
The arraignment yesterday of Sheikh Ibrahim el-Zakzaky and his wife by the state High Court in Kaduna conforms to a pattern of government contempt for due process and law since they were detained in December 2015.
The pair were forcibly moved overnight from the capital Abuja by Nigeria's secret services (DSS) to the High Court in Kaduna to hear the charges fabricated against them. The authorities allege that the sheikh and supporters of his group abetted the commission of culpable homicide when they blocked roads in the city of Zaria in December 2015.
No court has made an order for the Zakzakys to answer the charges. If they refuse to attend the hearing it is for the court to decide what happens next. There is no legal authority for the security services or anyone else to force them to attend…
FreeZakzaky Protesters Marched In Solidarity with Palestinians
17 May 2018
A protest condemning killings in Gaza and showing support for the Palestinians course was staged in Abuja while the protesters calling for the release of Sheikh Zakzaky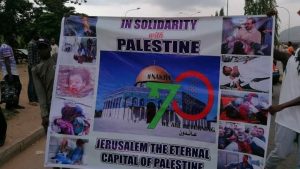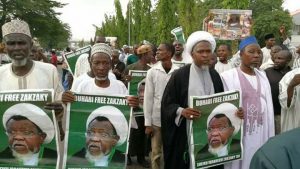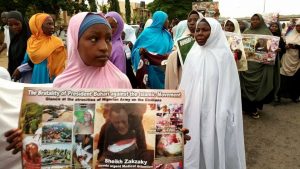 Nigeria Risks The Wrath Of God If Sheikh Zakzaky Remains In Detention – Sunni Cleric, Dahiru Bauchi
16 May 2018
The top Sunni cleric and an expert in Qur'anic exegesis, Sheikh Dahiru Usman Bauchi has said that Nigerian government is sitting on the precipice of God's wrath if it fails to release Sheikh Ibraheem Zakzaky.
He made this declaration when discussing with other top scholars at the mourning session of the head of Tijjaniyyah order, Sheikh Isyaka Rabiu in Kano, who died last week.
According to Sheikh Dahiru Bauchi, "it is a calamity to unjustifiably detain a man of God," noting that in this instance, even the secular courts in the land had ordered for the release of Sheikh Zakzaky.
Sheikh Zakzaky Arraigned In Court In Kaduna
15 May 2018
The leader of the Islamic Movement in Nigeria, Sheikh Ibraheem Zakzaky and his wife, were today arraigned before the Kaduna state High Court sitting in Kaduna.
The duo were surprisingly forcibly moved from their DSS detention center in Abuja under the cover of darkness and brought to Kaduna for the case. The Sheikh had refused being served some weeks earlier, but the authorities forcibly arraigned notwithstanding…
Another Massive FreeZakzaky Protest in Nigerian Capital Abuja
15 May 2018
Free Zakzaky protest staged in Abuja on Tuesday 15th of June, 2018 even as the government defiantly forcefully arraigned the leader of the Islamic Movement in court on the day. Nigeria witnessed an all day free Zakzaky campaign activities across the length and breadth.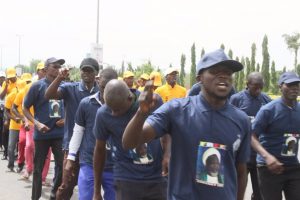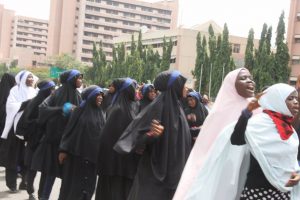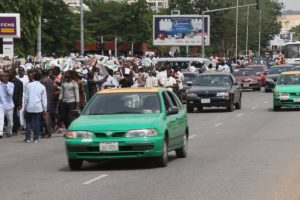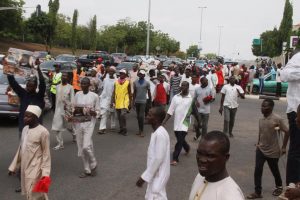 FreeZakzaky Protests in Kaduna and Kano
15 May 2018
Free Sheikh Zakzaky protests were staged in Kaduna and Kano today Tuesday the 15th of May 2018. Similar Protests were staged in other areas in Nigeria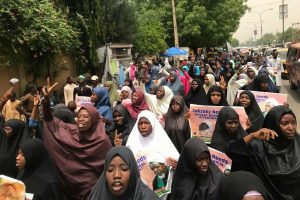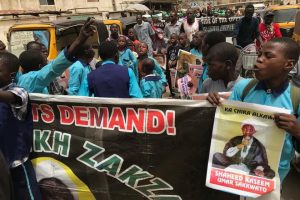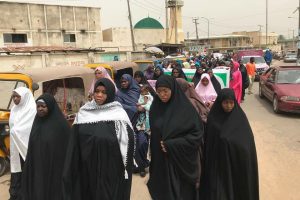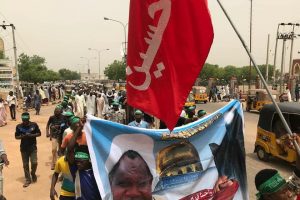 Security Forces attack Free Zakzaky Protesters in Abuja
14 May 2018
The peaceful free Zakzaky protest was again staged in Abuja central district on Monday the 14th of May 2015. Murderous Nigerian police teargassed the protesters and opened fire with live ammunition  on them.
This happened in front of National Secretariat Complex just few meters away from National assembly.. A number of people have been  injured while many arrested by the police.Fellow citizens of Nigeria are reminded free Zakzaky shall always  remain peaceful …. Demand remains FREE SHEIKH ZAKZAKY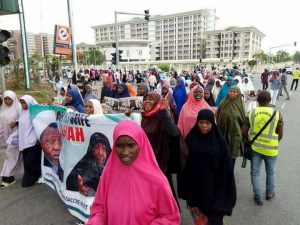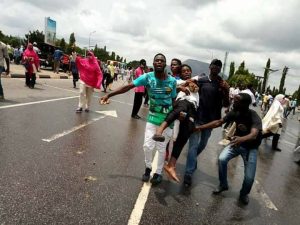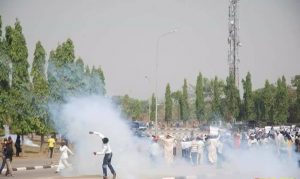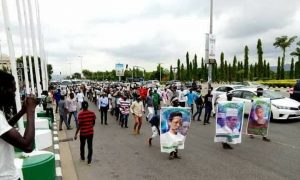 Free Shaikh Zakzaky protest taking place in the heart city of Kano Nigeria
13 May 2018
Free Sheikh Zakzaky protest in Kano city with thousands protesters along major streets in Kano. The Protest was staged on Sunday Night the 13th of May 2018. Similar protests were staged in various cities and towns.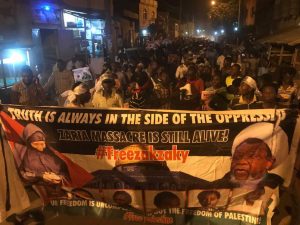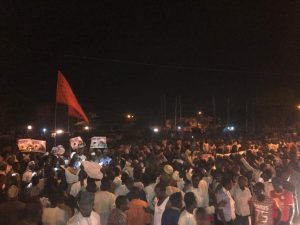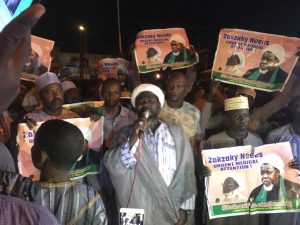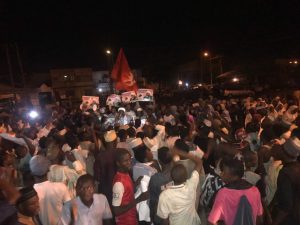 ——————————————————————————————
IHRC is an NGO in Special Consultative Status with the Economic and Social Council of the United Nations.
Islamic Human Rights Commission
PO Box 598
Wembley
HA9 7XH
United Kingdom
Telephone (+44) 20 8904 4222
Email:info@ihrc.org
Web:www.ihrc.org
Twitter @ihrc
The opinions expressed in this digest do not necessarily reflect the views of IHRC
Copyright © 2017 IHRC, All rights reserved.