Islamic Human Rights Commission
NIGERIA DIGEST 26 MAY 2018 (Volume 2 Issue 23)
Introduction
Action Alert
Articles and Resources Digest
INTRODUCTION
Below please find an update on the continuous Free Zakzaky protests in the Nigerian capital Abuja and other cities in the country. The sustainability of these protests is unusual given the recent Government attempts to shift the focus by forcibly moving Sheikh Zakzaky from Abuja. The whereabouts of Sheikh and his wife are unknown since they were forcibly arraigned in Kaduna court on 15 May 2018.
In this week's Action Alert, we request campaigners to write emails / letters to the African Union demanding the immediate release of the Sheikh and all those unjustly imprisoned.
Please forward any responses to any campaign letters/ emails you have sent to us and please keep the pressure up and send (follow up) letters / emails.  A model letter is provided below in the Action Alert.
To find out more about the Zaria massacre, read IHRC's submission to the International Criminal Court HERE
To find out how you can help further, please visit the IHRC FreeZakzaky campaign page HERE
Note: To enable images in this digest please click on "always show content from this sender" – on top of your email just under sender's address.
Free Zakzaky!
ACTION ALERT: Demand Urgent Intervention of AU To Save The Life Of Sheikh Zakzaky
1. CLICK HERE to send an email to the African Union and demand they intervene in this case by writing to the AU Chairperson, a model letter / email is provided below
2. If you receive a response please forward it to IHRC at info@ihrc.org
Model email / letter
If you are emailing, please use the following in the subject line:
Urgent Intervention of AU to Save the Life of Sheikh Zakzaky
African Union Chairperson
Mr Paul Kagame
Roosevelt Street (Old Airport Area), W21K19,
Addis Ababa, Ethiopia
Date:
Re: Sheikh Zakzaky
I am writing to ask for your urgent intervention to save the life of Sheikh Ibraheem Zakzaky, leader of the Islamic Movement of Nigeria.
Last week, despite their life threatening medical condition, Sheikh and his wife were forcibly moved from Abuja to appear at court in Kaduna and since then their whereabouts are unknown. Given the previous brutality exhibited towards Sheikh Zakzaky in particular by the security services there is genuine cause to fear for his health and well being.
Sheikh Zakzaky declined to attend the lower court because the government violated an earlier High Court judgment ordering his immediate unconditional release but they were forced to attend a court session in Kaduna against their will.
On 02 December 2016 the Federal High Court in Abuja ruled that Sheikh Zakzaky and Muallimah Zeenah should be released within 45 days. The court described their detention, which began in December 2015 as illegal and unconstitutional. The deadline for the court order expired on 16 January 2017 but the Nigerian Government has refused to obey the court order. The Nigerian government has kept him detained illegally for over two years now and Sheikh Zakzaky and his wife still remain in the custody of the state, in clear contempt of the court order.
Current trumped up charges against him are part of a wider effort to cover up the gruesome crimes committed by members of the security forces in Zaria in December 2015 that left at least 1000 civilians dead.
The attempted move to Kaduna is also a desperate effort to deflect attention from the ongoing daily FreeZakzaky demonstrations in the Nigerian capital, Abuja. Security forces have regularly attacked peaceful FreeZakzaky protesters; they have killed at least 6, arrested, tortured and injured hundreds of them with live bullets and teargas over the last few months.
The state's denial of medical treatment to Sheikh Zakzaky has led to a severe deterioration in his medical conditions and the recent attempt to move him forcefully will put his life in danger.
I am extremely concerned as Sheikh Zakzaky suffered a stroke in early January and his condition has been further aggravated due to the continued unlawful detention and denial of access to adequate medical treatment. He was shot by security forces more than two years ago, losing his left eye in the process and is currently at risk of losing the use of his other eye.
It is imperative that you apply pressure on the Nigerian authorities so that they adhere to the High Court judgment of December 2016, and release Sheikh Zakzaky and his wife immediately.
I look forward to hearing from you
Yours Sincerely,
Email: au-banjul@africa-union.org; DIC@african-union.org
ARTICLES AND RESOURCES 
Islamic Movement Mourns Victims Of Violent Killings In Nigeria
26 May 2018 – By FreeZakzaky
As part of the alliance marking Monday the 28th of May, 2018 as a National Day of Mourning of violent killings in Nigeria, the Islamic Movement in Nigeria has completed plans to mourn the day with others.
A notice to that effect was circulated late Friday by the #FreeZakzaky Campaign Committee.
The notice is inviting the generality of Nigerian citizens, including those in the diaspora and all people of conscience across the globe, to join the various activities and events earmarked for the day everywhere they are.
According to the notice, "there is no flag large enough to cover the shame of killing innocent citizens" violently, especially when those killings are carried out by the Nigerian government…
Free Zakzaky Protest in Abuja on Friday
25 May 2018
Yet another massive peaceful Free Sheikh Zakzaky Protest staged in Abuja on Friday the 25th of May 2018. In a recent plot Nigerian Government forcibly moved Sheikh Zakzaky from the capital Abuja and one of ill objective was to shift the focus and stop the continuous protests in the Capital but FreeZakzaky campaign continued massive protests and rallies in Abuja to demand immediate release for the illegally detained leader of the Islamic Movement of the Nigeria.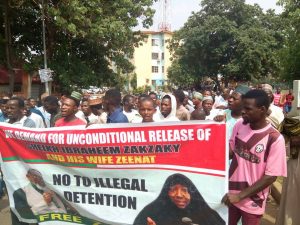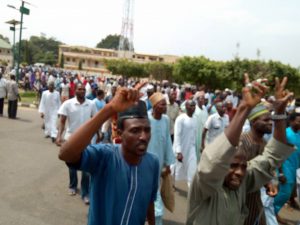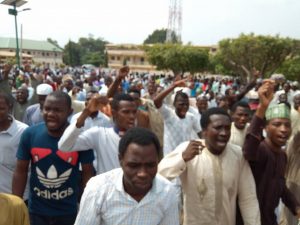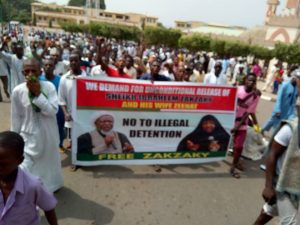 Free Zakzaky Protest in Kaduna on Friday the 25th
25 May 2018
Free Sheikh Zakzaky protest continued in different Nigerian cities and a large number of protesters came out and marched in Kaduna on Friday the 25th of May 2018 to demand immediate release of their illegally detained leader Sheikh Ibrahim Zakzaky.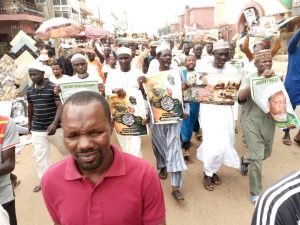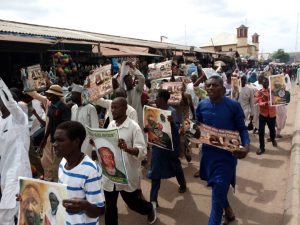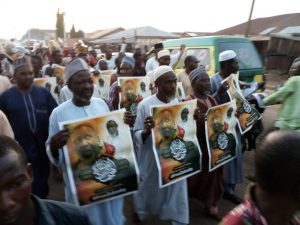 Zakzaky Is A Prisoner Of Faith – Said Former Buhari Right-hand Man
24 May 2018
A former President Buhari right-hand man, Buba Galadima has described Sheikh Ibraheem Zakzaky as a prisoner of faith. He was speaking in a television program "Focus Nigeria:Matters Arising" on AIT.
Commenting the detention of high profile detainees against court orders, Buba Galadima said, El-Zakzaky is being detained "for not practicing the kind of Islam that those in authority…want." This, according to him, is contrary to constitutional provisions that guarantee freedom of faith and conscience…
US Report on Human Rights Violations in Nigeria
24 may 2018 – Nigerian Tribune
The United States government recently released a report on the spate of human rights  abuses under the Muhammadu Buhari-led administration in a Country Report on Human Rights Practices for 2017.
It said, no reports of the Federal Government  investigating or holding individuals accountable for the 2015 killing and subsequent mass burial of members of the Islamic Movement of Nigeria and other civilians by Nigerian Army operatives in Zaria, Kaduna State…
Another Free Zakzaky Peaceful Protest Staged in Abuja on Wednesday
23 May 2018
Peaceful free Sheikh Zakzaky protests are continued in Nigerian Capital Abuja and a large number of FreeZakzaky campaign supporters marched Garki District of Abuja today on Wednesday the 23rd of May 2018 to highlight the injustice against their leader Sheikh Ibrahim Zakzaky. Protesters also carried Palestinian flags to show support for the oppressed brothers and sisters in Gaza.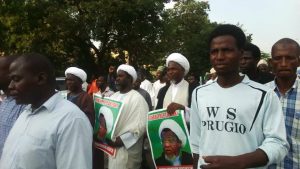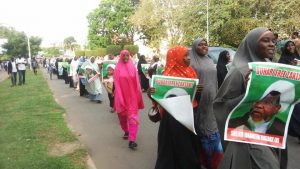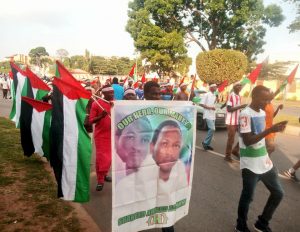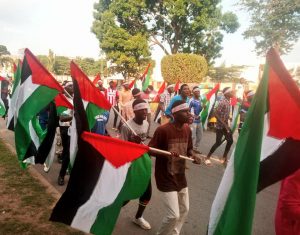 Free Zakzaky Peaceful Protest in Abuja on Tuesday 22nd May
22 May 2018
Followers and supporters of Sheikh Zakzaky staged another peaceful Free Sheikh Zakzaky Protest in Abuja on Tuesday the 22nd of May 2018. Demonstrators peacefully marched in the Capital and demanded immediate release of the leader of Islamic Movement Sheikh Ibrahim Zakzaky and those unjustly imprisoned by the Nigerian regime.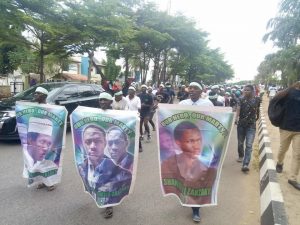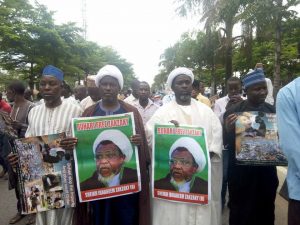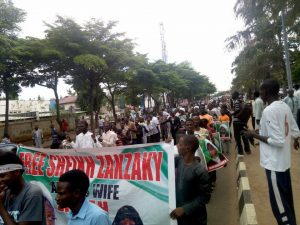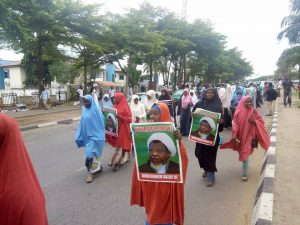 Seek Justice For Zakzaky Beyond Nigeria – Amnesty Int'l
21 May 2018 – By FreeZakzaky
Amnesty International (AI) has advised the Islamic Movement of Nigeria to seek justice for Ibrahim Zakzaky, its leader, and members held in detention by the Kaduna state government, outside the Nigerian judiciary.
Osai Ojigho, AI country director, who spoke inan interview on The Osasu Show with Osasu Igbinedion, asked the group not to relent until it exhausts all options available to it to seek redress…
Free Zakzaky and Pro Palestinian Rallies Held in Various Nigerian Cities
20 May 2018
Thousands in different cities in Nigeria came out on Saturday 19th May, 2018 to condemn the refusal of the Nigerian government to unconditionally release Shaikh Zakzaky (H) and his wife Malama Zenatuddeen Ibraheem whose whereabouts are unknown at present.
Likewise to condemn recent Gaza killings and show their support to the people of Palestine, who for about seventy years, have been subjected to different forms of oppression and tyranny.
In Kano region of Nigeria, protesters carrying placards and banners expressing their demand for freedom of Zakzaky and Palestinians, voiced slogans along major streets of Kano city. They matched  through Kofar Dawanau, Goron Dutse, Gwammaja and ended at Kofar Mazugal…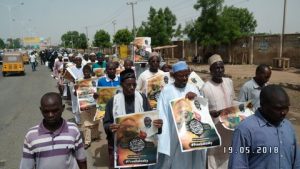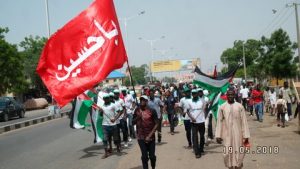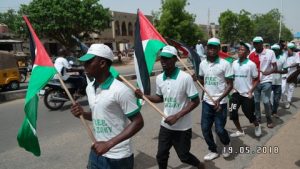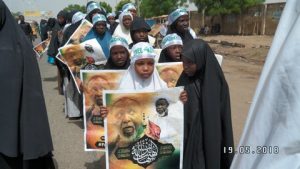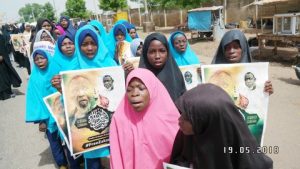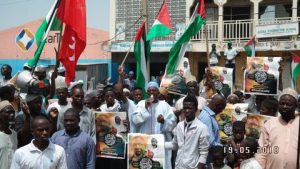 FreeZakzaky Campaigners Staged a Rally in Solidarity with Palestinians
19 March 2018
Followers of Sheikh Ibraheem Zakzaky staged a rally in support of the Palestinian after Friday prayers at Fagge, Kano Jumma'at Mosque on Friday 18th May, 2018. Shaikh Sunusi AbdulKadir Koki delivered a speech at the occasion with thousands in attendance.
Shaikh Sunusi reiterated the noble path to victory as shown by the Palestinian nation by resisting all forms of oppression and tyranny. The support on the Palestinian course has been shown and called upon by Ayatullah Ruhullah Khomeni (QS), and the leader of the Islamic movement in Nigeria Shaikh Ibraheem Zakzaky (H) has always called upon us to remain steadfast on this noble footpath which we shall inshaAllah never retreat nor surrender.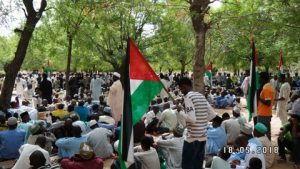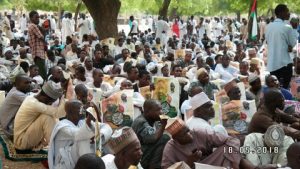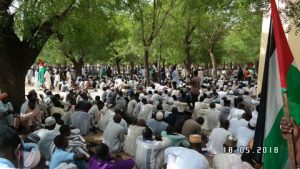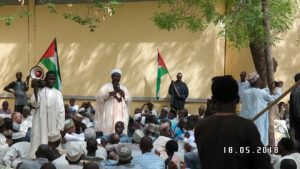 —————————————————————————————–
IHRC is an NGO in Special Consultative Status with the Economic and Social Council of the United Nations.
Islamic Human Rights Commission
PO Box 598
Wembley
HA9 7XH
United Kingdom
Telephone (+44) 20 8904 4222
Email: info@ihrc.org
Web: www.ihrc.org
Twitter @ihrc
The opinions expressed in this Digest do not necessarily reflect the views of IHRC