Islamic Human Rights Commission
NIGERIA DIGEST 23 SEPTEMBER 2017 (Volume 1 Issue 4)
Introduction
Action Alert
Articles and Resources Digest
Introduction
Welcome to the Nigeria Digest. You will find an overview of the last two week's events including insight into demonstrations in Zaria, Gombe, Abuja, Katsina, Jalingo, Potiskum, Bauchi, Kano, Azare, Sokoto, Talatan Mafara, Daura and Jibia cities; recommended reading – "September 12 to December 12: the embers of tyranny 1"; reflections written by Freezak committee about his arrest in 1996 and his release without charge after 27 months and also more background resources published by IHRC
We are urging campaigners to continue their campaign with the African Union. Please see the new campaign actions below. As the start of the Islamic New Year approaches, we note that this is a time that the Nigerian regime has often clamped down on the Islamic Movement in Nigeria, often using a sectarian narrative to justify their actions. In anticipation of this please also circulate Nusaibah El-Zakzaky's letter on the Islamic Movement as widely as you can.
Note: To enable images in this digest please click on "always show content from this sender" – a message on top of your email just under sender's address.
Free Zakzaky!
Action Alert: Nigeria – Demand African Union intervene in Zakzaky case
2. If you have written and received a response please forward it to IHRC info@ihrc.org.
Date
Dear Adv. Faith Pansy Tlakula
Re: Sheikh Zakzaky, the Islamic Movement of Nigeria and Possible Further Atrocities against them
I write with regard to my previous letter to you in this regard. I look forward to your speedy response.
Additionally I am really concerned that there will be further crackdowns by the Nigerian army and or government in the Islamic Movement in the coming weeks. As you are doubtless aware it will soon be the Islamic New Year, and unscrupulous members of the army and government have previously used a deeply sectarian and divisive narrative to justify violent actions, including shooting at religious worshipers and or protesters on demonstrations, curtailment of religious services and various violations. In some previous instances, sectarian rhetoric from institutions linked to the government and army have incited mob attacks on IMN members.
I urge your office to make known in unconditional terms that further violations against IMN members or indeed any other political or religious group will not be tolerated by your office or the African Union.
I look forward to your speedy response outlining the actions your office will be taking.
Yours sincerely,
Your signature (if posting)
Your name
ARTICLES AND RESOURCES
NIGERIA'S CONQUISTADORS
20 September 2017 by Mohammed Ibraheem Zakzaky
Three years ago, three of my brothers were practically tortured to death along with thirty one other men women and children who happened to be in the vicinity at the time, for no justifiable reason other than it being a simple opportunity that was technically available to the soldiers who were armed to the teeth at the time. Men who now have power that is unencumbered by purpose or reason in such a way that they are allowed to let their dark sides lose. Whatever may have led to the incident is of no consequence when you consider the fact that to this day this act of extrajudicial murder that was committed by uniformed officers of the Nigerian Army has never been graced with even an iota of official recognition, let alone an official statement. Little more than a year later, men in the same uniform, besieged my father's home for more than three days, and then stormed it, burning and pillaging their way, raping and killing as they pleased, until they found a room, where the few who were still living, including my parents and my three remaining brothers had taken refuge. They then unleashed the fury of their weapons upon the helpless last survivors until they were sure that all were dead. I listened on the phone that dropped from my mother's hand, I heard as they commented "this one no die" followed by the loud crack of a shot being fired. I heard their voices, as they talked as if the whole affair was routine for them. Read more
Hon. Ebenezer Oyetakin wrote:
18 September 2017
The various conferences, seminars and workshops being held by the Islamic Movement of Nigeria despite the unjust incarceration of their Leader :His Eminence Sheik Ibraheem Zarkzaky shows that his continued incarceration is meaningless, unwarranted and a mere vindictive act that has lost all senses morality. As far as I know, this is a knowledge based organization that can even help to liberate our nation from both internal and international conspiracy, hegemony and bondage of unwarranted oppression due to ignorance. From the responses of the Islamic Movement of Nigeria IMN since the unwarranted killings of many of their members and sons of their leader:one thing is certain, they are exemplary in patience, endurance and tolerance. In no way have they justified the pictures of violent and terror group many people including their traducers want to make us believe they are, irrespective of the fact that they have huge numbers of followers and sympathisers to create such discomfort, had they wanted to. It is on these notes that I once again call for the immediate and unconditional release of Sheik Ibraheem Zarkzaky.
Massive Free Zakzaky peaceful protests held across Nigerian cities
17 September 2017
Massive protest march organized by the IMN took place in many cities and towns in Nigeria on Sunday, September 17, 2017 calling for the Nigerian government to obey court order and unconditionally release its leader Sheikh Ibraheem Zakzaky (H). Some of the notable cities where the protest march took place included Zaria, Katsina, Jalingo, Potiskum, Bauchi, Kano, Azare, Sokoto, Talatan Mafara, Daura, Jibia etc. Protesters holding different placards and banners called for the immediate release of Sheikh Zakzaky (H) and his followers held since after Zaria December 2015.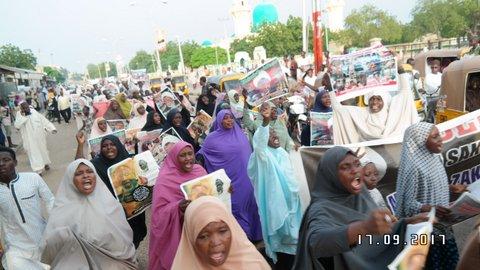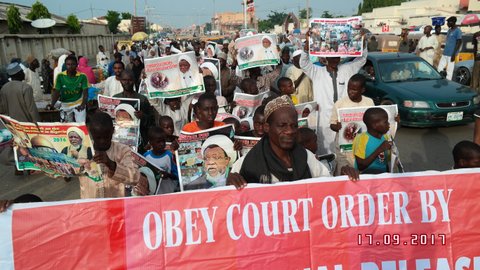 Massive Free Zakzaky Protest hits Zaria
15 September 2017
A Free Zakzaky protest was staged in Zaria on Friday the 15th of Sept 2017. IHRC received information from local eye witnesses that soldiers and policemen came after the protest and arrested two brothers and two sisters on their way back home. They also harassed and attacked ordinary people around the area.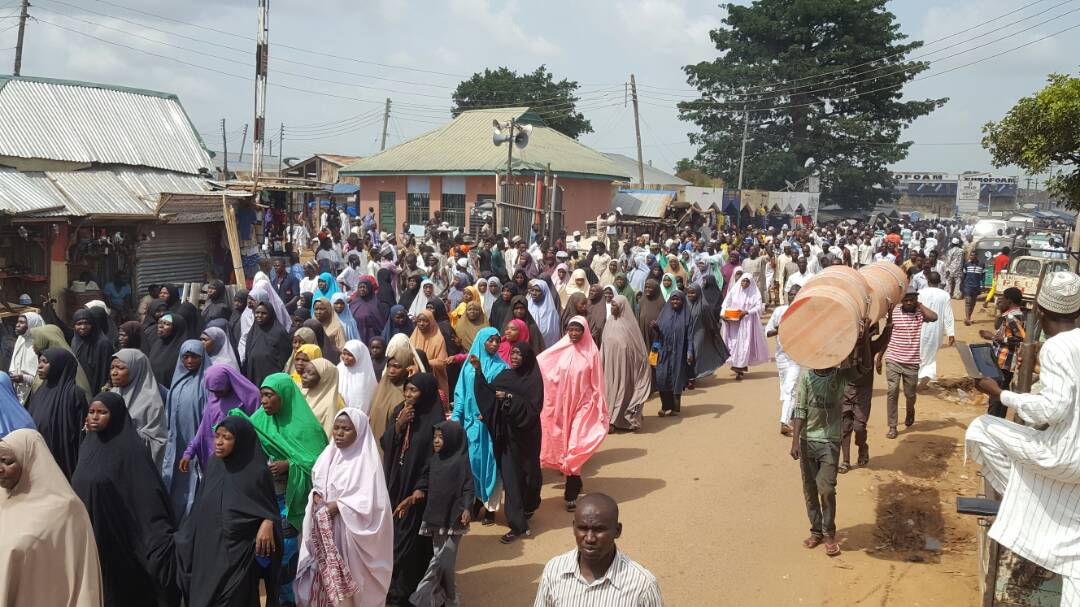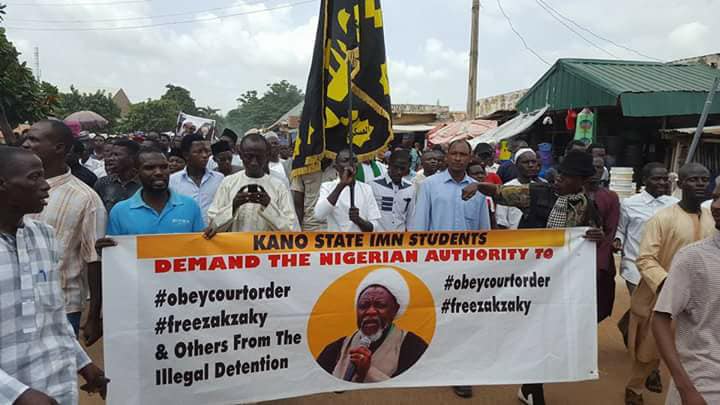 Free Zakzaky Protest in Gombe City
15 September 2017
Images of the Free Zakzaky protest staged in Gombe city on Friday the 15th of Sept 2017.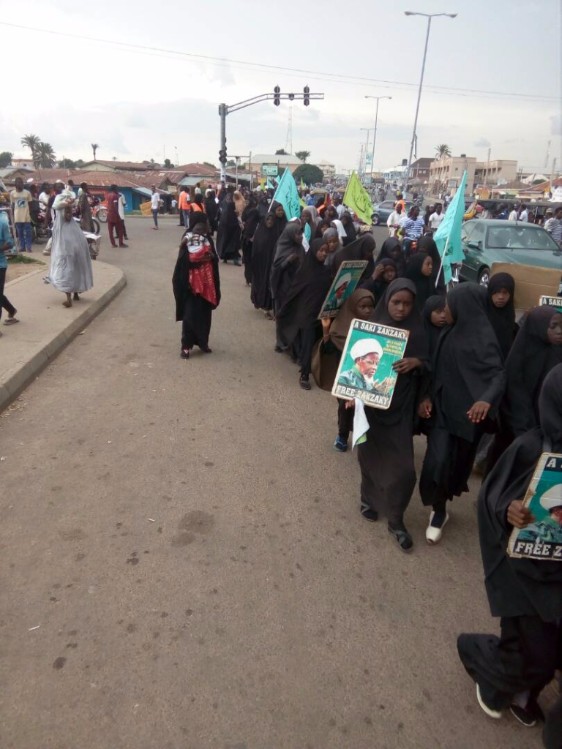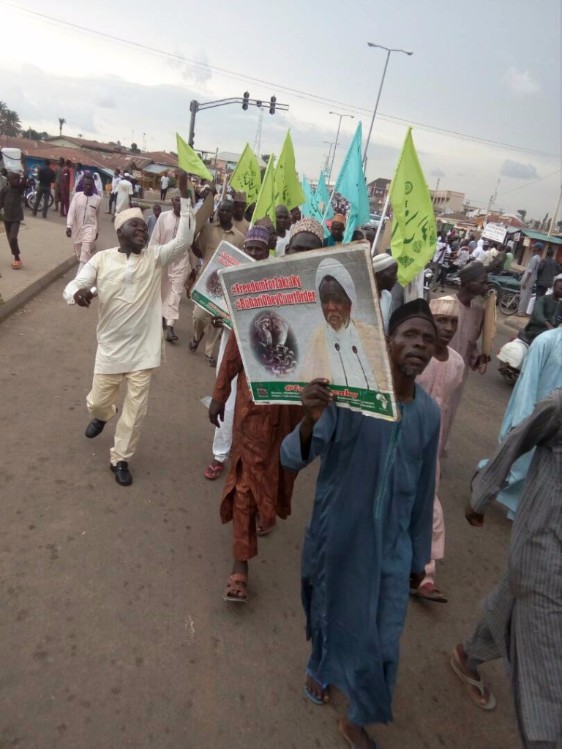 Reflections
September 12 to December 12: the embers of tyranny 1
14 September 2017, written by FreeZakzaky Campaign Committee.
It is on a day like this in 1996, when perhaps the seed of brazen abuse of rights of Sheikh Zakzaky and other members of the Islamic Movement in Nigeria was again clearly demonstrated by the brutal might of state apparatus.
On that day, in the early hours of the day, well armed is security forces, using the cover of darkness of early dawn, several trucks and armoured personnel Carriers had laid a siege of Sheikh Zakzaky's house, then situated in Banzazzau quatres of Zaria city, just behind the Emir's palace. Their main mission was to pick Sheikh Zakzaky on the direct orders of the maximum dictator, Gen Sani Abacha, dead or alive. Abacha was basking on his brutal potentiality at the time. He had maximally descended on Abiola, NADECO and all other June 12 agitators, who were either killed, captured and detained or made to flee into exile. Just a few weeks earlier, he had killed the popular Ken Saro-wiwa, the Niger Delta and Ogoni front line environmentalist and anti-polution activist along with his supporters, against international outcry. All known and perceived opposition was cowed. It only remained Sheikh Ibraheem Zakzaky and his Islamic Movement. Read more
Some background resources published by IHRC about Human Rights violations in Nigeria and Sheikh Zakzaky's last arrest 20 years ago:
APRIL 1997 – SEPTEMBER 1998 HUMAN RIGHTS VIOLATIONS IN NIGERIA
Research Report published by Islamic Human Rights Commission (IHRC), London, UK
SHADES OF INJUSTICE TRAVAILS OF MUSLIM ACTIVISTS IN NIGERIA IN THE HANDS OF SUCCESSIVE REGIMES
A paper presented by Dr. Shu'aibu Musa at an international conference on prisoners of faith held in London on Sunday 17th February 2002, Published by IHRC
Women Protesters Rally for Free Zakzaky Protest in Abuja
13 September 2017
Free Zakzaky protest in Abuja on Wednesday the 13th of Sept 2017. They matched to Human Rights Commission (HRC) to demand the immediate release of IMN leader, Sheik Ibraheem El-Zakzaky, who has been in detention since December 2015.
Dr Maimuna Husaini addressed the Human Right Commission during the protest, she expressed regret that hundreds of children have been orphaned and wives and husbands widowed, while others are languishing in illegal detention.
"On this basis, the sister's forum hereby calls on the Human Rights Commission in Nigeria and worldwide to actively facilitate the immediate release of Sheik Ibrahim El-Zakzaky," she said. "He is an icon of justice and we will continue to be a role model to all those human being who believe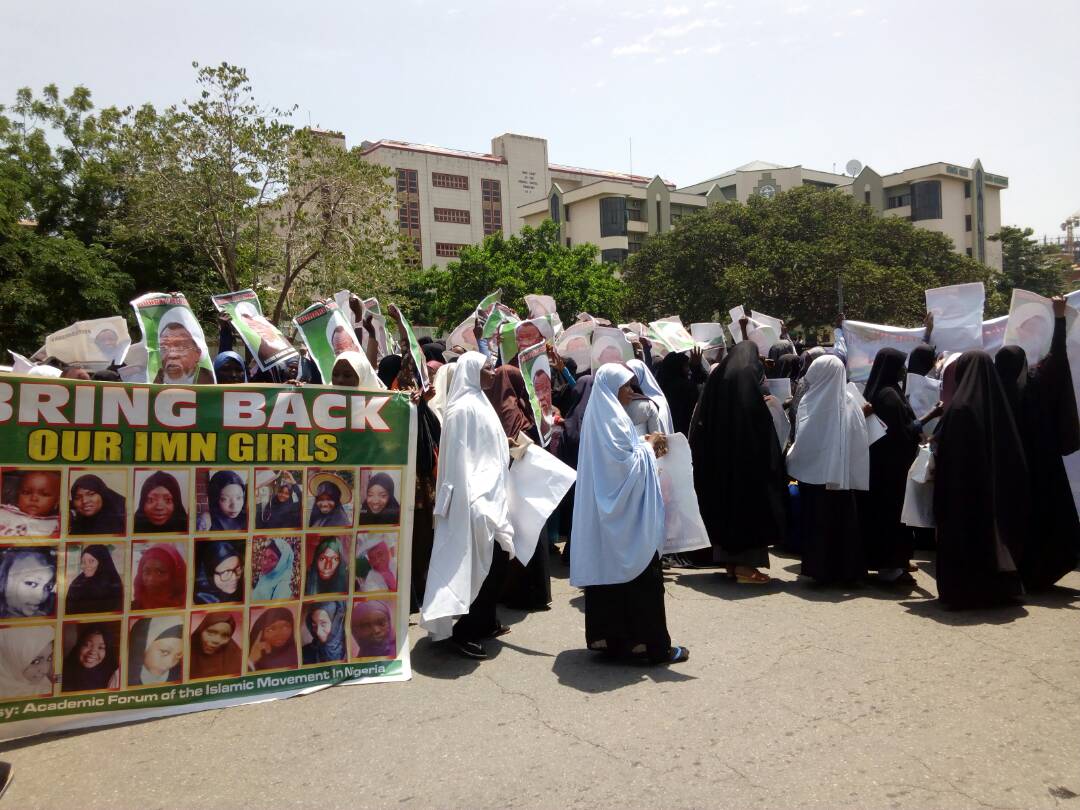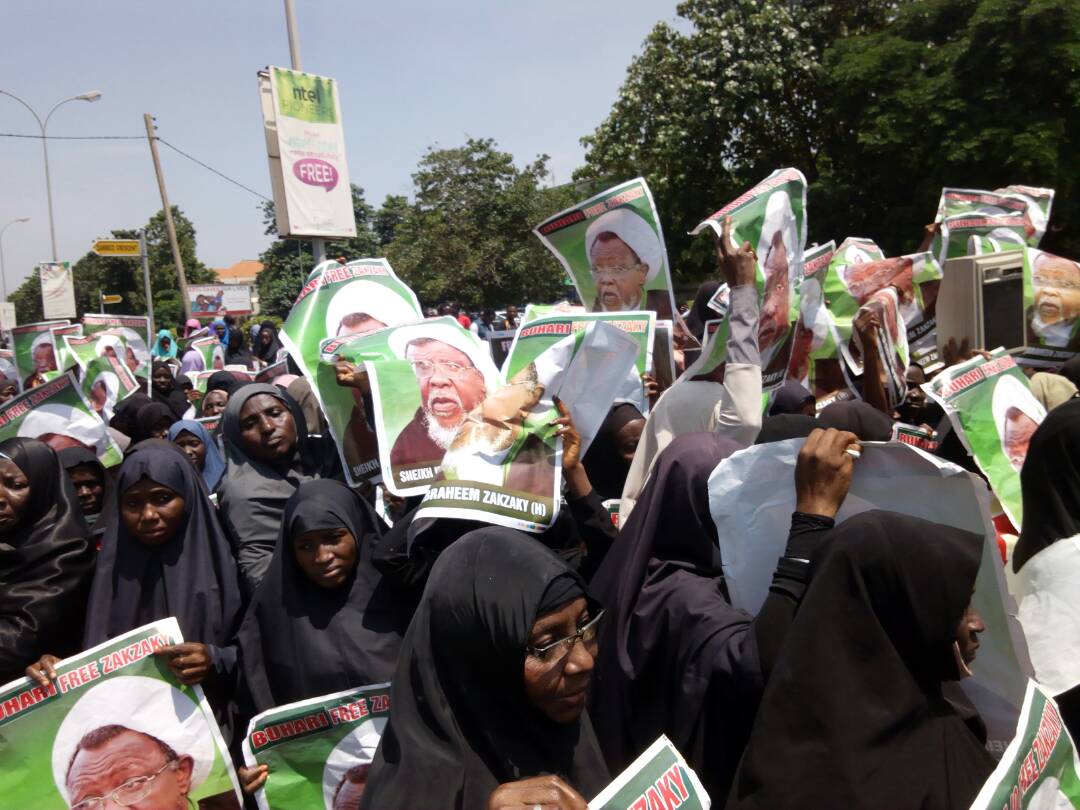 Shi'ites are Nigerians and entitled to every Constitutional Rights
Okoh Sheriff E E reply to one Ibrahim Aliyu:
10 September 2017
Ibrahim Aliyu, you have a funny mind, but you would know someday that suspicion is not wisdom. Fortunately, you are not the only person that has misunderstood my person or actions from time to time.
The Security agencies in Nigeria marked me out as Boko Haram because till date, I am the Lawyer to Kabir Umar (alias Kabiru Sokoto), and I hope you know the Boko Haram are not friends with Shi'ites?
I have never attended a Shi'ite program anywhere in the world, and may not in my lifetime, but I am also above discrimination and prejudice of sects and religion.
I cannot hate a people just because they are Shi'ites or Christians or worship God Almighty in the way they feel best.
When Christians were killed in Southern Kaduna, Kaduna State, Kano State, Benue State, Nasarawa State, Jos, Plateau State and etcetera, I condemned the killings including the one supported by Nasiru A Elrufai and his team, not because I am a Christian but because I belong to humanity.
When Kabiru Sokoto's wife was detained in Police cell till she delivered her child, I responded not because I was Boko Haram but because it was inhuman for the Nigerian Police to detain an innocent woman and her infant child for the alleged transgression of the father or parents. Fortunately, the Court agreed with my position.
You cannot support President Muhammadu Buhari against the Constitution of Nigeria if you are a good Nigerian just because you perceive that it is Islamic to do so. Buhari knows he is unjust to Sambo Dasuki and Ibrahim Elzakzaky, and you know that too.
IHRC is an NGO in Special Consultative Status with the Economic and Social Council of the United Nations.
Islamic Human Rights Commission
PO Box 598
Wembley
HA9 7XH
United Kingdom
Telephone (+44) 20 8904 4222
Email: info@ihrc.org
Web: www.ihrc.org
The opinions expressed in this email do not necessarily reflect the views of IHRC
{jathumbnailoff}
---