Islamic Human Rights Commission
NIGERIA DIGEST 09 JUNE 2018 (Volume 2 Issue 25)
Introduction
Action Alert
Articles and Resources Digest
INTRODUCTION
Below please find an update on the regular Free Zakzaky protests in Nigeria, this week followers of Sheikh Zakzaky turned out in massive numbers across the Nigeria to support the oppressed of the world especially Palestinians on the international Quds Day.
In this week's Action Alert, we request campaigners to keep the pressure and write emails / letters to the African Union demanding the immediate release of the Sheikh and all those unjustly imprisoned.
Please forward any responses to any campaign letters/ emails you have sent to us and please keep the pressure up and send (follow up) letters / emails.  A model letter is provided below in the Action Alert.
To find out more about the Zaria massacre, read IHRC's submission to the International Criminal Court HERE
To find out how you can help further, please visit the IHRC FreeZakzaky campaign page HERE
Note: To enable images in this digest please click on "always show content from this sender" – on top of your email just under sender's address.
Free Zakzaky!
 
ACTION ALERT: Demand Urgent Intervention of African Union
1. CLICK HERE to send an email to the African Union and demand they intervene in this case, a model letter / email is provided below
2. If you receive a response please forward it to IHRC at info@ihrc.org
Model email / letter
If you are emailing, please use the following in the subject line:
Urgent Intervention of African Union to Save the Life of Sheikh Zakzaky
African Union Chairperson
President Paul Kagame
Roosevelt Street (Old Airport Area), W21K19,
Addis Ababa, Ethiopia
[Date]
Dear Mr Paul Kagame,
Re: Sheikh Zakzaky
I am writing to ask for your urgent intervention to allow illegally detained Sheikh Zakzaky and his wife to leave Nigeria for urgent medical treatment due to their critically deteriorating medical conditions.
On 15 May 2018, despite the life threatening medical condition of Sheikh and his wife they were forcibly moved from Abuja to appear at court in Kaduna. This forcible arraignment of Sheikh Ibrahim el-Zakzaky and his wife by the state High Court in Kaduna conforms to a pattern of government contempt for due process and law since they were detained in December 2015.
On 02 December 2016 the Federal High Court in Abuja ruled that Sheikh Zakzaky and Muallimah Zeenah should be released within 45 days. The court described their detention, which began in December 2015 as illegal and unconstitutional. The deadline for the court order expired on 16 January 2017 but the Nigerian Government has refused to obey the court order. The Nigerian government has kept them detained illegally for over two years now and Sheikh Zakzaky and his wife still remain in the custody of the state, in clear contempt of the court order.
Current trumped up charges against him are part of a wider effort to cover up the gruesome crimes committed by members of the security forces in Zaria in December 2015 that left at least 1000 civilians dead.
The state's denial of medical treatment to Sheikh Zakzaky has led to a severe deterioration in his medical conditions and the recent attempt to move him forcefully will put his life in danger.
I am extremely concerned as Sheikh Zakzaky suffered a stroke in early January and his condition has been further aggravated due to the continued unlawful detention and denial of access to adequate medical treatment. He was shot by security forces more than two years ago, losing his left eye in the process and is currently at risk of losing the use of his other eye.
It is imperative that you apply pressure on the Nigerian authorities so that they adhere to the High Court judgment of December 2016, and release Sheikh Zakzaky and his wife immediately.
I look forward to hearing from you,
Yours Sincerely,
[Your signature if posting]
[Your name]
African Union Contact Details:
Email: au-banjul@africa-union.org
Postal Address: PO Box 3243 Roosevelt Street (Old Airport Area) W21K19 Addis Ababa Ethiopia
Tel: +251 11 551 7700 Fax: +251 11 551 7844
ARTICLES AND RESOURCES 
Quds Day Procession and Free Zakzaky Protest in Abuja
08 June 2018
The followers of Shaikh Ibraheem Zakzaky (H) the leader of the Islamic movement in Nigeria joined the international community in showing their support for the oppressed on Quds day this year 1439, (2018) in different cities in Nigeria and neighboring Niger republic.
Thousands staged International Day of the Oppressed in Abuja the Federal Capital on Friday the 8th of June 2018 marking International Quds Day. Protesters carried out Pro Palestinian and Free Zakzaky banners and Placards.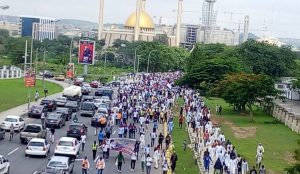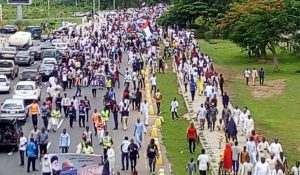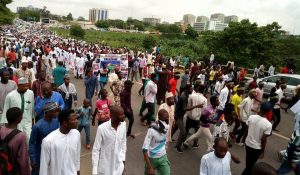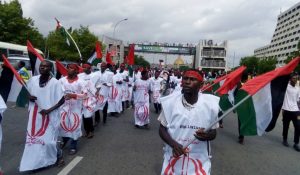 Quds 2018 Day Procession & FreeZakzaky Protest in Kano
08 June 2018
In Kano, Nigeria the security forces have attempted to prevent the yearly peaceful show of solidarity protest march did not  hold by surrounding the Fagge Friday Mosque and major locations around it with armed security personnel. However, the protest march was held after the Friday prayers, with protesters cutting across gender and age group marching on the street airing 'Freedom for Palestine!, Free Palestine!',  Palestinians have right to exist and stay in their homeland etc. The protesters passed through some major streets in central Kano. A paper released of the support of Islamic Movement to the Palestinians was also distributed with many showing and expressing their support.
Despite attempts by the security forces to stop the protest march through molestation and use of force in addition to hired thugs used as backup, the protest march finished successfully though with some reported cases of arrest.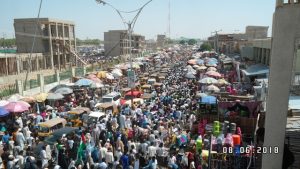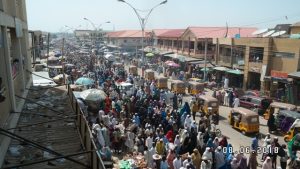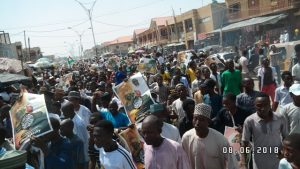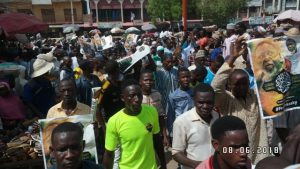 Quds Day Procession, Free Zakzaky Protest in Kaduna
08 June 2018
Like several cities around the world, the International Quds Day Processions in support of the right of the Palestinians was staged in Kaduna on Friday, 08 June 2018. Last Friday of the month of Ramadan was set aside by late Imam Khomeini (QS) as International Quds of the oppressed people of world especially the Palestinian people.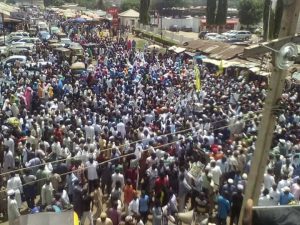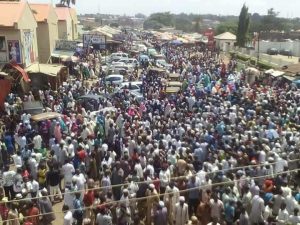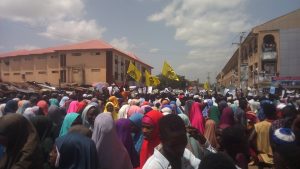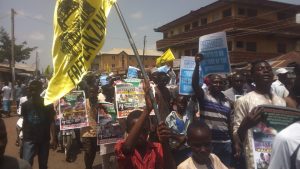 Free Zakzaky Protest in Abuja on Thursday
07 June 2018
A peaceful free Zakzaky protest was staged in Abuja today on Thursday the 7th of June 2018. Protesters marched in Nigerian Capital and chanted slogans to demand freedom for their illegally detained leader Sheikh Ibraheem Zakzaky since 2015 after infamous Zaria massacre.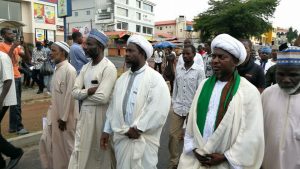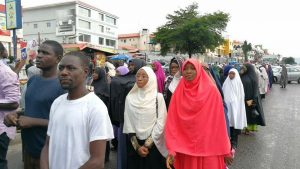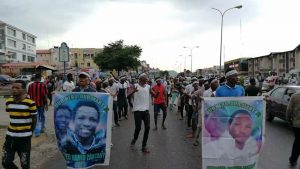 Free Quds Free Zakzaky – Justice For 2014 Quds Day Shuhada
08 June 2018
As we march out today in all the major towns and cities chanting 'Free Palestine, Free Quds", we are joining several million other marchers all over the world, answering the call of Imam Khomeini of blessed memory, who are out today, the last Friday of Ramadan, to show the global tyranny that we reject their oppression of the oppressed, and to the oppressed to show our solidarity with them that they will never stand alone…
Having said that, as we march peacefully today, we will not forget the 34 citizens murdered by the Nigerian army led by Major Okah, who were on a similar peaceful Quds day marches in Zaria in June 2014. We will not rest on our oars until and unless justice is done to the victims, among whom are three children of Sheikh Zakzaky and a Christian Igbo sympathizer to the Palestinian cause. Major Okah and his fellow murderers in Nigerian army uniform must be brought to book and answer their crimes in a competent court of the land…
——————————————————————————————
IHRC is an NGO in Special Consultative Status with the Economic and Social Council of the United Nations.
Islamic Human Rights Commission
PO Box 598
Wembley
HA9 7XH
United Kingdom
Telephone (+44) 20 8904 4222
Email: info@ihrc.org
Web: www.ihrc.org
Twitter @ihrc
The opinions expressed in this digest do not necessarily reflect the views of IHRC