Islamic Human Rights Commission
NIGERIA DIGEST 16 JUNE 2018 (Volume 2 Issue 26)
Introduction
Action Alert
Articles and Resources Digest
INTRODUCTION
Below please find an update on the continuous Free Zakzaky protests in the Nigerian capital Abuja and other cities in the country. The sustainability of these protests is unusual given the recent Government attempts to shift the focus by forcibly moving Sheikh Zakzaky from Abuja.
We request campaigners to continue with last week's action alert and keep the pressure on the African Union by writing emails / letters, demanding the immediate release of the Sheikh and all those unjustly imprisoned.
Please forward any responses to any campaign letters/ emails you have sent to us and please keep the pressure up and send (follow up) letters / emails.  A model letter is provided below in the Action Alert.
To find out more about the Zaria massacre, read IHRC's submission to the International Criminal Court HERE
To find out how you can help further, please visit the IHRC FreeZakzaky campaign page HERE
Note: To enable images in this digest please click on "always show content from this sender" – on top of your email just under sender's address.
Free Zakzaky!
 
ACTION ALERT: Demand Urgent Intervention of African Union 
1. Send an email to the African Union and demand they intervene in this case, a model letter / email is provided below
2. If you receive a response please forward it to IHRC at info@ihrc.org
Model email / letter
If you are emailing, please use the following in the subject line:
Urgent Intervention of African Union to Save the Life of Sheikh Zakzaky
African Union Chairperson
President Paul Kagame
Roosevelt Street (Old Airport Area), W21K19,
Addis Ababa, Ethiopia
[Date]
Dear Mr Paul Kagame,
Re: Sheikh Zakzaky
I am writing to ask for your urgent intervention to allow illegally detained Sheikh Zakzaky and his wife to leave Nigeria for urgent medical treatment due to their critically deteriorating medical conditions.
On 15 May 2018, despite the life threatening medical condition of Sheikh and his wife they were forcibly moved from Abuja to appear at court in Kaduna. This forcible arraignment of Sheikh Ibrahim el-Zakzaky and his wife by the state High Court in Kaduna conforms to a pattern of government contempt for due process and law since they were detained in December 2015.
On 02 December 2016 the Federal High Court in Abuja ruled that Sheikh Zakzaky and Muallimah Zeenah should be released within 45 days. The court described their detention, which began in December 2015 as illegal and unconstitutional. The deadline for the court order expired on 16 January 2017 but the Nigerian Government has refused to obey the court order. The Nigerian government has kept them detained illegally for over two years now and Sheikh Zakzaky and his wife still remain in the custody of the state, in clear contempt of the court order.
Current trumped up charges against him are part of a wider effort to cover up the gruesome crimes committed by members of the security forces in Zaria in December 2015 that left at least 1000 civilians dead.
The state's denial of medical treatment to Sheikh Zakzaky has led to a severe deterioration in his medical conditions and the recent attempt to move him forcefully will put his life in danger.
I am extremely concerned as Sheikh Zakzaky suffered a stroke in early January and his condition has been further aggravated due to the continued unlawful detention and denial of access to adequate medical treatment. He was shot by security forces more than two years ago, losing his left eye in the process and is currently at risk of losing the use of his other eye.
It is imperative that you apply pressure on the Nigerian authorities so that they adhere to the High Court judgment of December 2016, and release Sheikh Zakzaky and his wife immediately.
I look forward to hearing from you,
Yours Sincerely,
[Your signature if posting]
[Your name]
African Union Contact Details:
Email: au-banjul@africa-union.org
Postal Address: PO Box 3243 Roosevelt Street (Old Airport Area) W21K19 Addis Ababa Ethiopia
Tel: +251 11 551 7700 Fax: +251 11 551 7844
ARTICLES AND RESOURCES
Another Free Sheikh Zakzaky Protest in Abuja on 13 June
13 June 2018
Yet another peaceful protest was staged in Nigerian Capital Abuja on Wednesday the 13th of June 2018. A large number of Men, Women and Youth came out to demonstrate against the illegal detention of their leader Sheikh Ibrahim Zakzaky.
There has been regular continuous FreeZakzaky protests in Nigerian Capital Abuja and security forces used various tactics to stop these protests in the capital. Last month in most recent move DSS forcibly moved Sheikh Ibrahim Zakzaky and his wife from Abuja to Kaduna under a new plot of trumped up charges against them.
The attempted move to Kaduna was also a desperate effort to deflect attention from the ongoing daily FreeZakzaky demonstrations in the Nigerian capital, Abuja. Security forces have regularly attacked these peaceful FreeZakzaky protesters, they have killed at least 6, arrested, tortured and injured hundreds of them with live bullets and teargas over the last few months. Yet the FreeZakzaky protests are regularly staging massive demonstrations in Nigerian Capital Abuja.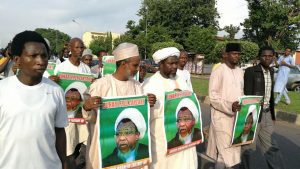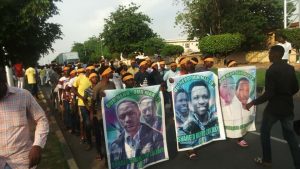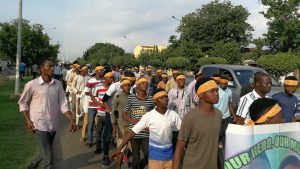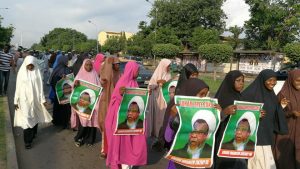 Free Zakzaky Protest in Kaduna on Wednesday
13 June 2018
A large number of youth, men and women joined FreeZakzaky protest in Kaduna on Wednesday 13 June 2018.
Following are few pictures of the protest;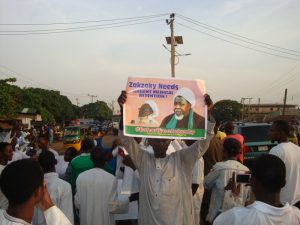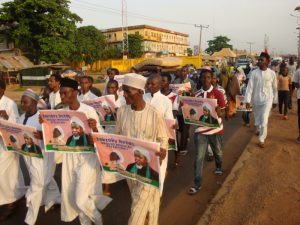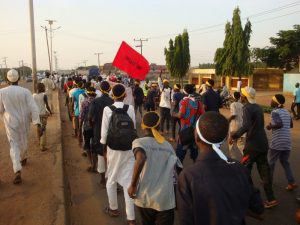 FreeZakzaky Protest in Capital Abuja on 12 June
12 June 2018
Another FreeZakzaky protest was arranged in Nigerian Capital Abuja. A large number of protesters came out to demand immediate release of Sheikh Ibrahim Zakzaky, leader of the Islamic Movement of Nigeria.
Protesters demanded justice for Sheikh Zakzaky and victims of the infamous Zaria Massacre.
Free Palestine & Free Zakzaky Protest in Potiskum
09 June 2018
On International Quds day, Free Palestine and FreeZakzaky Processions were staged in Potiskum,Yobe state on Friday the 8th of June 2018.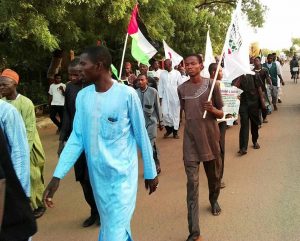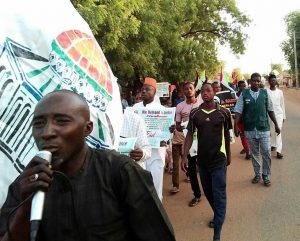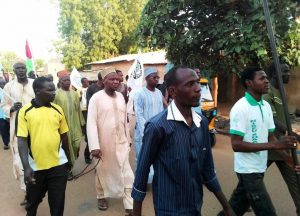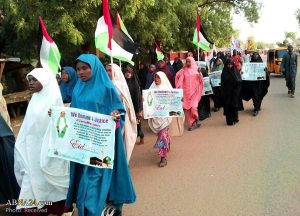 Free Palestine & Free Zakzaky Protest in Sokoto
09 June 2018
On International Quds day, Free Palestine and FreeZakzaky Processions were staged in Sokoto on Friday the 8th of June 2018.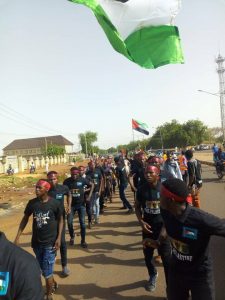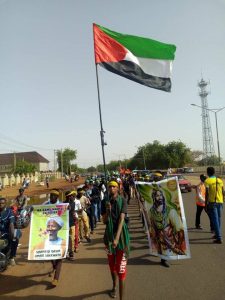 ——————————————————————————————
IHRC is an NGO in Special Consultative Status with the Economic and Social Council of the United Nations.
Islamic Human Rights Commission
PO Box 598
Wembley
HA9 7XH
United Kingdom
Telephone (+44) 20 8904 4222
Email: info@ihrc.org
Web: www.ihrc.org
Twitter @ihrc
The opinions expressed in this digest do not necessarily reflect the views of IHRC