Islamic Human Rights Commission
NIGERIA DIGEST 28 July 2018 (Volume 2 Issue 32)
Introduction
Action Alert
Articles and Resources Digest
Archive Section
INTRODUCTION
Below please find an update on the continuous Free Zakzaky protests in Nigeria. This week 4 people suffered gunshot wounds when security forces attacked a peaceful annual mourning ceremony, commemorating the death of 34 people killed by the Nigerian Army during the 2014 international Quds Day rally in Zaria.
We request campaigners to keep the pressure on the African Union by writing emails / letters, demanding the immediate release of the Sheikh and all those unjustly imprisoned.
Please forward any responses to any campaign letters/ emails you have sent to us and please keep the pressure up and send (follow up) letters / emails.  A model letter is provided below in the Action Alert.
Please share Chairman of IHRC, Massoud Shadjareh's video of 20 July on the plight of Sheikh. You can find the video HERE. Please email us on wajahat@ihrc.org if you want a WhatsApp version.
To find out more about the Zaria massacre, read IHRC's submission to the International Criminal Court HERE
To find out how you can help further, please visit the IHRC FreeZakzaky campaign page HERE
Note: To enable images in this digest please click on "always show content from this sender" – on top of your email just under sender's address.
Free Zakzaky!
 
ACTION ALERT: Demand Urgent Intervention of the African Union
1. CLICK HERE to send an email to the African Union and demand they intervene in this case, a model letter / email is provided below
2. If you receive a response please forward it to IHRC at info@ihrc.org
Model email / letter
If you are emailing, please use the following in the subject line:
Urgent Intervention of AU to Save the innocent Lives
African Union Chairperson
President Paul Kagame
Roosevelt Street (Old Airport Area), W21K19,
Addis Ababa, Ethiopia
Date:
Dear President Kagame,
Re: Sheikh Zakzaky
Further to my last email I want to bring to your attention that once again during this week on 25 July 2018, 4 people suffered gunshot wounds and many were arrested when security forces attacked a peaceful mourning ceremony, commemorating the death anniversary of 34 people killed by the Nigerian Army during the 2014 international Quds Day rally in Zaria.
According to credible reports the security forces are further planning to sabotage the FreeZakzaky demonstrations and attack pro-Zakzaky protesters. The Islamic Movement in its 30 years has remained committed to uphold the law and has never advocated or employed violence. Nigerian security forces are known for the brutal violence and we urge your office to take immediate action and save innocent lives.
Sheikh Ibrahim El-Zakzaky and his wife were arraigned by the state High Court in Kaduna on Wednesday 11 July in the latest in a long line of blows inflicted on the sheikh designed to cripple the Islamic Movement of Nigeria which he leads.
On 02 December 2016 the Federal High Court in Abuja ruled that Sheikh Zakzaky and Muallimah Zeenah should be released within 45 days. The court described their detention, which began in December 2015 as illegal and unconstitutional. The deadline for the court order expired on 16 January 2017 but the Nigerian Government has refused to obey the court order. The Nigerian government has kept them detained illegally for over two years now and Sheikh Zakzaky and his wife still remain in the custody of the state, in clear contempt of the court order.
Current trumped up charges against him are part of a wider effort to cover up the gruesome crimes committed by members of the security forces in Zaria in December 2015 that left at least 1000 civilians dead.
The state's denial of medical treatment to Sheikh Zakzaky has led to a severe deterioration in his medical conditions and the recent attempt to move him forcefully will put his life in danger.
I am extremely concerned as Sheikh Zakzaky suffered a stroke in early January and his condition has been further aggravated due to the continued unlawful detention and denial of access to adequate medical treatment. He was shot by security forces more than two years ago, losing his left eye in the process and is currently at risk of losing the use of his other eye.
It is imperative that you apply pressure on the Nigerian authorities so that they stop killing innocent people and adhere to the High Court judgment of December 2016, and release Sheikh Zakzaky and his wife immediately.
I look forward to hearing from you,
[Your signature if posting]
[Your name]
African Union Contact Details:
Email: au-banjul@africa-union.org; DIC@african-union.org
Postal Address: P.O. Box 3243, Roosevelt Street, W21K19 | Addis Ababa, Ethiopia
Tel: (251) 11 551 77 00 | Fax:(251) 11 551 78 44
ARTICLES AND RESOURCES 
Free Zakzaky Peaceful Protest in Abuja on Thursday
26 July 2018
Free Zakzaky protests continued this week as well and thousands of people staged a peaceful free Zakzaky Protest in Nigerian Capital Abuja on Thursday the 26th of July 2018.
A large number of protesters came out in Abuja with placards and banners demanding immediate release of the Islamic Movement leader Sheikh Ibrahim Zakzaky.
The sheikh's ordeal began after he was shot along with his wife, Zeenah, and arrested during an orgy of violence unleashed over three days in December 2015 on supporters of the Islamic Movement of Nigeria in what was widely seen as a bid to curb the movement's growing popularity.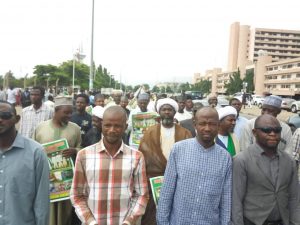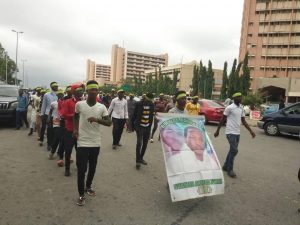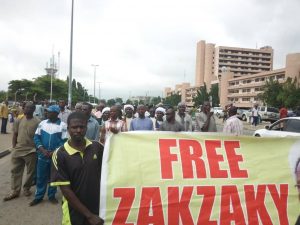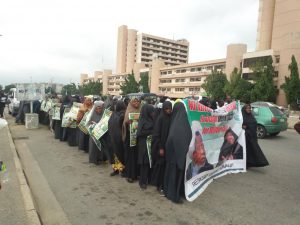 PRESS STATEMENT: Elrufai's Soldiers Shot 4 Mourners in Zaria
25 July 2018 – Media Forum of Islamic Movement
A combined team of soldiers and police on the orders of Governor El-Rufa'i again opened fire on Muslims of the Islamic Movement in Nigeria this morning 25/7/2018 in Zaria, while peacefully mourning the tragic killings of 34 people during the 2014 International Quds Day by the military under the Jonathan's administration, injuring 4 persons with gunshots.
This was made known to newsmen in a press statement released today by the President of the Media Forum of the Islamic Movement in Nigeria, Ibrahim Musa.
The statement said, "a Couple of minutes after the start of the program, the combined security operatives in about ten vehicles laid siege on the venue, the Darur Rahma cemetery, where the victims of the 2014 military attack were laid to rest, in the outskirts of Zaria city, along Zaria to Jos highway.
"We learnt that apart from the four people who suffered gunshots as a result of the indiscriminate shootings by the security agents, several others escaped with minor injuries, while some were arrested"…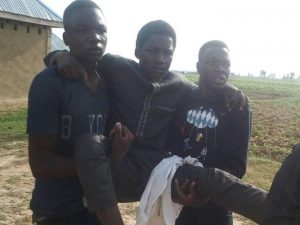 Free Zakzaky Protest in Abuja on Monday
23 July 2018
Determined Free Zakzaky Protesters continued with their peaceful campaign and yet another Massive Free Sheikh Zakzaky Protest was arranged in Abuja on Monday the 23rd of July 2018. A large number of Men, Women and Youth came out, calling on Buhari to release the Sheikh who is in detention for over two years despite a court order to release him.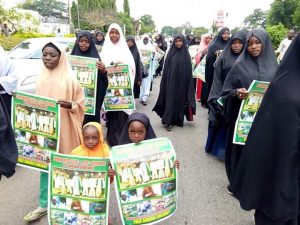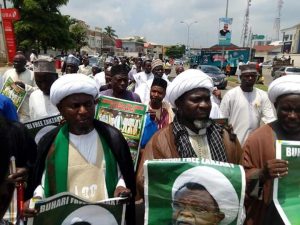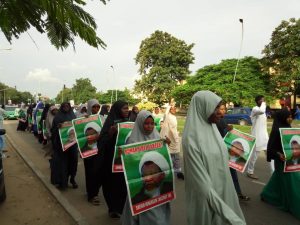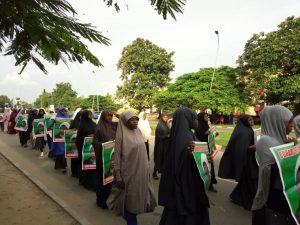 Sheikh Yaqoub Yahaya Condoles with People of Jibia
23 July 2018
Sheikh Yaqoub yahaya katsina condoled with the people of Jibia, Katsina state during a condolence visit the paid to the people of the Jibia who were affected by flood few days ago which led to the loss of lives and properties.
The Sheikh paid the visit on Monday the 23rd of July 2018. Food items, clothing materials and a little sum of cash was given to the affected people on behalf of the Islamic Movement in Nigeria.
During the one day visit he went round to meet the families of the affected persons while offering prayers for the soul of those who lost their lives. 
Funeral of Alhaji Bala Nafada Representative of Shuhada Foundation
23 July 2018
Funeral Prayer for Alhaji Bala Hassan Nafada which took place in Nafada town, Gombe state on Sunday the 22nd of July 2018. Alhaji Bala is Representative in Nafada of Shuhada Foundation of the Islamic Movement- the body responsbile for the care of the families of the martrys of the Movement.
He died in Zaria on Saturday the 21st of July 2018 after a brief illness while attending meeting organised by the Shuhada Foundation.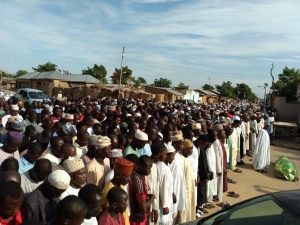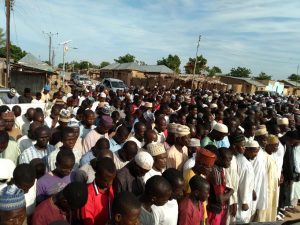 ARCHIVE SECTION
CLICK HERE to Read the Shocking Details Of How Nigerian Soldiers Shot, Tortured El-Zakzaky's Sons, Followers To Death
CLICK HERE to read The Unbearable Shianess of Mu'allim Ibraheem El-Zakzaky
——————————————————————————————
IHRC is an NGO in Special Consultative Status with the Economic and Social Council of the United Nations.
Islamic Human Rights Commission
PO Box 598
Wembley
HA9 7XH
United Kingdom
Telephone (+44) 20 8904 4222
Email: info@ihrc.org
Web: www.ihrc.org
Twitter @ihrc
The opinions expressed in this digest do not necessarily reflect the views of IHRC