Islamic Human Rights Commission
NIGERIA DIGEST 04 August 2018 (Volume 2 Issue 33)
Introduction
Action Alert
Articles and Resources Digest
Videos Section
Archive Section
INTRODUCTION
Below please find an update on the continuous Free Zakzaky protests in Nigeria. This week the High Court in the state of Kaduna discharged and acquitted almost 100 members of the Islamic Movement of Nigeria who were arrested during the 2015 Zaria massacre but the leader of the movement Sheikh Zakzaky and his wife still remain illegally detained by the Nigerian authorities.  They await a bail hearing on 4 October.  This is of course still unacceptable, and we urge campaigners to continue pressing for their unconditional release.
We request campaigners to keep the pressure on the Commonwealth by writing emails / letters, demanding the immediate release of the Sheikh and all those unjustly imprisoned.
Please forward any responses to any campaign letters/ emails you have sent to us and please keep the pressure up and send (follow up) letters / emails.  A model letter is provided below in the Action Alert.
To find out more about the Zaria massacre, read IHRC's submission to the International Criminal Court HERE
To find out how you can help further, please visit the IHRC FreeZakzaky campaign page HERE
Note: To enable images in this digest please click on "always show content from this sender" – on top of your email just under sender's address.
Free Zakzaky!
 
ACTION ALERT: Demand Urgent Intervention of the Commonwealth
1. Kindly send a letter / email to the Commonwealth and demand they intervene in this case, a model letter / email is provided below
2. If you receive a response please forward it to IHRC at info@ihrc.org
Model email / letter
If you are emailing, please use the following in the subject line:
Urgent Intervention of Commonwealth to Save the Leader of Islamic Movement
Rt Hon Patricia Scotland QC
Commonwealth Secretariat
Marlborough House
Pall Mall
London
SW1Y 5HX
Date:
Dear Baroness Scotland QC,
Re: Sheikh Zakzaky
Further to my last email I want to bring to your attention that once again during last week on 25 July 2018, 4 people suffered gunshot wounds and many were arrested when security forces attacked a peaceful mourning ceremony arranged to commemorate the death anniversary of 34 people killed by the Nigerian Army during the 2014 international Quds Day rally in Zaria.
According to credible reports the security forces are further planning to sabotage the FreeZakzaky demonstrations and attack pro-Zakzaky protesters. The Islamic Movement in its 30 years has remained committed to uphold the law and has never advocated or employed violence. Nigerian security forces are known for the brutal violence and we urge your office to take immediate action and save innocent lives.
Sheikh Ibrahim El-Zakzaky and his wife were arraigned by the state High Court in Kaduna on Wednesday 11 July in the latest in a long line of blows inflicted on the sheikh designed to cripple the Islamic Movement of Nigeria which he leads.
On 02 December 2016 the Federal High Court in Abuja ruled that Sheikh Zakzaky and Muallimah Zeenah should be released within 45 days. The court described their detention, which began in December 2015 as illegal and unconstitutional. The deadline for the court order expired on 16 January 2017 but the Nigerian Government has refused to obey the court order. The Nigerian government has kept them detained illegally for over two years now and Sheikh Zakzaky and his wife still remain in the custody of the state, in clear contempt of the court order.
Current trumped up charges against him are part of a wider effort to cover up the gruesome crimes committed by members of the security forces in Zaria in December 2015 that left at least 1000 civilians dead.
The state's denial of medical treatment to Sheikh Zakzaky has led to a severe deterioration in his medical conditions and the recent attempt to move him forcefully will put his life in danger.
I am extremely concerned as Sheikh Zakzaky suffered a stroke in early January and his condition has been further aggravated due to the continued unlawful detention and denial of access to adequate medical treatment. He was shot by security forces more than two years ago, losing his left eye in the process and is currently at risk of losing the use of his other eye.
It is imperative that you apply pressure on the Nigerian authorities so that they stop killing innocent people and adhere to the High Court judgment of December 2016, and release Sheikh Zakzaky and his wife immediately.
I look forward to hearing from you,
Yours Sincerely,
[Your signature if posting]
[Your name]
Commonwealth Contact Details:
Email: info@commonwealth.int;  geneva@commonwealth.int
Postal Address: Marlborough House, Pall Mall, London SW1Y 5HX, United Kingdom
Tel: +44 (0) 20 7747 6500, Fax: +44 (0) 20 7930 0827
ARTICLES AND RESOURCES 
Statement From The Defendant's Lawyer
02 August 2018
Text of Press Conference Addressed by Maxwell Kyon esq, Counsel to the Islamic Movement in Nigeria in the Conference Room of the Law Offices of Messrs. Maxwell Kyon & Associate, Kaduna this 2nd day of august 2018.
Protocols
Gentlemen of the Press.
We decided to address you today on the outcome of the charge of Criminal Conspiracy, Culpable Homicide Punishable with Death, Unlawful Assembly, Disturbance of Public Peace and Wrongful Restraint filed against over 100 members of the Islamic Movement in Nigeria. Our decision to address this press conference is also informed by our desire to give you an accurate picture of what transpired in Court on the 31st day of July 2018 and to respond to the position of the Attorney General of Kaduna State in her press statement of the same day that the Kaduna State Government will appeal the said judgment.
Introduction:
As some of you are aware, on the 31st day of July, 2018, the Honorable Justice David Shiri Wyom of High Court No. 5 Kaduna discharged and acquitted 89 members of the Islamic Movement in Nigeria (IMN) standing trial for sundry offences including Criminal Conspiracy, Culpable Homicide Punishable with Death, Unlawful Assembly, Disturbance of Public Peace and Wrongful Restraint…
KDSS Vs Sheikh Zakzaky and Others Further Adjourned
02 August 2018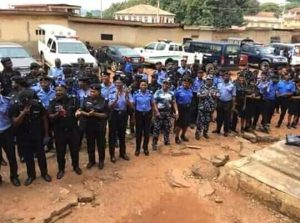 The case before Justice Gideon Kurada between Kaduna state government and Sheikh Ibraheem Zakzaky his wife and two others has further been adjourned to the 4th of October 2018 by the Kaduna state High Court.
The court has also issued the arrest warrant for two other parties in the case…
IHRC PRESS RELEASE
Nigeria: Court Drops Cases Against Islamic Movement Members
31 July 2018
IHRC welcomes the judgement today of the High Court in the state of Kaduna to discharge and acquit almost 100 members of the Islamic Movement of Nigeria who were arrested during and following the 2015 army massacre of followers of the movement.
The judgement followed the filing of a "no submission" case by lawyers who argued that the members had no case to answer and that the authorities were wrong to arraign them.
The acquitted were among a total of approximately 200 members of the Islamic Movement arrested during the December 2015 massacre in which over 1000 civilians were butchered. The military assault between December 12-14 in the northern Nigerian city of Zaria also left many properties and religious spaces belonging to the Islamic Movement and its members destroyed.The massacre is the subject of a complaint to the International Criminal Court.
Following the judgement the President of the Media Forum of the Islamic Movement in Nigeria, Ibrahim Musa, said: "This judgement has not only vindicated the members of the Islamic Movement in Nigeria, but it is certainly a victory for perseverance in the face of extreme persecution. It is a victory for truth and justice, against tyranny and impunity…
Bail: Counsel Optimistic As Zakzaky Knows Fate October 4
02 August 2018 – New Nigeria News Paper
Kaduna based revered Islamic cleric who has been in incarceration since 2015 will know his fate if he would be granted bail or not on October 4, 2018.
His counsel, Maxwell Kyon, moved for bail as the court sat on Thursday August 2 in Kaduna.
Kyon said that they came prepared with their brief, while the government lawyers also came with theirs and subsequently, the matter was adjourned to October 4
He said that they were optimistic that Zakzaky and his wife Zeenat would be granted freedom.
"We have moved application  for bail for the first and second accused and are optimistic of getting bail for our clients," he said.
When fielding questions, Solicitor General and Permanent  Secretary Kaduna  State Ministry of Justice,  Chris Umar said they have been able to serve the fourth and third accused through publications  on newspapers.
Massive Free Zakzaky protest in Abuja on Wednesday
01 August 2018
Thousands of people staged a free Zakzaky peaceful Protest in Abuja on Wednesday the 1st of August 2018.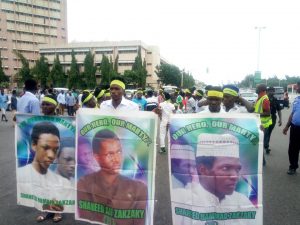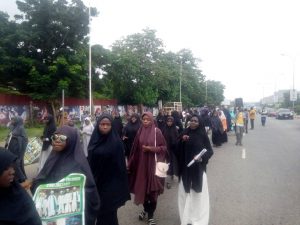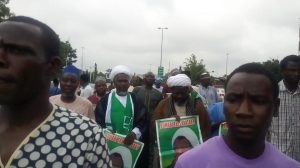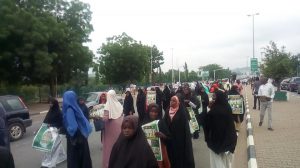 Breaking – PRESS STATEMENT: Zaria massacre: Kaduna High Court frees 100 IMN Members
31 July 2018
Today, Tuesday, 31/07/18 the Kaduna State High Court again delivered a favourable judgement in the "no case submission" filed by the defense lawyers on the case brought against nearly 100 members of the Islamic Movement in Nigeria, that were arrested at various locations in Zaria
in December 2015 following a brutal clampdown on the Islamic Movement. They have been discharged and acquitted.
This was made known in a Press Statement signed by the President Media Forum of the Islamic Movement in Nigeria, Ibrahim Musa and distributed to pressmen today.
"This judgement has not only vindicated the members of the Islamic movement in Nigeria, but it is certainly a victory for perseverance in the face of extreme persecution. It is a victory for truth and justice against tyranny and impunity," said the statement.
The Islamic Movement further stated, "It will be recalled that the Kaduna state government sued almost close to 200 members of the Islamic Movement after an attack on the Movement by the Nigerian Army in December 2015 which led to the killing of over a thousand souls, including three sons of the Sheikh Zakzaky, his elder sister and a nephew. The attack was sequel to the unlawful invasion of the privacy of their residence and eventual destruction of the house completely. This has been aptly described by several human rights bodies as a massacre. To worsen these flagrant crimes against humanity, bodies of all the hundreds killed were hurriedly and secretly buried in mass graves about 100 km away from the scene, apparently in a shoddy attempt at hiding the crime and its magnitude…
Free Zakzaky Protests in Katsina and Lafia
29 July 2018
Peaceful Free Zakzaky protests were staged in Katsina and Lafia. Protest in Katsina was on Sunday the 29th of July 2018. A similar one was staged in Lafia, the capital of Nasarawa state
Below Pictures are from Katsina Protest;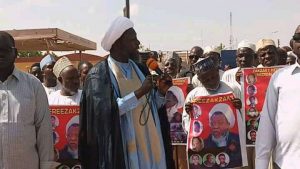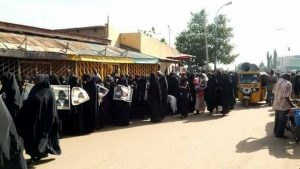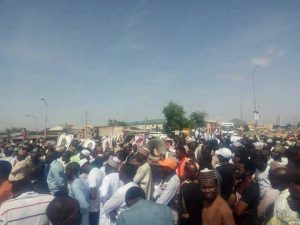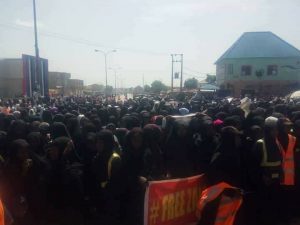 Below Pictures are from Lafia Protest – Capital of Nasarawa State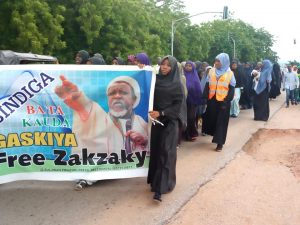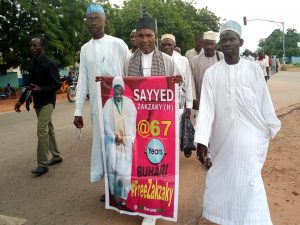 VIDEOS SECTION
Why Sheikh Zakzaky Was Attacked
Click on following link to Watch the Clips of Sheikh Zakzaky to understand why he was attacked by the Nigerian Authorities
A Message On Nigeria From IHRC Chair
Please Click on following link to watch and share Chairman of IHRC, Massoud Shadjareh's video of 20 July on the plight of Sheikh. Please email us on wajahat@ihrc.org if you want a WhatsApp version.
ARCHIVE SECTION
CLICK HERE to Watch the story of the Al Quds Day in July 2014, Over 40 peaceful demonstrators were killed and many injured by Nigerian Army
CLICK HERE to read The Historic Reflection on Quds Day Massacre 2014
——————————————————————————————
IHRC is an NGO in Special Consultative Status with the Economic and Social Council of the United Nations.
Islamic Human Rights Commission
PO Box 598
Wembley
HA9 7XH
United Kingdom
Telephone (+44) 20 8904 4222
Email: info@ihrc.org
Web: www.ihrc.org
Twitter @ihrc
The opinions expressed in this digest do not necessarily reflect the views of IHRC