---
Islamic Human Rights Commission
NIGERIA DIGEST 07 OCTOBER 2017 (Volume 1 Issue 5)
Introduction
Action Alert
Articles and Resources Digest
Introduction
Welcome to the Nigeria Digest. You will find an overview of the last two week's events including insight into demonstrations and Ashura mourning processions in over 60 cities across Nigeria. Alhamdulillah after some time this year we had a peaceful Ashura in Nigeria. One of the reasons, we hope, it passed without any major incident this year is that campaigners have preemptively written to the authorities.
We are urging campaigners to continue with the campaign with the African Union. Please see thecampaign actions below. We note that the month of Moharram is a time that the Nigerian regime has often clamped down on the Islamic Movement in Nigeria, often using a sectarian narrative to justify their actions. In anticipation of this please also circulate Nusaibah El-Zakzaky's letter on the Islamic Movement as widely as you can.
Note: To enable images in this digest please click on "always show content from this sender" – a message on top of your email just under sender's address.
Free Zakzaky!
Action Alert: Nigeria – Demand African Union intervene in Zakzaky case
2. If you have written and received a response please forward it to IHRC info@ihrc.org.
Date
Dear Adv. Faith Pansy Tlakula
Re: Sheikh Zakzaky, the Islamic Movement of Nigeria and Possible Further Atrocities against them
I write with regard to my previous letter to you in this regard. I look forward to your speedy response.
Additionally I am really concerned that there will be further crackdowns by the Nigerian army and or government in the Islamic Movement in the coming weeks. As you are doubtless aware it will soon be the Islamic New Year, and unscrupulous members of the army and government have previously used a deeply sectarian and divisive narrative to justify violent actions, including shooting at religious worshipers and or protesters on demonstrations, curtailment of religious services and various violations. In some previous instances, sectarian rhetoric from institutions linked to the government and army have incited mob attacks on IMN members.
I urge your office to make known in unconditional terms that further violations against IMN members or indeed any other political or religious group will not be tolerated by your office or the African Union.
I look forward to your speedy response outlining the actions your office will be taking.
Yours sincerely,
Your signature (if posting)
Your name
ARTICLES AND RESOURCES
Islamic Movement in Nigeria submits Memo to Presidential Investigative Panel
07 October 2017
The legal team of the Islamic Movement in Nigeria has completed the filing of memorandum to the Presidential Investigative Panel set up by Vice President Yomi Osinbajo to investigate cases of human rights abuses by the Military some weeks back.
IMN mourn Ashura in more than 60 towns and cities peacefully, demand for Sheikh Zakzaky's release
02 OCTOBER 2017
The annual Ashura mourning processions held on 01st October 2017 in more than 60 towns and cities across Nigeria by the Islamic Movement in Nigeria under the leadership of the illegally detained Sheikh Zakzaky…
Here is the full list of the towns and cities that joined the Ashura procession:
1) KATSINA 2) DAURA 3) MALUMFASHI 4) KANKIA 5) DUTSINMA 6) FUNTUWA 7) ZARIA 8) GWARANYO 9) KADUNA 10) DABAI 11) KUDAN 12) KANO 13) SULEJA 14) MINNA 15) AZARE 16) GADAR GAYAN 17) BAUCHI 18) GOMBE 19) LAFIA 20) JIBIYA 21) GUMEL 22) JOS 23) JAHUN 24) SOKOTO 25) SHINKAFI 26) ILLELA 27) BODINGA 28) BIRNIN KEBBI 29) DAMATURU 30) DUTSIN WAI 31) JALINGO 32) KAURAN NAMODA 33) YABO 34) DUTSE 35) YOLA 36) POTISKUM 37) TALATAN MAFARA 38) GASHUA 39) TSAFE 40) YAWURI 41) KAZAURE 42) RINGIM 43) M/MADORI 44) BICHI 45) HADEJIA 46) GUSAU 47) MASHI 48) BATSARI 49) GIDAN ROUMJI 50) DASS 51) KUTAMA 52) SABON BIRNI 53) GWADABAWA 54) GADA 55) KWARE 56) WAURU 57) GOBIR 58) ISA 59) DAGAUDA 60) ZURU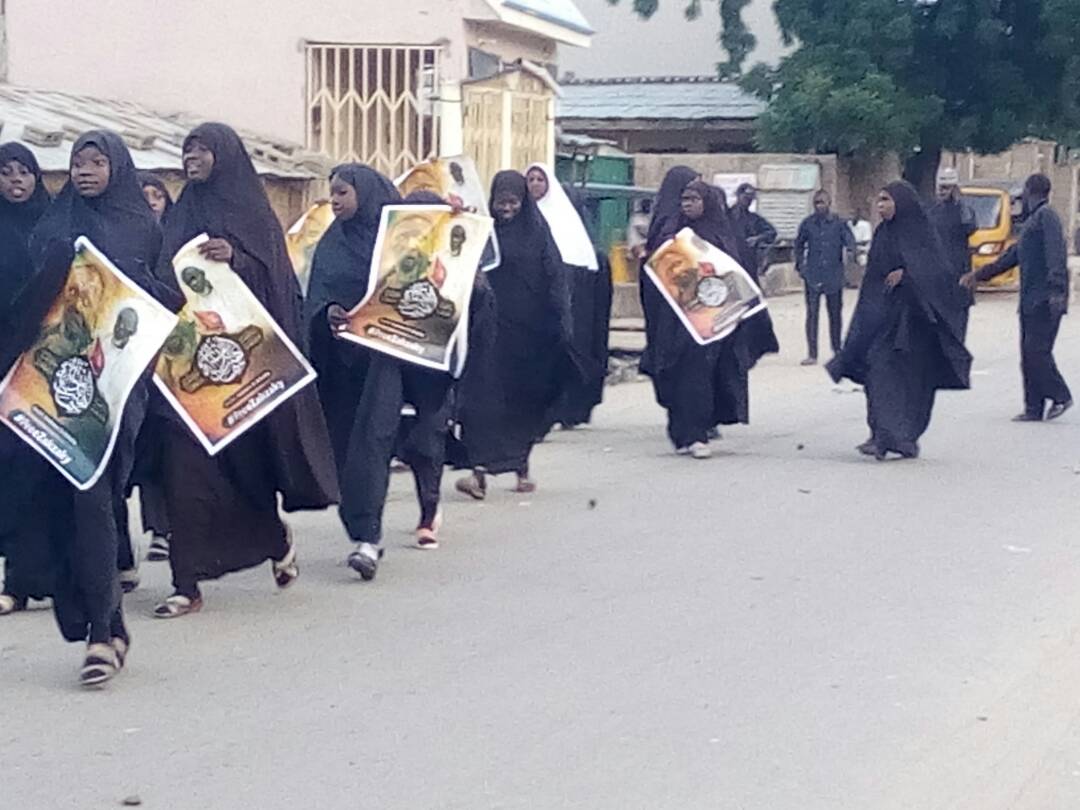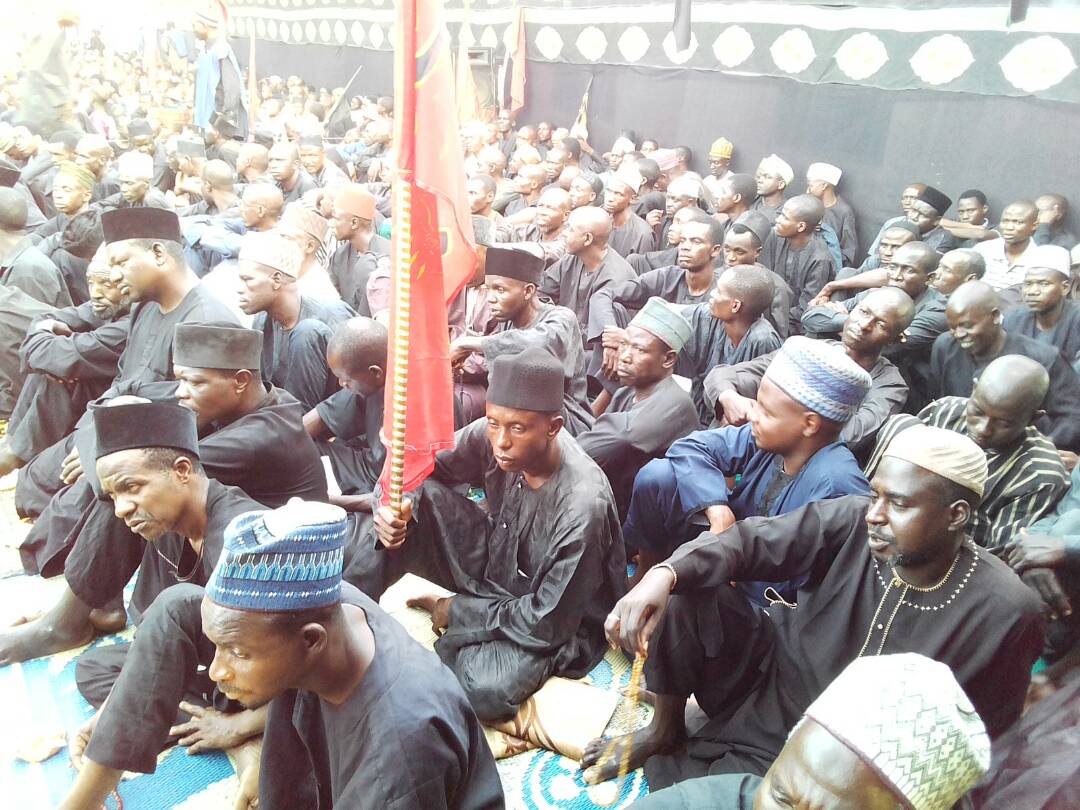 Ashura at Funtua City demand release of Sheikh Zakzaky
02 October 2017
Funtua is a small Town, but as a result of the spilled blood of Shuhadah last year, click here to see how big their Ashura became this year, chanting slogans for Sheikh Zakzaky.
Successful and peaceful completion of Ashura processions has put to shame Nigerian government
02 October 2017
This year's Ashura procession is unique in many ways than one. The most obvious of course is that the successful and peaceful completion of the procession in all the places it was carried out in Nigeria exposes the lie that the activities of the Islamic Movement in Nigeria are prone to violence. The processions this year held in more than sixty (60) different towns and villages. This in itself is another reason why this year's Ashura procession is unique. We will come to that shortly.
Tambuwal intensifies persecution of solemn religious observance of #Ashura mourning in Sokoto
30 September 2017
Sokoto state governor has continued the brutality and persecution of #IMN members doing the solemn religious observance of #Ashura mourning.
Thus far, it has been confirmed that the following were arrested by @AWTambuwal in Sokoto:
1. lbrahim Buchi
2. Mukhtar Liman
3. Ukasha Jibril
4. Anas Abubakar
5. Muhammad Sani Gobirawa
6. Ali kabiru
The #FreeZakzaky Campaign Committee is making frantic efforts at confirming the names of others affected by the Sokoto governor's persecution and seeking redress.
What @AWTambuwal & other bigots everywhere need to know is that #IMN will not cede the rights & freedom of thought, conscience & religion of its members.
IHRC PRESS RELEASE – Nigeria: Police attack and arrest civilians marking Ashura
30 September 2017
Armed police in Nigeria have broken up a gathering of civilians marking the historical events of Ashura, arresting at least six people.
The six, all members of the Islamic Movement of Nigeria, whose leader Ibrahim el-Zakzaky remains in detention, were seized while commemorating the martyrdom of the Prophet Muhammad's grandson Husayn.
Government must protect Ashura Religious activities and will be held responsible for any attack on commemorations
30 September 2017
For the last nine days since the start of this year's mourning sessions across the globe, there are indications that the Nigerian government is poised to repeat the brutal assault it carried out last year against mourners.
——————————————————————————————
IHRC is an NGO in Special Consultative Status with the Economic and Social Council of the United Nations.
Islamic Human Rights Commission
PO Box 598
Wembley
HA9 7XH
United Kingdom
Telephone (+44) 20 8904 4222
Email: info@ihrc.org
Web: www.ihrc.org
The opinions expressed in this email do not necessarily reflect the views of IHRC
{jathumbnailoff}