Islamic Human Rights Commission
NIGERIA DIGEST 29 December 2018 (Volume 2 Issue 53)
Introduction
Action Alert
Articles
Videos
Archive
INTRODUCTION
Below please find an update on the continuous Free Zakzaky protests in Nigeria. During this week on Christmas day special prayers were offered for quick release of the leader of the Islamic movement.
We request campaigners to keep the pressure on the Commonwealth by writing emails/letters, demanding the immediate release of the Sheikh and all those unjustly imprisoned.
Please forward any responses to any campaign letters/ emails you have sent to us and please keep the pressure up and send (follow up) letters/emails. A model letter is provided below in the Action Alert.
To find out more about the Zaria massacre, read IHRC's submission to the International Criminal Court HERE
To find out how you can help further, please visit the IHRC FreeZakzaky campaign page HERE
Note: To enable images in this digest please click on "always show content from this sender" – on top of your email just under sender's address.
Free Zakzaky!
ACTION ALERT:
1. CLICK HERE to know the five things you can do to support the Islamic Movement of Nigeria. You can donate to support the medical expenses of those injured recently by clicking here.
2. Please send an email to the Commonwealth and demand their intervention in this case, a model letter and contact details of the Commonwealth are also provided below. Please forward any response you receive to IHRC on wajahat@ihrc.org.
Model email / letter
If you are emailing, please use the following in the subject line:
Three Years of Unlawful Detention of Sheikh Zakzaky
Your name
Your address
Date
Rt Hon Patricia Scotland QC
Commonwealth Secretariat
Marlborough House
Pall Mall
London
SW1Y 5HX
Dear Baroness Scotland QC,
Re: Three Years of Unlawful Detention of Sheikh Zakzaky
I am writing to ask for your urgent intervention and to apply pressure on the Nigerian authorities to immediately release the unlawfully detained leader of the Islamic Movement of Nigeria Sheikh Zakzaky and his wife Zeenah. 12 December 2018 marked the third anniversary of the Zaria massacre and their unlawful detention. You are doubtless aware of the details of his case.
On 02 December 2016, the Federal High Court in Abuja ruled that Sheikh Zakzaky and Muallimah Zeenah should be released within 45 days. The court described their detention, which began in December 2015 as illegal and unconstitutional. The deadline for the court order expired on 16 January 2017 but the Nigerian Government has refused to obey the court order. The Nigerian government has kept them detained illegally for over three years now and Sheikh Zakzaky and his wife still remain in the custody of the state, in clear contempt of the court order.
The Commonwealth's silence on this issue is putting more innocent lives at risk. Recently Nigerian authorities have killed over 60 peaceful FreeZakzaky protesters, and arrested, tortured, and injured hundreds of them with live bullets in a barbaric attack on ArbaeenTrek 2018.
I am writing to ask for your urgent intervention to allow the illegally detained Sheikh Zakzaky and his wife to leave Nigeria for urgent medical treatment due to their critically deteriorating, life-threatening medical conditions. The Sheikh's personal doctor confirmed in his most recent report that his only remaining eye is in danger due to chronic glaucoma and recommended him to be taken abroad for urgent treatment by a specialist, as this is not available in any Nigerian hospital.
It is imperative that you apply pressure on the Nigerian authorities so that they stop killing innocent people and adhere to the High Court judgment of December 2016, and release Sheikh Zakzaky and his wife immediately.
I look forward to hearing from you,
Yours sincerely,
[Name]
Commonwealth Contact Details:
Email: info@commonwealth.int; geneva@commonwealth.int
Postal Address: Marlborough House, Pall Mall, London SW1Y 5HX, United Kingdom
Tel: +44 (0) 20 7747 6500
Fax: +44 (0) 20 7930 0827
ARTICLES AND RESOURCES
A Huge Free Zakzaky Protest Holds In The Heart Of Zaria
28 December 2018
Members of the Islamic Movement in Nigeria today came out to show they are very much alive in Kaduna state with a very huge Free Zakzaky procession, which occurred in the very heart of Zaria this afternoon.
This is contrary to what Governor Elrufai said recently that he had banished them to Abuja for their protests.
Similarly, a momentous Free Zakzaky procession was held yesterday in Kaduna to buttress a very strong presence in the state.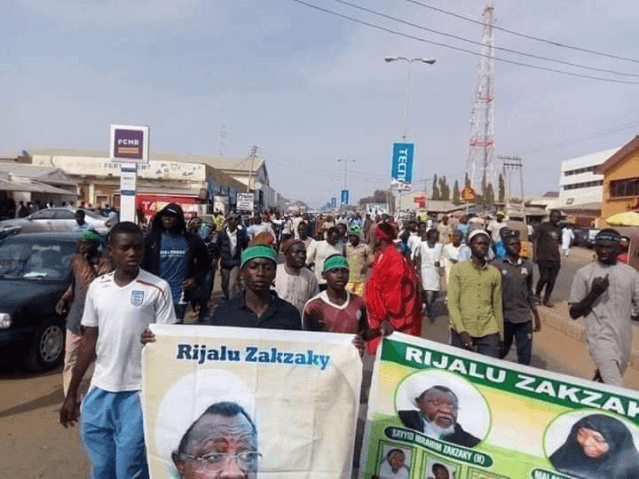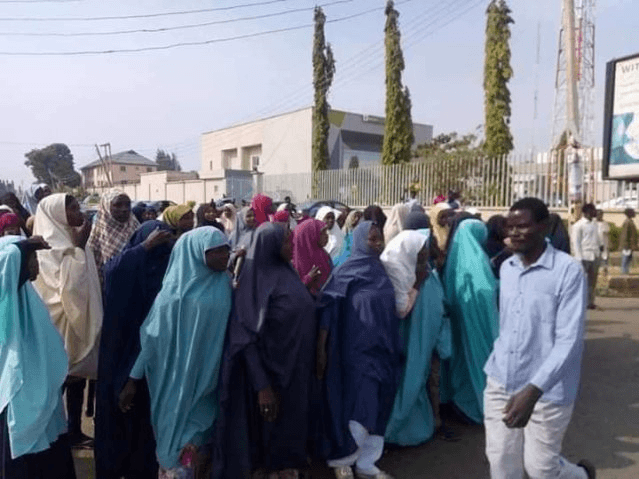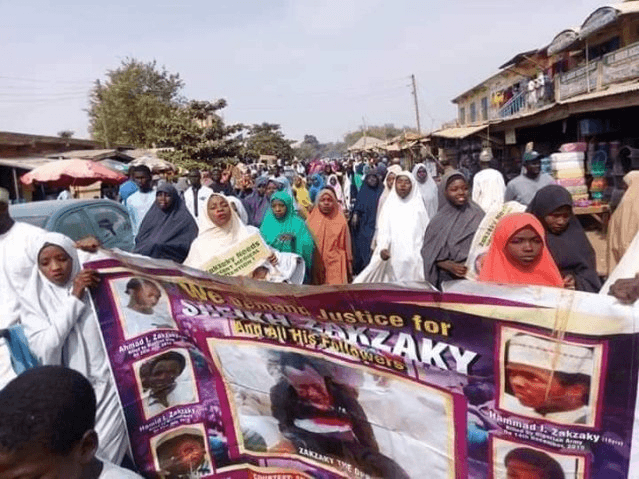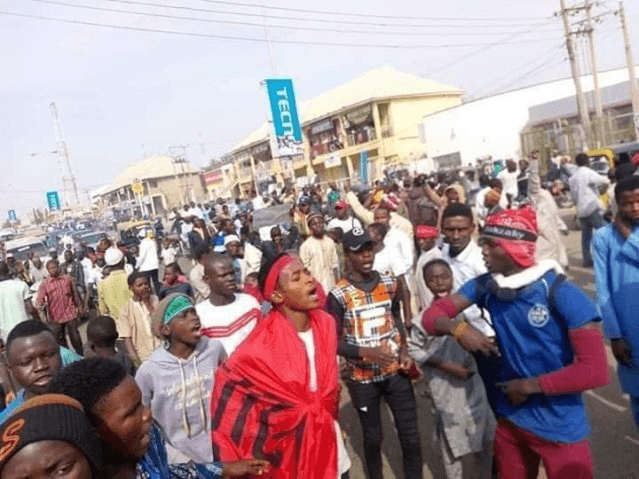 Renewed Free Zakzaky Protests In Gusau, Kaduna, Abuja
28 December 2018
Thousands of members of the Islamic Movement in Nigeria again took to the streets of Gusau, Kaduna and Abuja yesterday, Thursday 27th December 2018 in a renewed call for the immediate and unconditional release of the leader of the Islamic Movement in Nigeria, Sheikh Ibraheem Zakzaky, being held for the past three years now against court judgement.
In Kaduna, the protest kicked off in the late afternoon and was conducted at the ever busy Nnamdi Azikiwe, Western bypass for several hours without an incidence. It was a direct response to the Kaduna state governor's recent charade regarding the Islamic Movement in Nigeria, during which he said he had banished the Movement from Kaduna and that they had relocated to Abuja.
In Gusau, the Zamfara state capital, hundreds of members of the Islamic Movement participated in the peaceful protest calling for the release of the ailing Sheikh.
Zamfara state has lately seen a fair share of violent killings following the Buhari government's failure to provide security against the so-called armed bandits in the state. Sheikh Zakzaky had repeatedly implicated governments in the senseless killings taking place in the state, stating that it was driven by the inordinate desire to displace people and mine gold unchecked.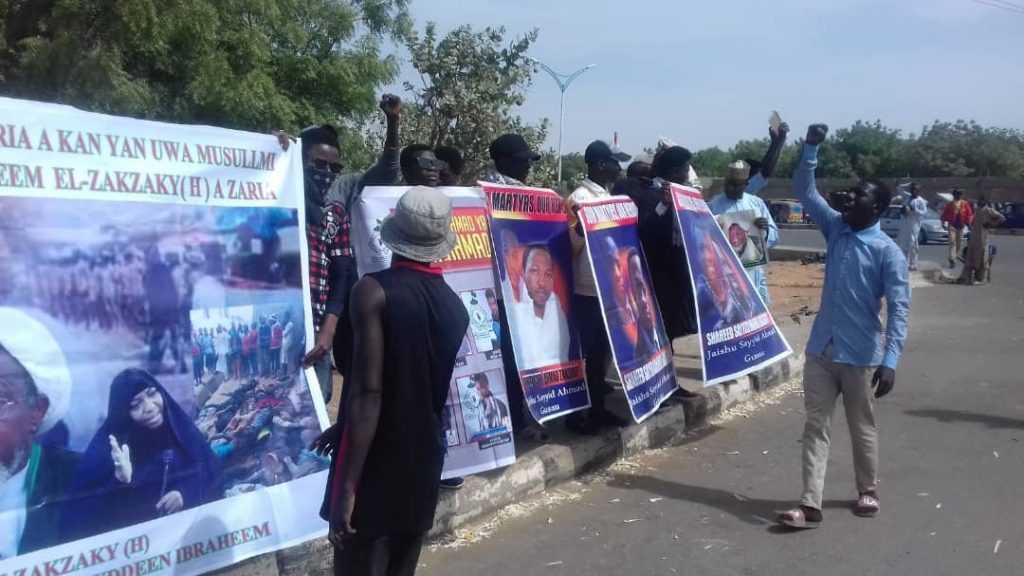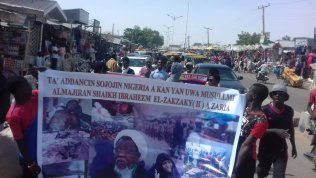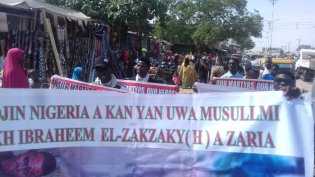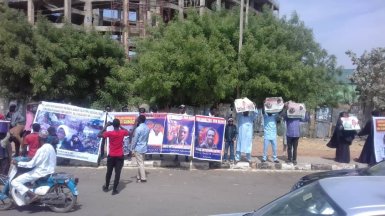 PRESS STATEMENT: Kano CP Threatens To Kill Free Zakzaky Protesters
27 December 2018
The Islamic Movement in Nigeria has revealed that the Kano state Police Commissioner, Rabiu Yusuf has confided to some members of the Movement that he will not hesitate to use force on them whenever they come out on their peaceful Free Zakzaky protest in his area of jurisdiction.
This was made known to newsmen in a press statement released by Ibrahim Musa, the President Media Forum of the Islamic Movement, on Thursday 27/12/18.
The Movement believed that the Kano CP meant to kill the protesters, when he said he will use force on them, since that is what happened when he used his force on members of the Islamic Movement in 2016 and 2017 during the yearly Arbaeen trek in commemoration of the martyrdom of Imam Husain, the Grandson of Prophet Muhammad.
Click here to read the Press Statement in full.
Christmas Message To Christians From The Islamic Movement In Nigeria
26 December 2018
The leaders and worshipers of this and all other Churches, I greet you in the ways and manners that Prophets (AS) greet; Shalom. Salam, Peace unto you.
Today 25th December, 2018 we are here, as we usually do over the years in various places, to felicitate with you on the auspicious occasion of the birth of Jesus (AS), whom we also so much love and cherish. Christmas is one of the most important days in the Christian calendar, and many Christians celebrate the religious significance of this day. We are here to merry with you on the birth of he whose return has been foretold by our Prophet (SAWA) to herald the appearance of the awaited one, Imam Mahdi (ATF). Both, we are told in our scriptures, will return to fill the Earth with justice, even as it is presently filled with tyranny and oppression.
Click here to read the full text of the Christmas Goodwill Message Delivered by Members of the Islamic Movement in Nigeria on 25 December, 2018 read at different Churches across Nigeria.
CHRISTMAS DAY ACTIVITIES IN KADUNA:
Pastor Y. D. Buru Admired With A Merry Christmas Gift During Academic Forum's Visit
26 December 2018
Reception of friends and well wishers in the residents of some Christians in Kaduna, has become a welcome development, where the home of a renown Christian cleric Pastor Yohanna D. Buru of Evangelical Church, S/Tasha Kaduna, and also Chairman, Peace Revival And Reconciliation Forum(NGO), Kaduna chapter, was filled up with people from all walks of life to merry with him on the auspicious occasion of the birth of Jesus(AS) whom also much loved and cherished by Muslim fellows.
It has become habitual practice by members of the Islamic Movement in Nigeria, paying homage to some Christians across Nigeria to strengthen the existing friendship, good understanding and peaceful coexistence among each other.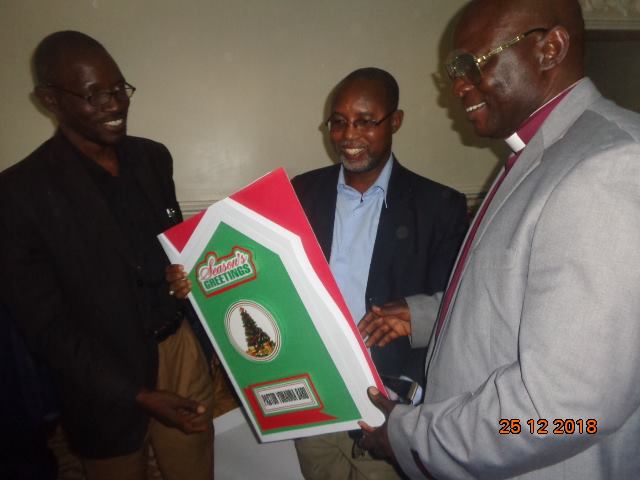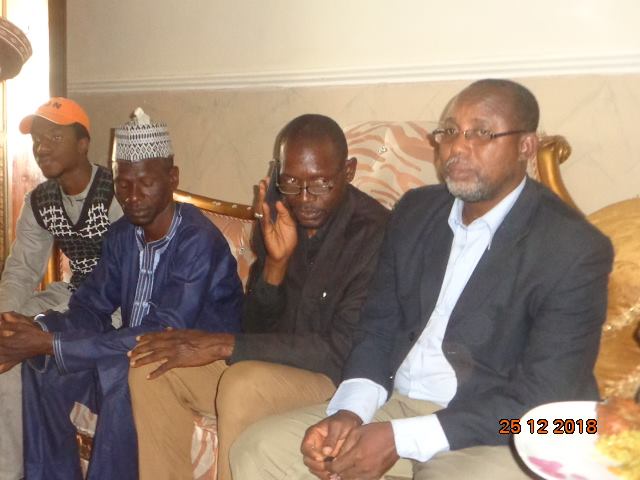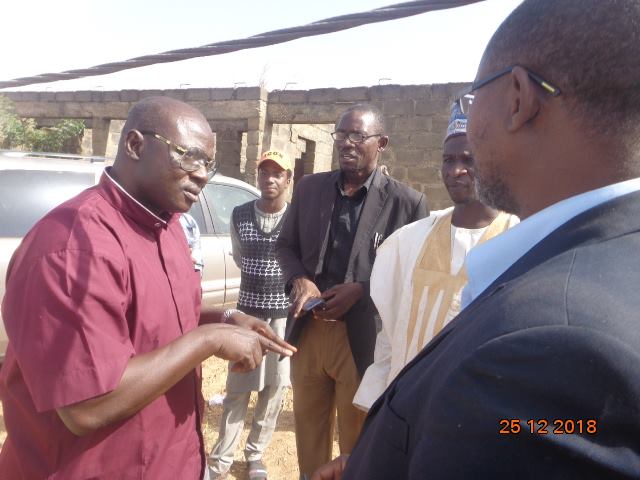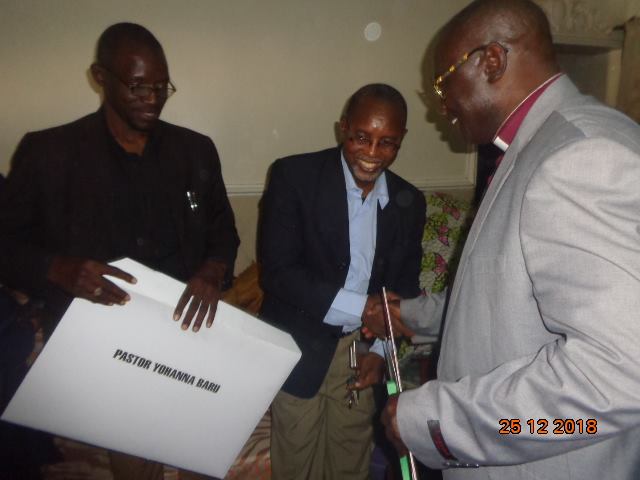 Christmas Greetings: Academic Forum Kaduna Pays A Homage To Rev. Istifanus Musa Of Ecwa Church Kaduna
25 December 2018
As part of continuous efforts to strengthen the good understanding and peaceful coexistence among interfaith in Kaduna, members of Academic Forum of the Islamic Movement in Nigeria leads by Sheikh Ibraheem Zakzaky, Kaduna chapter, have paid a heart felt visit to Rev. Istifanus Musa of Ecwa Goodnews Church, Karji, Kaduna.
The visiting crew which comprised male and female students drawn from different tertiary institutions of higher learning in Kaduna, Academicians from such institutions paid the visit to his Church, Ecwa Goodnews, located at Pasture Garden, Karji, Kaduna at about 10:00a.m. on Christmas day, Tuesday, 25/12/2018.

The visiting crew were warmly received by Rev. I. Musa, Church council and its other members. After a solemn introduction of the visitors, Dr. Shu'aibu Musa, a senior lecturer, presented a paper expounding the purpose of the visit.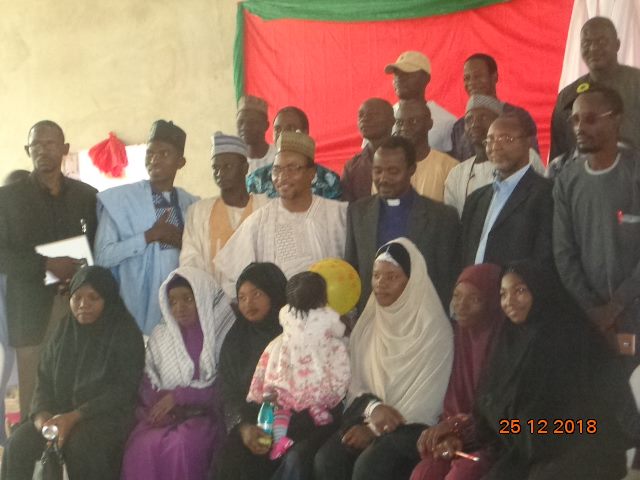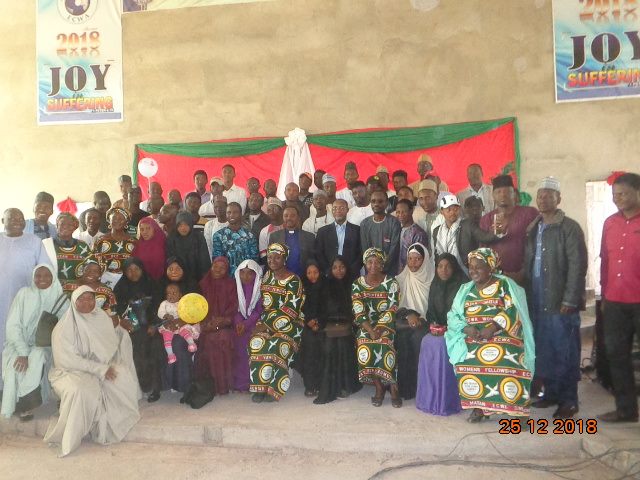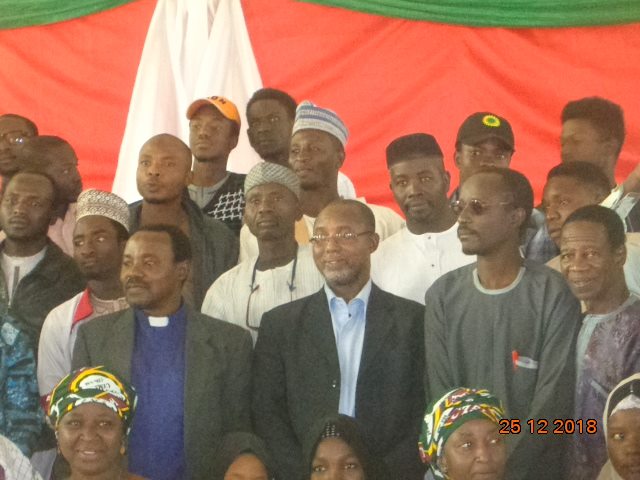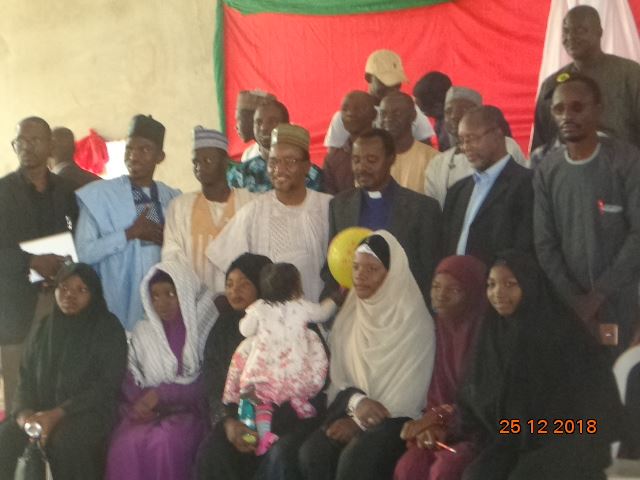 VIDEOS
Message From A Nigerian Cristian
Uploaded on September 2018
I am a Christian, Why I am here at a FreeZakzaky Protest, listen a message from a Nigerian Christian demanding freedom for the Leader of the Islamic Movement.
Appeal to Help Recent Nigeria Massacre Victims
01 November 2018
The Nigerian authorities have attacked the Islamic Movement of Nigeria leaving dozens dead. They need your help now.
ARCHIVE
Click here to read the article "Zaria's military involvement in the massacres", published on 19 October 2014 in Spy Ghana.

Click hereto read the article "Waiting for Ibrahim Zakzaky" published on 30 December 2015.
——————————————————————————-
IHRC is an NGO in Special Consultative Status with the Economic and Social Council of the United Nations.
Islamic Human Rights Commission
PO Box 598
Wembley
HA9 7XH
United Kingdom
Telephone (+44) 20 8904 4222
Email: info@ihrc.org
Web: www.ihrc.org
Twitter @ihrc
The opinions expressed in this digest do not necessarily reflect the views of IHRC