Islamic Human Rights Commission
NIGERIA DIGEST 06 January 2019 (Volume 3 Issue 01)
Introduction
Action Alert
Articles
Videos
Archive
INTRODUCTION
Below please find an update on the continuous Free Zakzaky protests. Thousands of protesters marked the first week of the New Year with massive FreeZakzaky protests in Nigeria.
We request campaigners to keep the pressure on the African Union by writing emails/letters, demanding the immediate release of the Sheikh and all those unjustly imprisoned.
Please forward any responses to any campaign letters/ emails you have sent to us and please keep the pressure up and send (follow up) letters/emails. A model letter is provided below in the Action Alert.
To find out more about the Zaria massacre, read IHRC's submission to the International Criminal Court HERE
To find out how you can help further, please visit the IHRC FreeZakzaky campaign page HERE
Note: To enable images in this digest please click on "always show content from this sender" – on top of your email just under sender's address.
Free Zakzaky!
ACTION ALERT:
1. CLICK HERE to know the five things you can do to support the Islamic Movement of Nigeria. You can donate to support the medical expenses of those injured recently by clicking here.
2. CLICK HERE to send an email to the African Union and demand their intervention in this case, a model letter and contact details of the African Union are also provided below. Please forward any response you receive to IHRC on wajahat@ihrc.org.
Model email / letter
If you are emailing, please use the following in the subject line:
Three Years of Unlawful Detention of Sheikh Zakzaky
Your name
Your address
Date
African Union Chairperson
President Paul Kagame
Roosevelt Street (Old Airport Area), W21K19,
Addis Ababa, Ethiopia
Dear President Kagame,
Re: Three Years of Unlawful Detention of Sheikh Zakzaky
I am writing to ask for your urgent intervention and to apply pressure on the Nigerian authorities to immediately release the unlawfully detained leader of the Islamic Movement of Nigeria Sheikh Zakzaky and his wife Zeenah. 12 December 2018 marked the third anniversary of the Zaria massacre and their unlawful detention. You are doubtless aware of the details of his case.
On 02 December 2016, the Federal High Court in Abuja ruled that Sheikh Zakzaky and Muallimah Zeenah should be released within 45 days. The court described their detention, which began in December 2015 as illegal and unconstitutional. The deadline for the court order expired on 16 January 2017 but the Nigerian Government has refused to obey the court order. The Nigerian government has kept them detained illegally for over three years now and Sheikh Zakzaky and his wife still remain in the custody of the state, in clear contempt of the court order.
The African Union's silence on this issue is putting more innocent lives at risk. Recently Nigerian authorities have killed over 60 peaceful FreeZakzaky protesters, and arrested, tortured, and injured hundreds of them with live bullets in a barbaric attack on ArbaeenTrek 2018.
I am writing to ask for your urgent intervention to allow the illegally detained Sheikh Zakzaky and his wife to leave Nigeria for urgent medical treatment due to their critically deteriorating, life-threatening medical conditions. The Sheikh's personal doctor confirmed in his most recent report that his only remaining eye is in danger due to chronic glaucoma and recommended him to be taken abroad for urgent treatment by a specialist, as this is not available in any Nigerian hospital.
It is imperative that you apply pressure on the Nigerian authorities so that they stop killing innocent people and adhere to the High Court judgment of December 2016, and release Sheikh Zakzaky and his wife immediately.
I look forward to hearing from you,
Yours sincerely,
[Name]
African Union Contact Details:
Email: au-banjul@africa-union.org; DIC@african-union.org
Postal Address: P.O. Box 3243, Roosevelt Street, W21K19 | Addis Ababa, Ethiopia
Tel: (251) 11 551 77 00 | Fax:(251) 11 551 78 44
ARTICLES AND RESOURCES
Free Zakzaky Protest in Abuja on Friday
04 January 2019
A massive FreeZakzaky protest was arranged on Friday 04 January 2018 after Friday prayers in Abuja.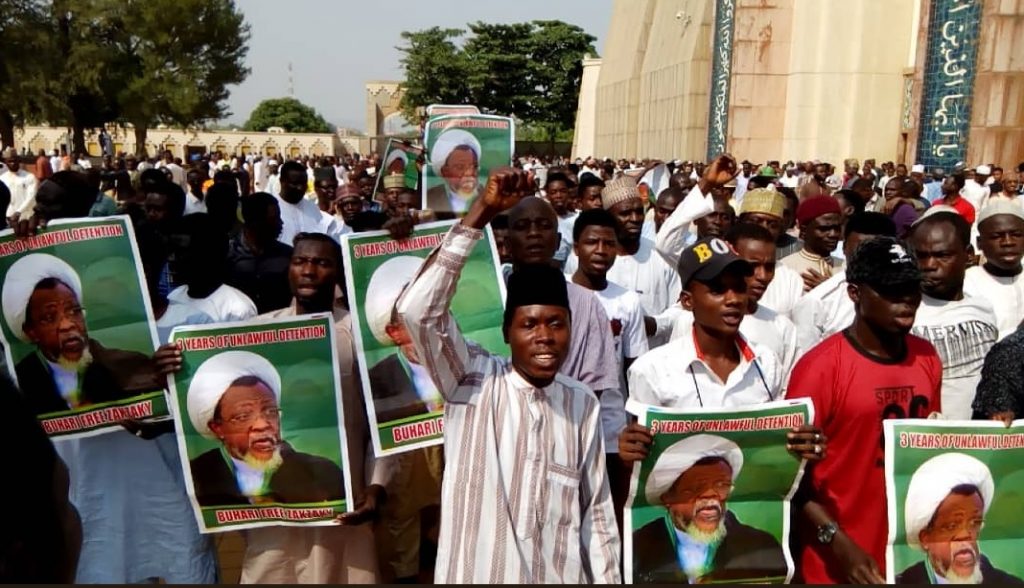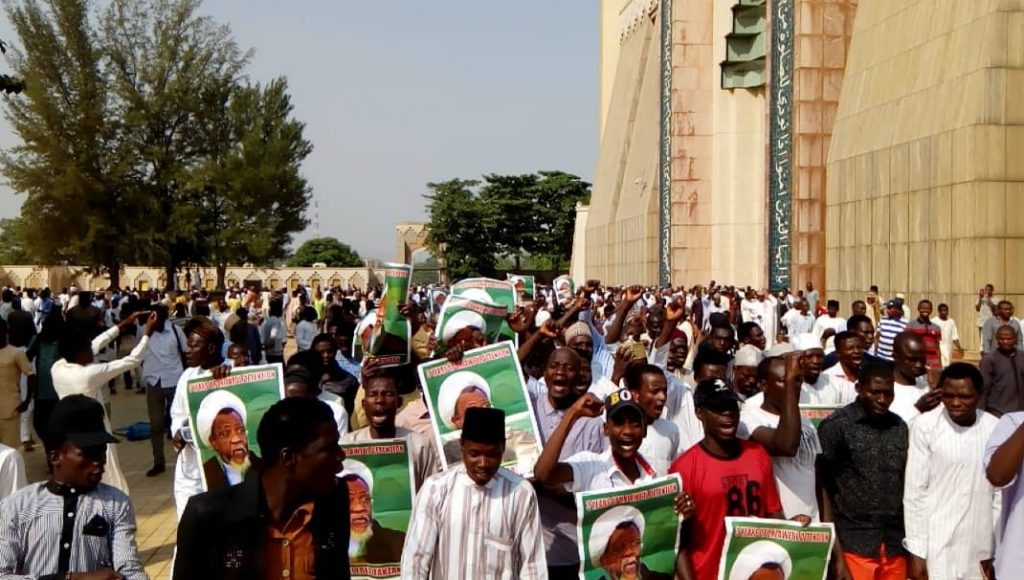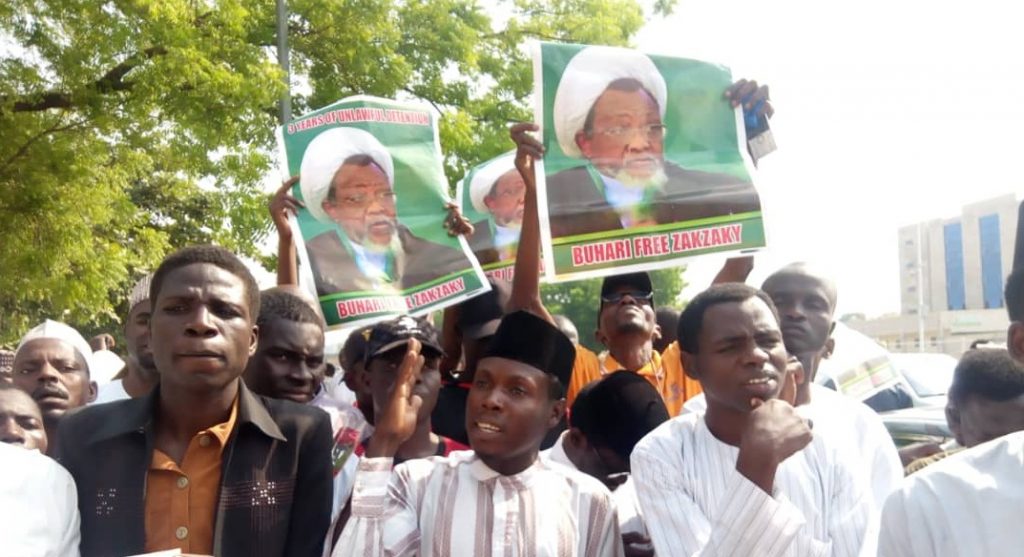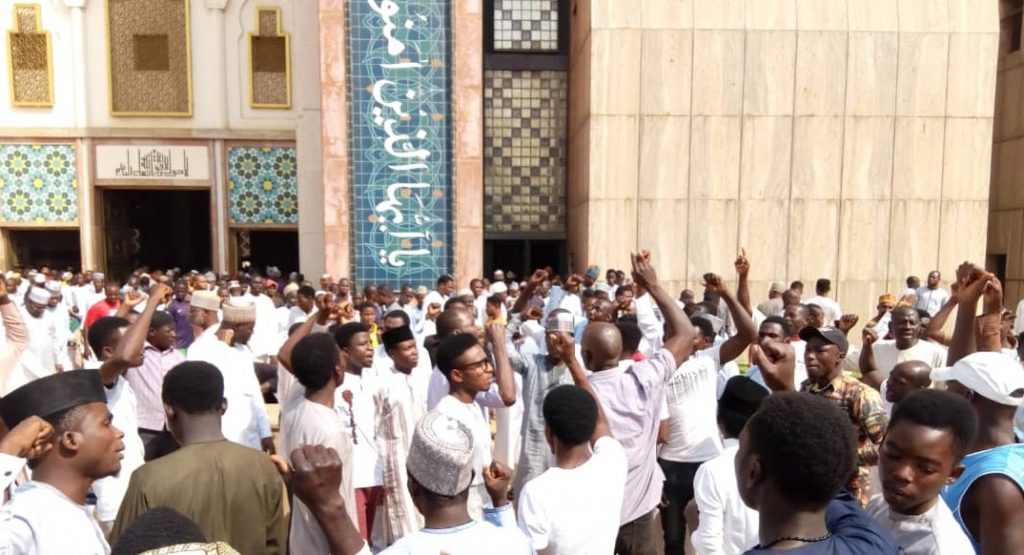 Free Zakzkay Protest in Abuja on 3rd Jan' 19
03 January 2019
Massive Free Zakzaky Protest in Garki, Abuja on Thursday the 3rd of January 2019 calling for the freedom of Sheikh Zakzaky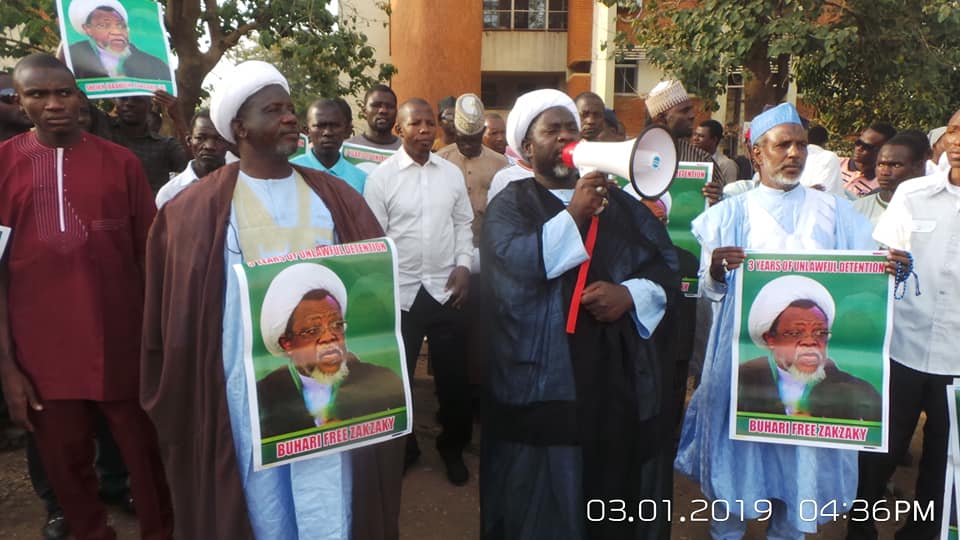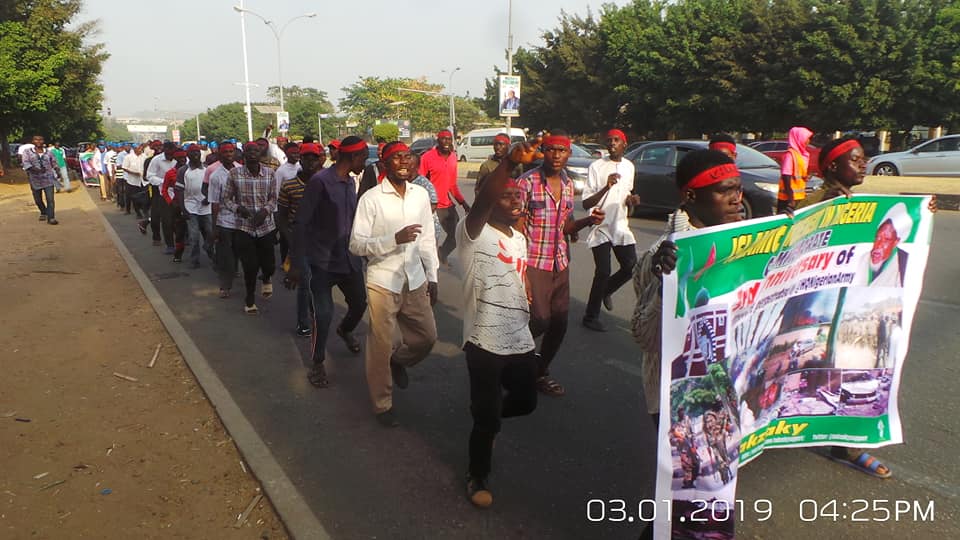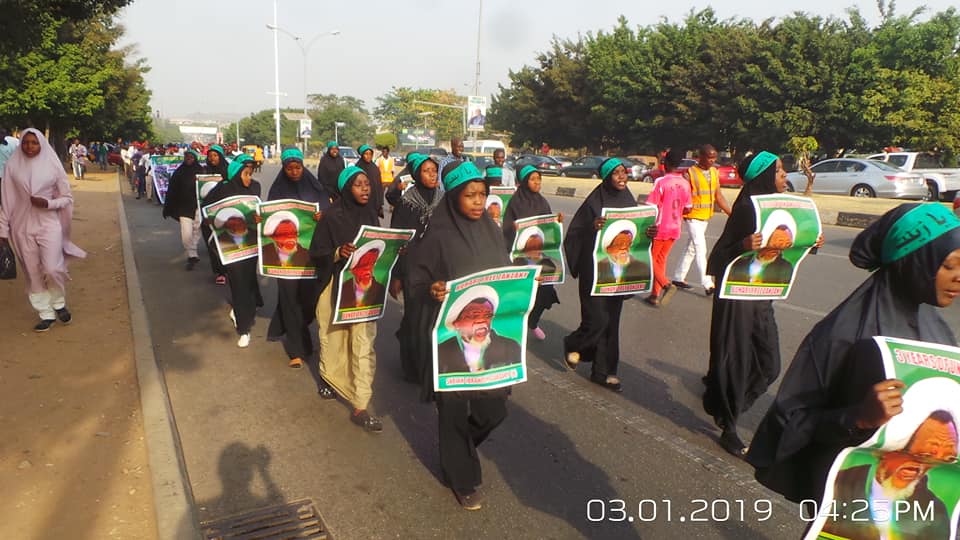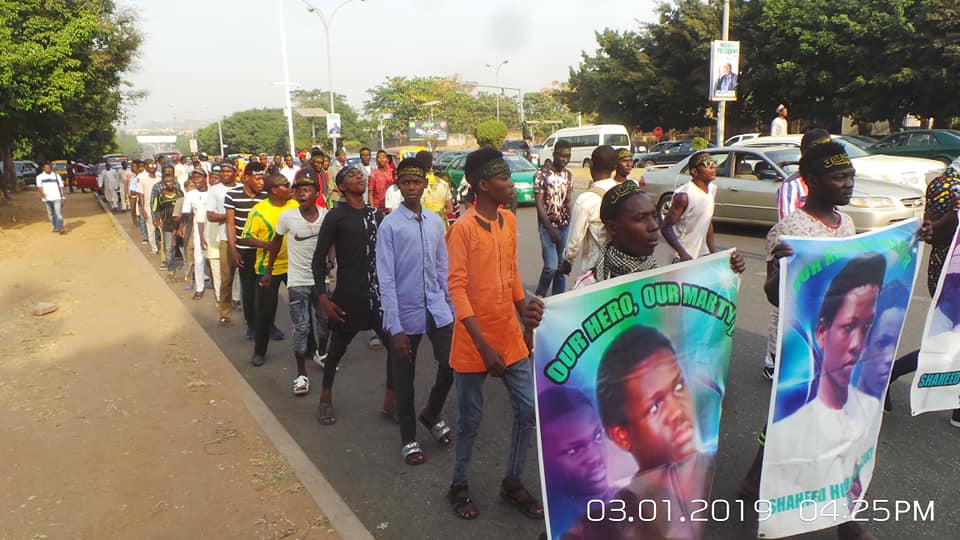 Adeyanju Deji : Hero Of Freedom
03 January 2019
A Christian, A true follower of Jesus (as). The fact that he is presently in the dungeon of the wicked mass murderer tyrant Buhari underlined his justice-seeking credentials.
Today (03/01/2019) the Islamic Movement in Nigeria under the leadership of Sheikh Ibraheem Zakzaky will honour this Hero for justice. Adeyanju Deji has attended Free Sheikh Zakzaky protest that the Nigerian army shot at the peaceful protesters. He is fearless, a brave Lion.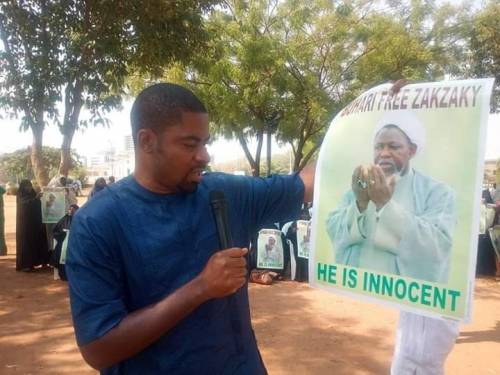 Peaceful Free Zakzaky Protest in Zaria on 3rd Jan
03 January 2019
A massive Free Zakzaky protest was organised in Zaria on Thursday the 3rd of January 2019.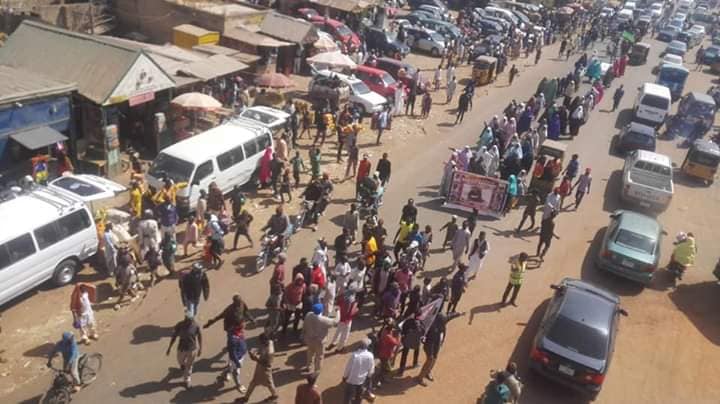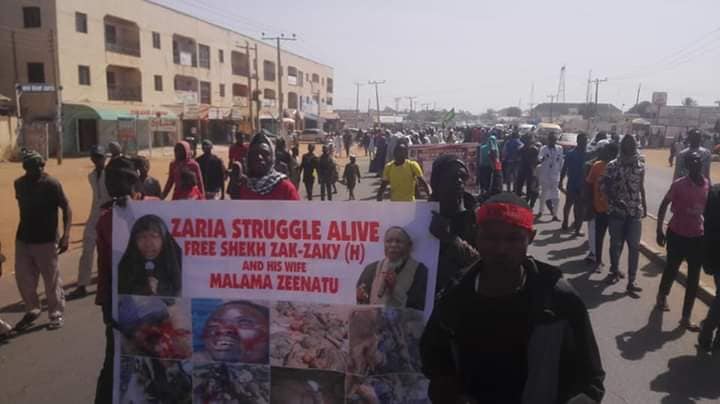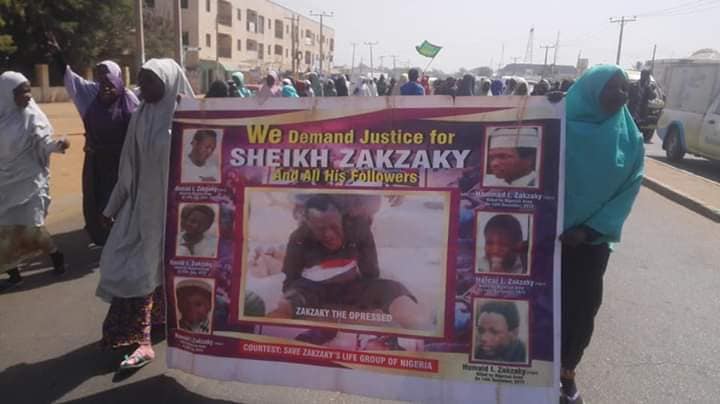 FreeZakzaky Protest in Abuja on 02 January
02 January 2019
Youth organised a massive #FreeZakzaky protest on New Year in Maitama district of Abuja in Nigeria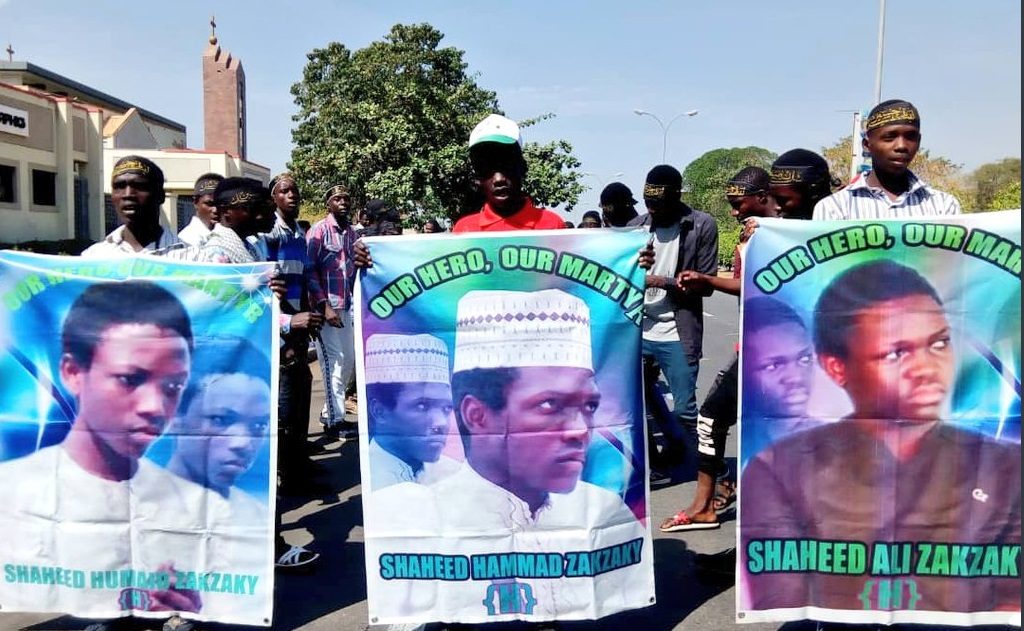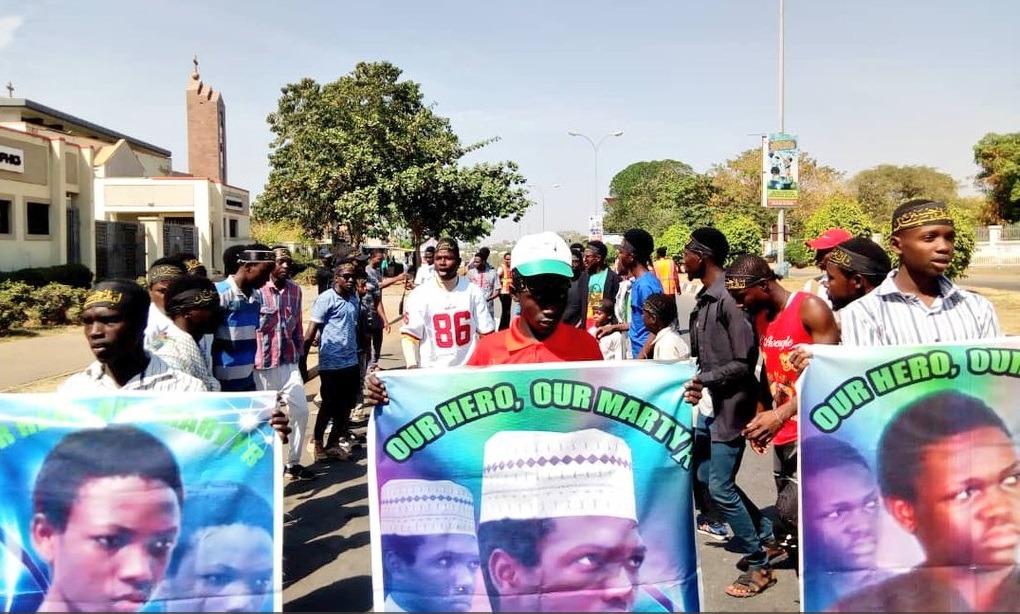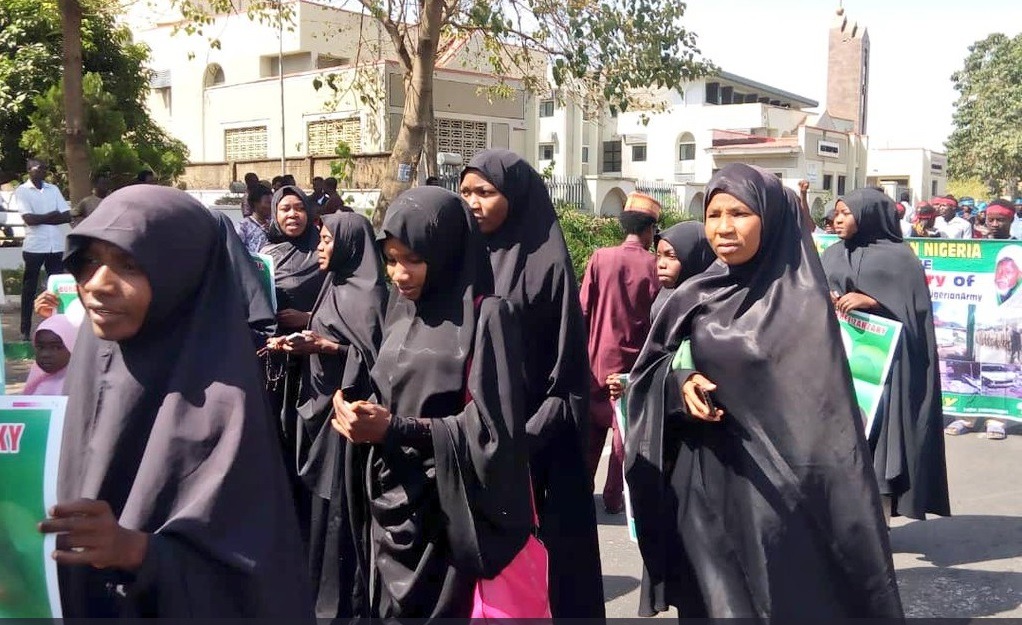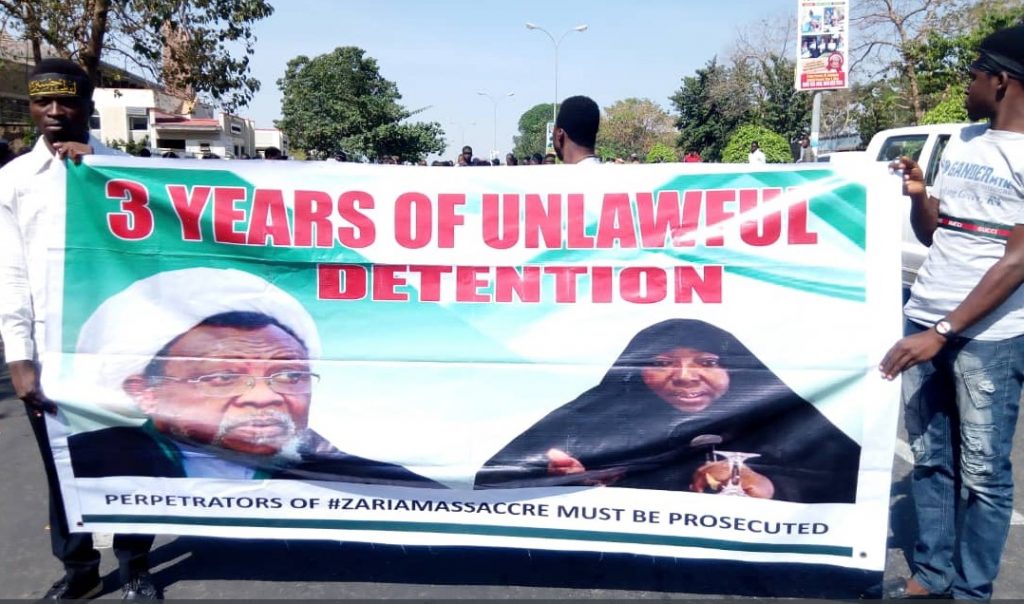 VIDEOS
Message From A Nigerian Christian
Uploaded on September 2018
I am a Christian, Why I am here at a FreeZakzaky Protest, listen a message from a Nigerian Christian demanding freedom for the Leader of the Islamic Movement.
Appeal to Help Recent Nigeria Massacre Victims
01 November 2018
The Nigerian authorities have attacked the Islamic Movement of Nigeria leaving dozens dead. They need your help now.
ARCHIVE
Click here to read the article "Zaria's military involvement in the massacres", published on 19 October 2014 in Spy Ghana.

Click here to read the article "Waiting for Ibrahim Zakzaky" published on 30 December 2015.
——————————————————————————-
IHRC is an NGO in Special Consultative Status with the Economic and Social Council of the United Nations.
Islamic Human Rights Commission
PO Box 598
Wembley
HA9 7XH
United Kingdom
Telephone (+44) 20 8904 4222
Email: info@ihrc.org
Web: www.ihrc.org
Twitter @ihrc
The opinions expressed in this digest do not necessarily reflect the views of IHRC