Islamic Human Rights Commission
NIGERIA DIGEST 09 February 2019 (Volume 3 Issue 05)
Introduction
Action Alert
Articles
Videos
Archive
INTRODUCTION
Below please find an update on the continuous Free Zakzaky protests. This week IHRC obtained a copy of a leaked letter exposing a plan to attack the Islamic movement ahead of general election.
We request campaigners to keep the pressure on the African Union by writing emails/letters, demanding the immediate release of the Sheikh and all those unjustly imprisoned.
Please forward any responses to any campaign letters/ emails you have sent to us and please keep the pressure up and send (follow up) letters/emails. A model letter is provided below in the Action Alert.
To find out more about the Zaria massacre of 2015, read IHRC's submission to the International Criminal Court HERE
To find out how you can help further, please visit the IHRC FreeZakzaky campaign page HERE
Note: To enable images in this digest please click on "always show content from this sender" – on top of your email just under sender's address.
Free Zakzaky!
ACTION ALERT:
1. CLICK HERE to know the five things you can do to support the Islamic Movement of Nigeria. You can donate to support the medical expenses of those injured recently by clicking here.
2. CLICK HERE to send an email to the African Union and demand their intervention in this case, a model letter and contact details of the African Union are also provided below. Please forward any response you receive to IHRC on wajahat@ihrc.org.
Model email / letter
If you are emailing, please use the following in the subject line:
Three Years of Unlawful Detention of Sheikh Zakzaky
Your name
Your address
Date
African Union Chairperson
President Paul Kagame
Roosevelt Street (Old Airport Area), W21K19,
Addis Ababa, Ethiopia
Dear President Kagame,
Re: Over Three Years of Unlawful Detention of Sheikh Zakzaky
I am writing to ask for your urgent intervention and to apply pressure on the Nigerian authorities to immediately release the unlawfully detained leader of the Islamic Movement of Nigeria Sheikh Zakzaky and his wife Zeenah. They have been held in illegal detention for over 3 years. You are doubtless aware of the details of his case.
On 02 December 2016, the Federal High Court in Abuja ruled that Sheikh Zakzaky and Muallimah Zeenah should be released within 45 days. The court described their detention, which began in December 2015 as illegal and unconstitutional. The deadline for the court order expired on 16 January 2017 but the Nigerian Government has refused to obey the court order. The Nigerian government has kept them detained illegally for over three years now and Sheikh Zakzaky and his wife still remain in the custody of the state, in clear contempt of the court order.
The African Union's silence on this issue is putting more innocent lives at risk. Recently Nigerian authorities have killed over 60 peaceful FreeZakzaky protesters, and arrested, tortured, and injured hundreds of them with live bullets in a barbaric attack on ArbaeenTrek 2018.
I am writing to ask for your urgent intervention to allow the illegally detained Sheikh Zakzaky and his wife to leave Nigeria for urgent medical treatment due to their critically deteriorating, life-threatening medical conditions. The Sheikh's personal doctor confirmed in his most recent report that his only remaining eye is in danger due to chronic glaucoma and recommended him to be taken abroad for urgent treatment by a specialist, as this is not available in any Nigerian hospital.
It is imperative that you apply pressure on the Nigerian authorities so that they stop killing innocent people and adhere to the High Court judgement of December 2016, and release Sheikh Zakzaky and his wife immediately.
I look forward to hearing from you,
Yours sincerely,
[Name]
African Union Contact Details:
Email: au-banjul@africa-union.org; DIC@african-union.org
Postal Address: P.O. Box 3243, Roosevelt Street, W21K19 | Addis Ababa, Ethiopia
Tel: (251) 11 551 77 00 | Fax:(251) 11 551 78 44
ARTICLES AND RESOURCES
Press Statement: Don't Cause Violence In Our Name
08 February 2019
The Islamic Movement in Nigeria has received very credible reports that some unusual movements by certain unknown persons with dangerous weapons were sighted on Thursday, 07/02/2019 in some parts of Zaria, Kaduna state, especially around the Sabon gari area of the city.
It has become very urgent to alert the general public in view of the series of leaked memos from DSS and the Presidency falsely alleging that the Islamic Movement was planning to cause violence prior to next weeks general elections.
We wish to reiterate our already well known position that the Movement a total abhorrence to violence under any guise. We therefore wish to completely dissociate ourselves from any plots to cause chaos and confusion, which we believe the security agents are bent on staging, through a series of false flag operations, all in our name. Click here to read the press release.
Sheikh Qasim Umar: A Trail of Sacrifice
07 February 2019
Speaking or writing about a martyr is a herculean task. This is simply because, I know every person is hold dearly by his family members. The question of how would his family or to be precise his children perceive what I'm saying about their doting Dad cum breadwinner.
This impression struck me on Tuesday, 5 February 2019, exactly a year that Sheikh Qasim Umar, a prominent disciple of Sheikh Zakzaky died of gun injuries he sustained on January 9, 2018 while calling the President Buhari-led administration to comply with a court order that calls for the release of the unjustly detained leader of the Islamic Movement in Nigeria, Sheikh Ibraheem Zakzaky. The context of the attack and the nature of the injuries later proved it as a premeditated one. Click here to read more
NIGERIA: Leaked letter exposes plan to attack Islamic Movement ahead of general election
06 February 2019
IHRC has obtained a copy of a letter from the chief of Nigeria's internal security service that suggests it is manufacturing a pretext to crack down on supporters and members of the country's Islamic Movement ahead of the general election later this month.
In the communication addressed to the Inspector-General of Police, the director of Internal Security Sanusi M. Galadima advises him to implement measures to thwart alleged plans by the Islamic Movement of Nigeria to free by force its detained leader, Sheikh Ibrahim el-Zakzaky, his wife and other members of the movement.

The letter claims that the Islamic Movement has "commenced mobilization of supporters across the country through social media platforms, to ensure success of the offensive."

IHRC believes the letter is clear evidence that the government is weaponising the election and planning to use violence to manipulate the democratic process. By seeking to attack and trying to marginalise the Islamic Movement the Nigerian authorities hope to reduce its enormous influence over the voting public. The general election is due to be held on 19 February. Click here to read the press release.
Free Zakzaky in Abuja on one year Commemoration of the Martyrdom of Sheikh Qasim Sokoto
05 February 2019
Free Zakzaky Protest in Abuja on Tuesday the 5th of Feb 2019 and marking one year commemoration of the martyrdom of Sheikh Qasim Umar Sokoto. The protest terminated at Federal Secretariat.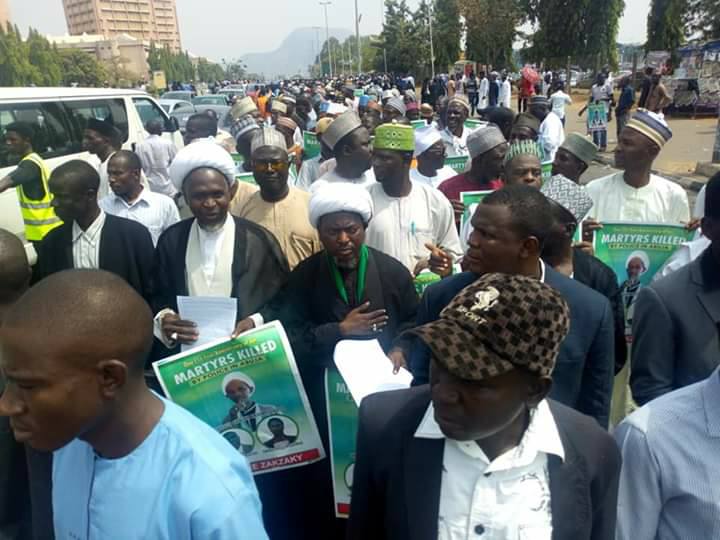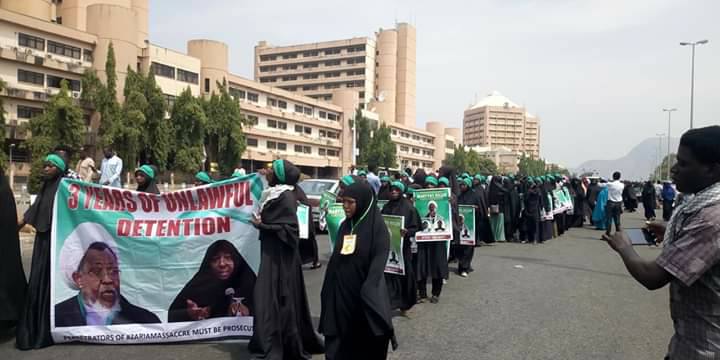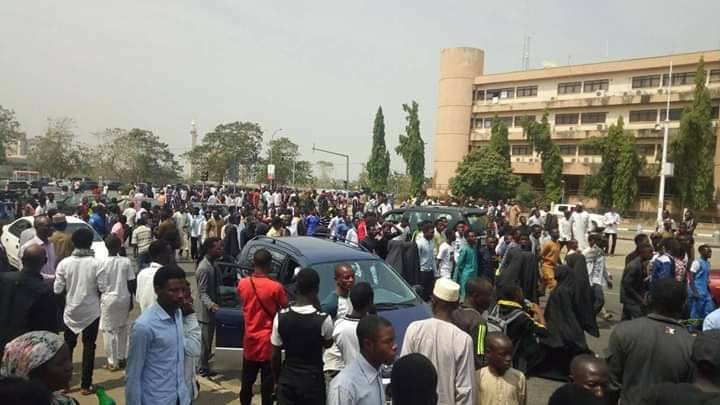 Massive Free Zakzaky Protest in Abuja on 4th Feb 2019
04 February 2019
Pictures of massive free Zakzaky protest was staged in Abuja on Monday the 4th of February 2019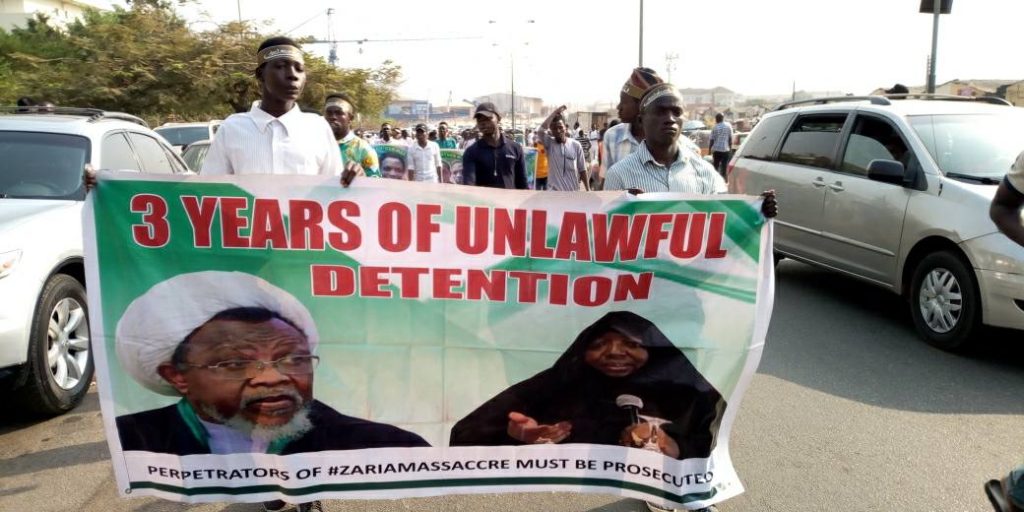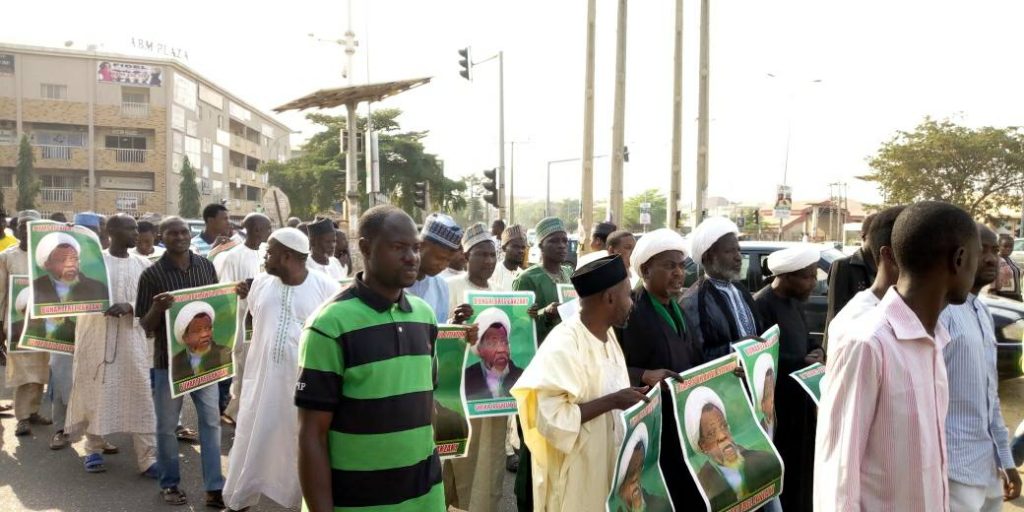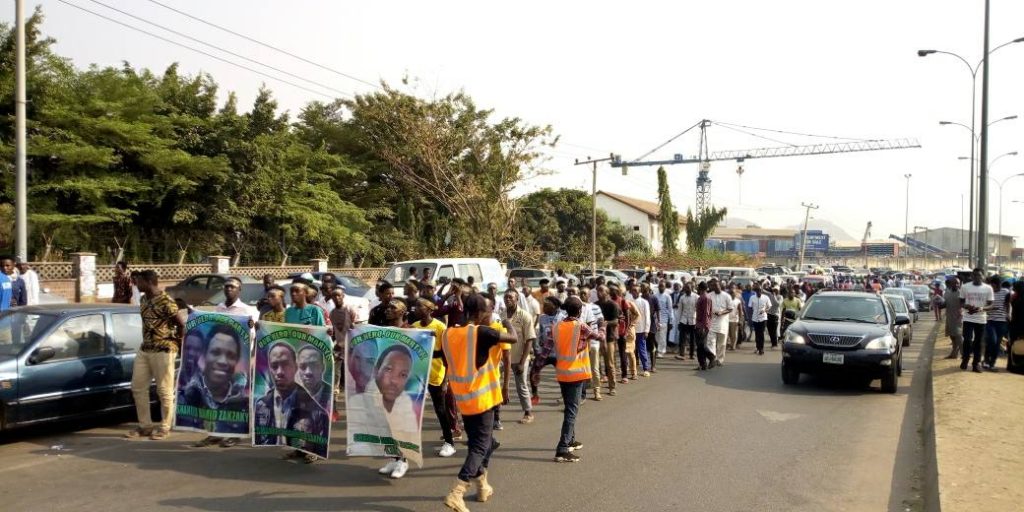 PRESS STATEMENT:
Presidential election: DSS must stop inciting other security agencies against us
04 February 2019
Early last month, members of the Islamic Movement in Nigeria got hold of a secret circular written by the Department of State Service (DSS) dated 1st January, 2019 which was dispatched to all Service Chiefs, Inspector General of Police and heads of other security agencies urging them to take aggressive stance against us.
The letter read in part: "Intelligence availed to this service revealed plans by the leadership of IMN to mobilise its membership in large numbers for a massive protest and other hostile activities, including the use of explosives and firearms in the days ahead. It was gathered that the group intends to besiege some major Northern cities and towns in Kano, Kaduna, Sokoto and the Federal Capital Territory (FCT) for the planned attack.
"The planned attack is to be carried out in league with members of the Islamic State West Africa Province (ISWAP), some opposition elements and a section of human rights movement, with a view to providing massive violence and attracting the attention of the International Community ahead of the 2019 general election."
We want to assure the general public and the international community that the allegation is malicious and unfounded, aimed at maligning the Movement with a view to painting it in bad light. There is no iota of truth in their claim, and it is just mere fabrication to justify the killing of members of the Movement ahead of February 16, Presidential election. Click here to read the complete press statement.
Concern NYSC Core Members Condemn The Killing Of A Member; Demand Unconditional Release Of Sheikh Zakzaky
02 February 2019
A group of core members of the National Youth Service Corpse (NYSC), who are faithful members of the Islamic Movement in Nigeria lead by Sheikh Ibraheem Zakzaky have marched to the office of National Human Rights Commission (NHRC), Abuja, Nigeria, on Thursday, the 31/01/2019, to express their concerned over the brutal killing of one of their core members, Mustapha Ingawa, who was killed by the Guards Brigade of National Police on 27th October, 2018 in the city of Abuja, while participating in a peaceful annual religious march.
In a paper submitted to the NHRC officials by a core member, Sulaiman Alhassan, acknowledged that, Mustapha Ingawa, is a graduate of B. Sc. Business Administration and until his death, he is a serving core member under National Youth Service Corps Scheme.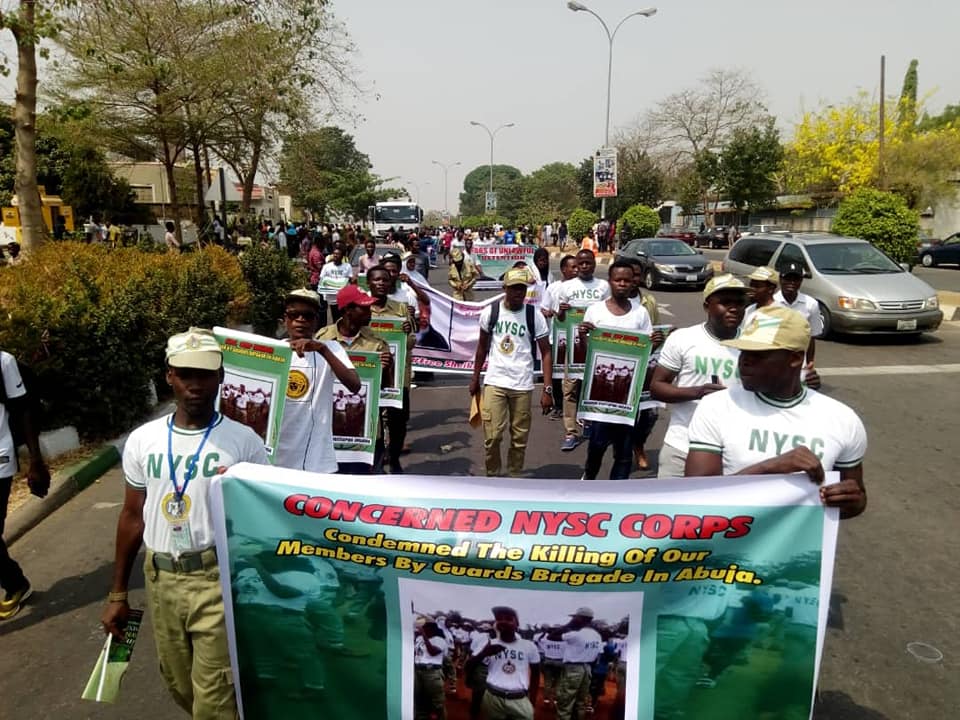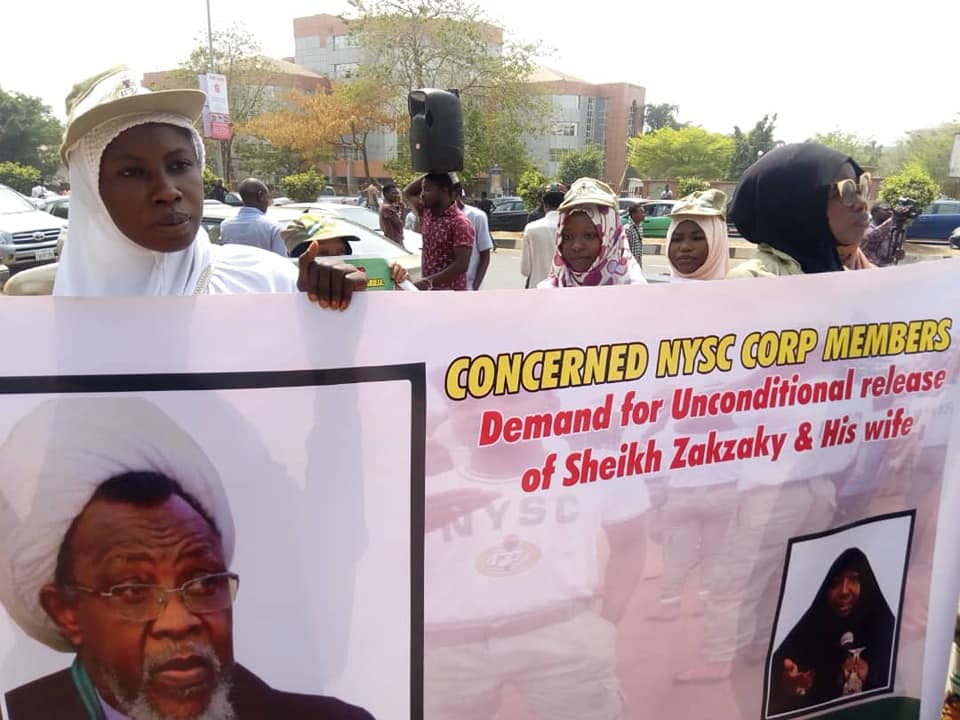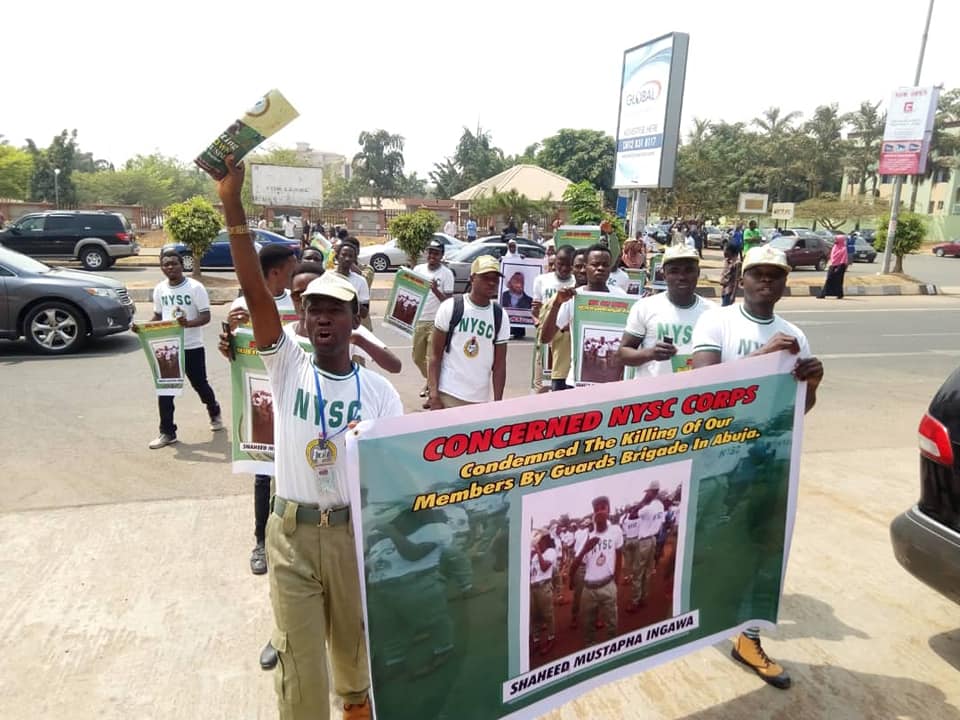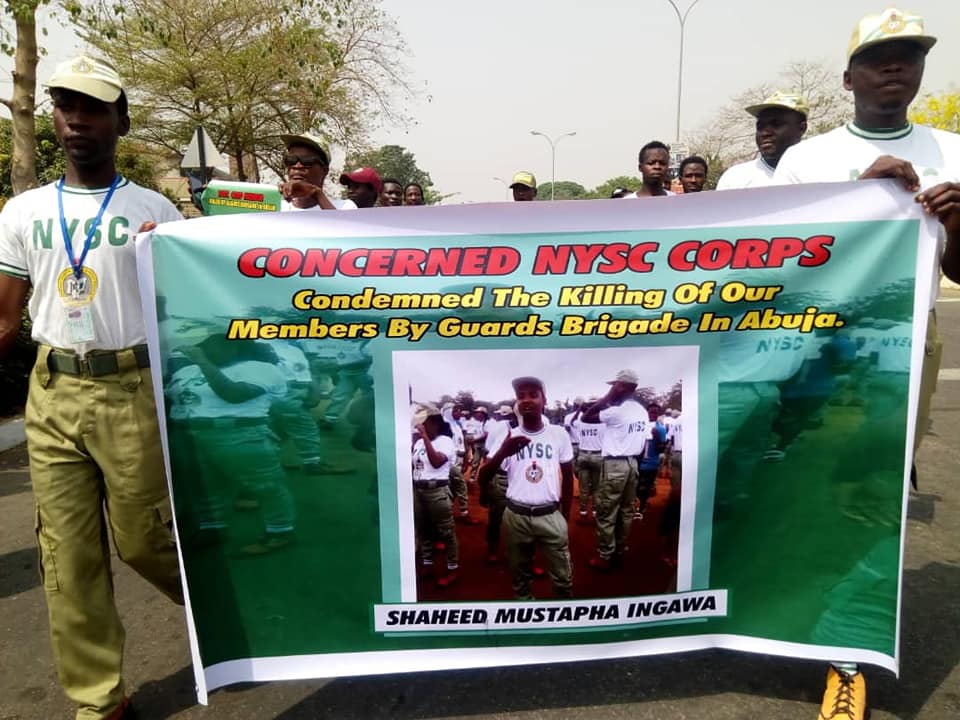 VIDEOS
IHRC Side Panel: The Zaria Massacres and the Role of the Military
IHRC Side Panel in UNHRC, The Zaria Massacres and the Role of the Military, Published on 18 September 2014 (Warning: Graphic images and details)
Appeal to Help Recent Nigeria Massacre Victims
01 November 2018
The Nigerian authorities have attacked the Islamic Movement of Nigeria leaving dozens dead. They need your help now.
ARCHIVE
October 2002: IHRC Report on "Human Rights Violations in Nigeria: April 1997 – September 1998" (Addendum) published in October 2002. Click here to read the details.
April 1998: Zeenah Ibrahim, wife of Mu'allim Ibrahim Al-Zakzaky and six of her children aged between 17 months and 11 years of age were charged with inciting hatred of Nigerian government and insulting President of the military junta, Click Here to read the details.
——————————————————————————
IHRC is an NGO in Special Consultative Status with the Economic and Social Council of the United Nations.
Islamic Human Rights Commission
PO Box 598
Wembley
HA9 7XH
United Kingdom
Telephone (+44) 20 8904 4222
Email: info@ihrc.org
Web: www.ihrc.org
Twitter @ihrc
The opinions expressed in this email do not necessarily reflect the views of IHRC