Islamic Human Rights Commission
NIGERIA DIGEST 24 March 2019 (Volume 3 Issue 11)
.
Introduction
Action Alert
Articles
Videos
Archive
INTRODUCTION
Below please find an update on the continuous Free Zakzaky protests. This week IHRC raised concerns over reports of a possible ruthless attack on FreeZakzaky demonstrators in Abuja.
Click here to watch the weekly message from IHRC chair Masoud Shadjerah about our fundraising and campaigning for the Islamic Movement of Nigeria.
We request campaigners keep the pressure on the African Union by writing emails/letters, demanding the immediate release of the Sheikh and all those unjustly imprisoned. Please forward any responses you receive to us on wajahat@ihrc.org and keep the pressure up by continuing to send follow-ups. A model letter is provided below in the Action Alert.
To find out more about the Zaria massacre of 2015, read IHRC's submission to the International Criminal Court here
To find out how you can help further, please visit the IHRC FreeZakzaky campaign page here
Free Zakzaky!
ACTION ALERT:
1. Click here to learn the five things you can do to support the Islamic Movement of Nigeria. You can donate to support the medical expenses of those recently injured by clicking here.
2. Please send an email to the African Union and demand their intervention in this case. A model letter and contact details of the African Union are provided below. Please forward any responses you receive to IHRC at wajahat@ihrc.org.
Model email / letter
If you are emailing, please use the following in the subject line:
African Union's failure to act on human rights abuses in Nigeria
Your name
Your address
Date
African Union Chairperson
President Paul Kagame
Roosevelt Street (Old Airport Area), W21K19,
Addis Ababa, Ethiopia
Dear President Kagame,
Re: African Union's failure to act on human rights abuses in Nigeria
The Nigerian gorvernment has been the subject of repeated complaints to you over its killings of supporters of the Islamic Movement of Nigeria from 2015 onwards and the arrest and prosecution of its leader Sheikh Ibrahim el-Zakzaky, his wife Zeenah and other members.
Nigerian authorities are currently trying Sheikh Zakzaky and his wife along with two other members of the Islamic Movement on trumped up charges relating to events surrounding the massacre in December 2015 by the Nigerian military of over 1000 followers of the Islamic Movement of Nigeria. This case has only been made after the federal court ruled in late 2016 (a year after their detention) that Sheikh Zakzaky's detention and that of his wife Zeenah was unlawful and unconstitutional and ordered the government to release them by January 16, 2017 and pay compensation. That order was never implemented and the charges were brought against the couple in 2018.
It is imperative that you apply pressure on the Nigerian authorities so that they stop killing innocent people and adhere to the High Court judgement of December 2016, and release Sheikh Zakzaky and his wife immediately.

I look forward to hearing from you,
Yours sincerely,
[Name]


African Union Contact Details:
Email: au-banjul@africa-union.org; DIC@african-union.org
Postal Address: P.O. Box 3243, Roosevelt Street, W21K19 | Addis Ababa, Ethiopia
Tel: (251) 11 551 77 00 | Fax:(251) 11 551 78 44
ARTICLES AND RESOURCES
IHRC Press Release: Fresh fears emerge for Free Zakzaky protestors
20 March 2019
IHRC is concerned about reports reaching us from Nigeria that the Buhari government is planning a "ruthless attack" on supporters of the Islamic Movement of Nigeria.
According to information received from the organisation, a decision was taken at a recent high level security meeting to attack Free Zakzaky demonstrators in the capital Abuja.
Marches and vigils calling for the release of Sheikh Ibrahim el-Zakzaky have become a regular feature in Abuja ever since the leader of the Islamic Movement of Nigeria was arrested in 2015 along with his wife after an army massacre of the organisation's supporters. The persistence of the demonstrators has become a thorn in the side of the authorities who have often sought to stamp out the protests using deadly violence.
Ahead of Martyrs' Day: Need for Sheikh Elzakzaky's Unconditional Release
23 March 2019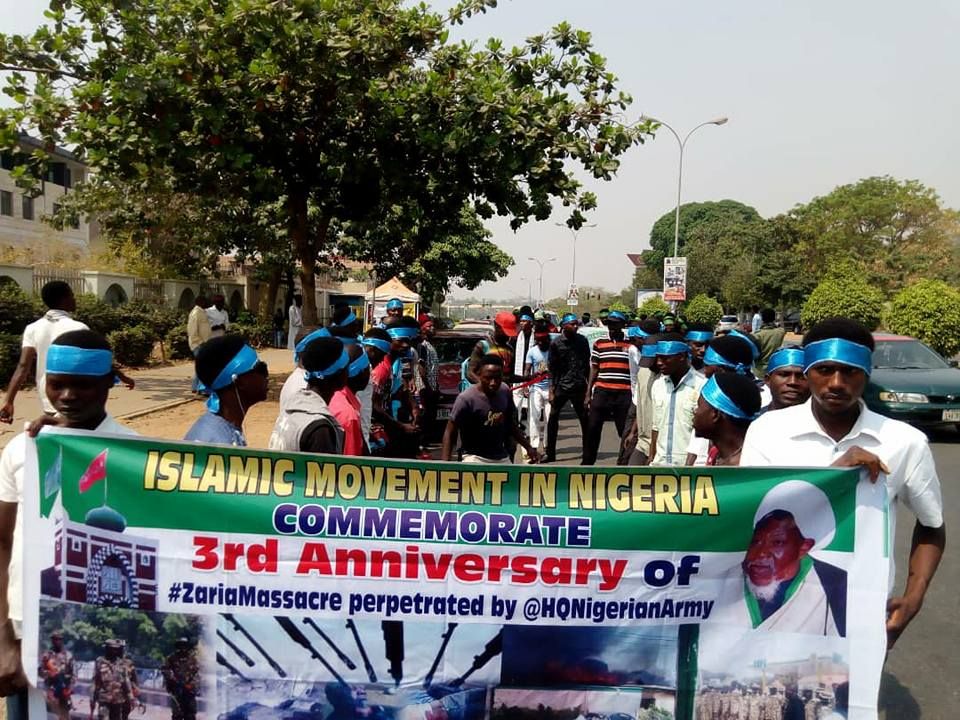 Soon, the Shuhada Foundation of the Islamic Movement observes annual Martyrs' day. Saddled with the responsibility of seeing to the general welfare of martyrs' families in pursuance of moral and academic excellence, and hitherto victims of oppressive attacks, the fully registered foundation collects and manages contribution from disciples of the Sheikh and other well meaning individuals for its humanitarian activities. No doubt, its task is very challenging. With the statistics available, there are about four thousand dependents consequent to historic state aggressions on the peaceful citizens, most notably, the 2015th Zaria massacre where about a thousand were murdered by the army in cold blood.
Like Zaria Massacre, Like Christchurch Mosque Massacre, But Much Worse In The Former Case
19 March 2019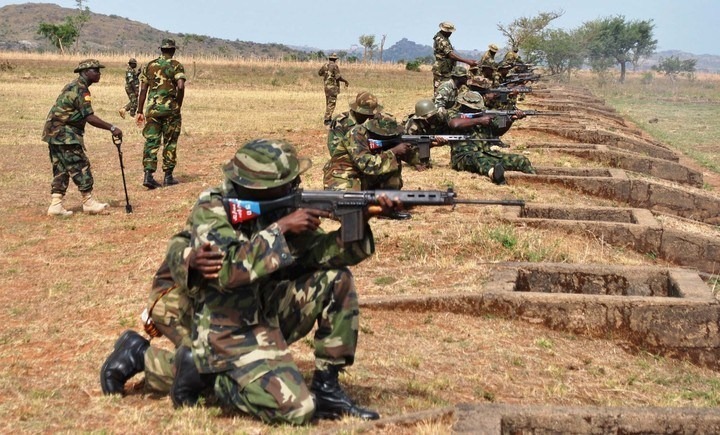 New Zealand condemnable mosque shooting has been likened to the Zaria massacre in many respects and has been described as a sad reminder of Zaria massacre of December, 2015.

Both are said to have been based on hate for a people simply based on their faith.
However, the two massacres also differ in many respects.
The Zaria Massacre of 2015 was unquestionably worse than the Christchurch Mosque Massacre of 2019. Firstly, the former was state-executed while the later was carried out by an individual. Secondly, the Zaria massacre led to the death of over a thousand individuals while about 50 persons were killed in the Christchurch massacre. Additionally, the massacre in Zaria was jubilated by people who share similar sentiments as the killers against the victims, but in Christchurch massacre there were no jubilations even by people of same faith with the attacker or those who don't share the same faith as the victims.
Zaria Massacre Watch: Army Moves Chief Culprit Brig-Gen AK Ibrahim
17 March 2019
As a continuation of keeping tabs on the major actors of the infamous Zaria massacre of December 2015, one of the principal culprits of that heinous crime against humanity, Brig.-Gen. A.K. Ibrahim, has been moved from 14 Brigade to Army Headquarters Department of Administration as Deputy Director.
Brig-Gen Ibrahim was a Colonel when he played a major role in the vicious attacks that led to the massacre of over a thousand innocent citizens in Zaria in that eventful weekend and the burial of hundreds of the victims in mass graves.
He was the Nigerian Army's main and principal "witness" during the one-sided sessions of the Kaduna Judicial Commission of Inquiry, during which he serially lied under oath, including that only one member of the Islamic Movement died and he repeatedly denied the existence of any mass graves, stating that the pictures of mass grave was from a scene of Boko Haram attack in North Eastern Nigeria until his blatant lies were exposed by a confession of the Kaduna state Secretary to the government at the inquiry.
Click here to read the full article.
As Sheikh Zakzaky's Illegal Imprisonment Hits 39 Months, Zionist-Aligned UAE Reveals Itself As One Of His Tormentors
17 March 2019
It gets more and more excruciating to write about Sheikh Ibrahim Yaqoub al-Zakzaky month in and month out… Knowing that he, his wife Sayyeda Zeenat, and hundreds of other Islamic Movement of Nigeria political prisoners remain in the dungeons of the psychopathic, tyrannical, US-'Israeli'-owned Abuja regime. We are now in month 39 of his unjust detention following the massacre of 1,000 Muslims in Zaria on December 12th-14th, 2015. Click here to read the full article.
The New Zealand Terror Attack: A Trauma Memory Trigger of Buhari's Zaria Massacre
16 March 2019
The world is shocked by a recent recorded video clip in circulation of one terrorist in the name of Brentan Tarrant who was seen shooting Muslims worshippers at a mosque(s) in Christ Church city of New Zealand. Not fewer than 49 were reported to have been killed and several others injured.
For many other people I find it difficult to believe my eyes in the first place, how on earth is such a thing possible? How could somebody's conscience allow him to go on killing another individual who is not only innocent but also promising and peace loving? Click here to read the full article.
VIDEOS
Appeal to Help Recent Nigeria Massacre Victims
01 November 2018 – IHRC Weekly
The Nigerian authorities have attacked the Islamic Movement of Nigeria leaving dozens dead. They need your help now.
The Zaria Massacre
Published on 14 December 2015
On al-Quds Day in July 2014, a unit of the Nigerian army opened fire on one of the 33 al-Quds Day demonstrations in Zaria, Nigeria. 40 were killed and many injured. This is the story of that day as uncovered by an IHRC team.
Click here to read the letter by IHRC Chair Massoud Shadjareh to the ICC regarding the preservation of Zaria massacre-evidence. published on 30 November 2017
Click here to read IHRC Press release "ICC cautioned against blaming victims in Nigeria massacre investigation", published on 06 March 2018
——————————————————————————-
IHRC is an NGO in Special Consultative Status with the Economic and Social Council of the United Nations.
Islamic Human Rights Commission
PO Box 598
Wembley
HA9 7XH
United Kingdom
Telephone (+44) 20 8904 4222
Email: info@ihrc.org
Web: www.ihrc.org
Twitter @ihrc
The opinions expressed in this digest do not necessarily reflect the views of IHRC