Islamic Human Rights Commission
NIGERIA DIGEST 30 MAY 2019 (Volume 3 Issue 17)
Introduction
Action Alert
Articles
Videos
Archive
INTRODUCTION
Below please find last week's update on the Free Zakzaky campaign. During this week #FreeZakzaky protests continued in Nigeria. The Islamic Movement in Nigeria is set to mark this year's International Quds Day celebration on Friday 31st May.
Click here to watch the weekly message from IHRC chair Massoud Shadjerah about our fundraising and campaigning for the Islamic Movement of Nigeria. Please CLICK here for more information to support the victims of police and army brutality in Nigeria and do share the fundraising video provided. They are in urgent need of our support please DONATE here and encourage others to do the same.
We request campaigners keep the pressure on the African Union by writing emails/letters, demanding the immediate release of the Sheikh and all those unjustly imprisoned. Please forward any responses you receive to us on wajahat@ihrc.org and keep the pressure up by continuing to send follow-ups. A model letter is provided below in the Action Alert.
To find out more about the Zaria massacre of 2015, read IHRC's submission to the International Criminal Court here
To find out how you can help further, please visit the IHRC FreeZakzaky campaign page here
Free Zakzaky!
ACTION ALERT:
1. Click here to learn the five things you can do to support the Islamic Movement of Nigeria. You can donate to support the medical expenses of those recently injured by clicking here.
2. Click here to send an email to the African Union and demand their intervention in this case. A model letter and contact details of the African Union are provided below. Please forward any responses you receive to IHRC at wajahat@ihrc.org.
Model email / letter
If you are emailing, please use the following in the subject line:
African Union's failure to act on human rights abuses in Nigeria
Your name
Your address
Date
H.E. Moussa Faki Mahamat
Chair African Union Commission 
PO Box 3243 Roosevelt Street (Old Airport Area) W21K19,
Addis Ababa, Ethiopia

Dear H.E. Mousa Faki Mahamat,
Re: African Union's failure to act on human rights abuses in Nigeria
Nigeria has been the subject of repeated complaints over its killings of supporters of the Islamic Movement of Nigeria from 2015 onwards and the arrest and prosecution of its leader Sheikh Ibrahim el-Zakzaky, his wife Zeenah and other members.
Nigerian authorities are currently trying Sheikh Zakzaky and his wife along with two other members of the Islamic Movement on trumped up charges relating to events surrounding the massacre in December 2015 by the Nigerian military of over 1000 followers of the Islamic Movement of Nigeria.  This case has only been made after the federal court ruled in late 2016 (a year after their detention) that Sheikh Zakzaky's detention and that of his wife Zeenah was unlawful and unconstitutional and ordered the government to release them by January 16, 2017 and pay compensation. That order was never implemented and the charges were brought against the couple in 2018.
It is imperative that you apply pressure on the Nigerian authorities so that they stop killing innocent people and adhere to the High Court judgement of December 2016, and release Sheikh Zakzaky and his wife immediately.
I look forward to hearing from you,
Yours sincerely,
[Name]

African Union Commission Contact Details:
Email: dic@africa-union.org 
Postal Address: PO Box 3243 Roosevelt Street (Old Airport Area) W21K19 Ababa, Ethiopia
Tel: +251 11 551 7844
ARTICLES AND RESOURCES
Buhari's Convoy Meets Across With Massive Fridays Free Zakzaky Protests In Abuja Central Mosque
25 May 2019
On Friday 24/5/2019, the convoy of Mr. President Buhari, have again meet across with massive weekly rallies and protests in Abuja central Mosque, the nation's capital, in a recurrent protests by multitudes of brothers of the Islamic Movement calling for the immediate and unconditional release of Sheikh Zakzaky, his wife and several other brothers in DSS detention since the infamous 2015 deadly Zaria attack.
This is the second time the President is meeting across with the protest since his last attendance to the Mosque for Friday obligatory prayer on 31/3/2018, where the President and his convoy were really terrified as the protesters dare confronted the gang conveying their messages in unison, "Free Free Zakzaky; Zakzaky Is Innocent; Obey Court Order; Zakzaky Needs Medical Attention".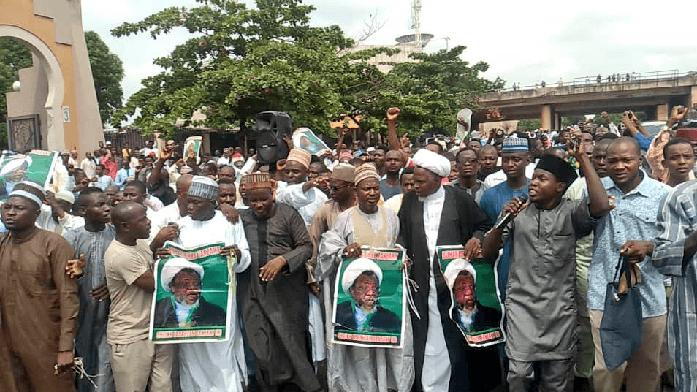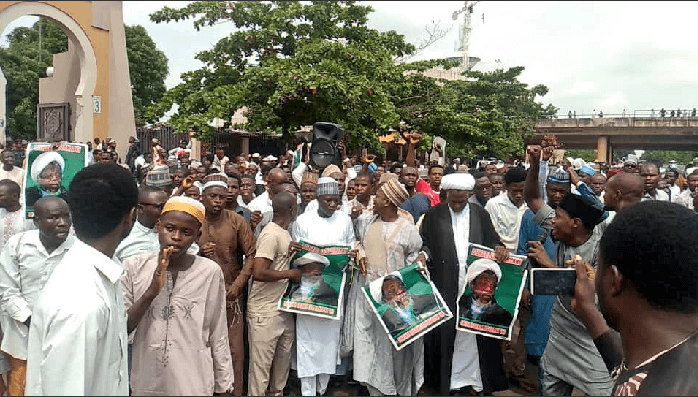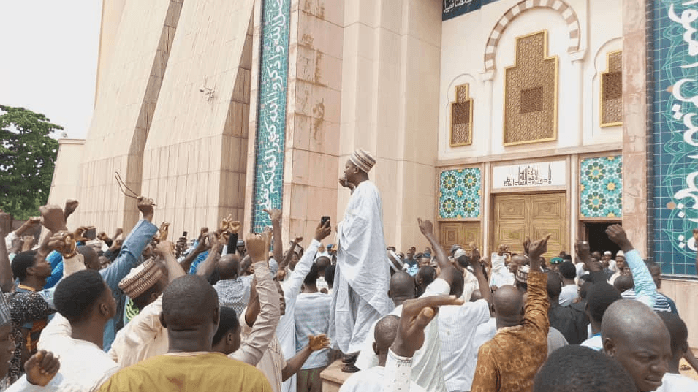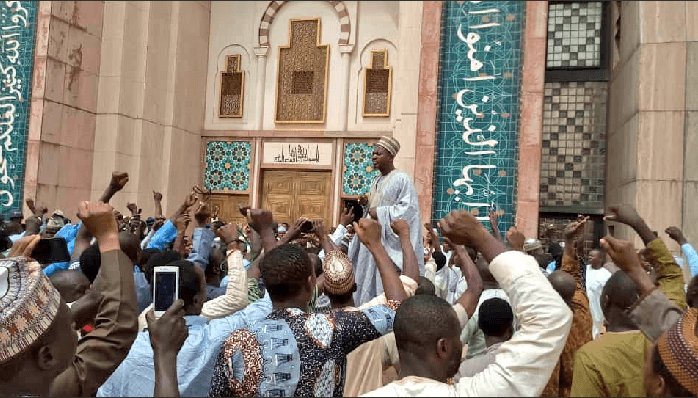 Release El-Zakzaky, Wife, For Medical Treatment Abroad – Group Asks FG
24 May 2019 – Leadership.ng
A group, Initiative for Conciliation and Right Protection has called on the Federal Government to release Sheikh El-Zakzaky, the leader of Islamic movement in Nigeria and his wife Zeenah for medical treatment abroad. The leader of the group, Comrade Ahmad Isa made the call at a news conference on Thursday in Abuja. Isa said that the call followed the revelation by the delegation of medical experts and consultants who visited the Islamic leader and his wife in detention on April 25.
Buhari Invites Netanyahu, To Mark Feat Against Sheikh Zakzaky In The Name Of Democracy
24 May 2019 – Reflections online
President Muhammadu Buhari has sent letter of invitation to his Zionist pay master, Benjamin Netanyahu of the illegitimate state of Israel to Nigeria only moments after returning from Saudi Arabia believed to have been acting as proxy link in the fight against the Islamic Movement in Nigeria. Click here to read full story.
Islamic Movement Set To Mark International Quds Day
24 May 2019
The Islamic Movement in Nigeria is set to mark this year's International Quds Day celebration on Friday 31st May, 2019 in different parts of the country. This year's event is coming on the heels of an audacious invitation to the the Israeli Prime Minister, Benjamin Netanyahu to visit Nigeria a few days after even as the Zionist state continues to oppress the Palestinians. 
Thousands Turn Out In A Fresh Free Zakzaky Protest on Tuesday In Kaduna
23 May 2019
On Tuesday the 21/5/2019, thousands ofl followers of Sheikh Ibraheem Zakzaky in the city of Kaduna, showed up in a fresh peaceful protest, calling for the Immediate and unconditional release of Sheikh Zakzaky, his wife and several others in illegal detention.
The protest was led by the leading brother of the unit, Malam Aliyu Turmizi and was attended by thousands from all nook and cranny of the Kaduna city.
It kicked off from Kabala West junction, Western by-pass, Kaduna at about 6:00p.m. The protesters marched raising Sheikh Zakzaky's posters and chanting slogans for his release.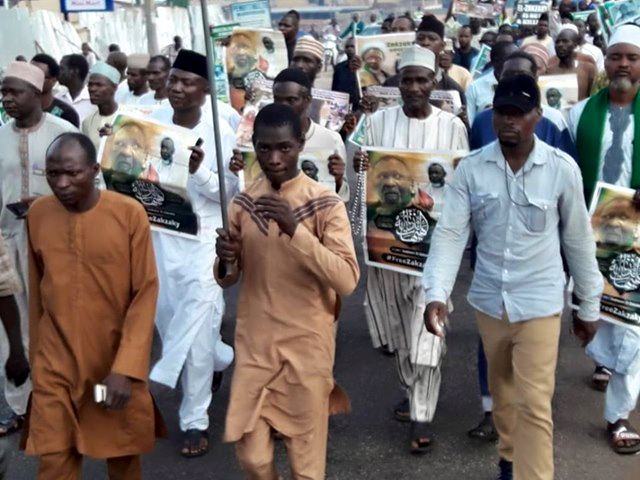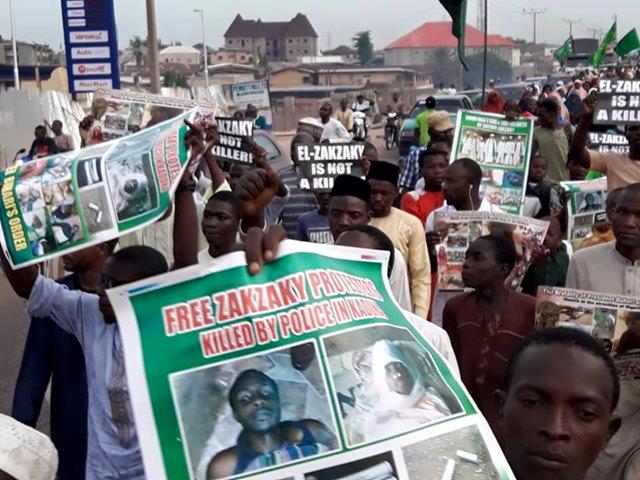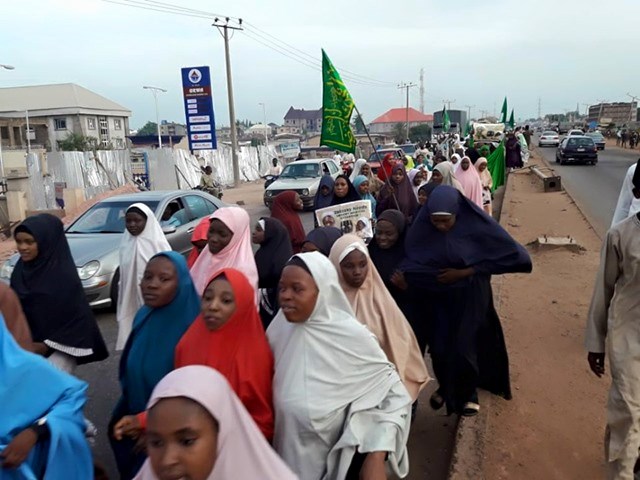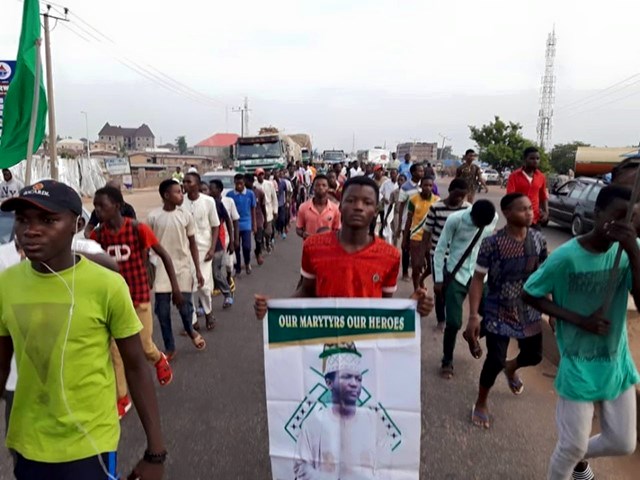 Free Zakzaky Protest in Abuja on 22nd of May 2019
22 May 2019
Massive free Zakzaky protest was staged in Abuja on Wednesday the 22nd of May 2019 calling for the release of Sheikh Zakzaky and his wife who have been detained since Dec 2015. This was the 499th protests since it started.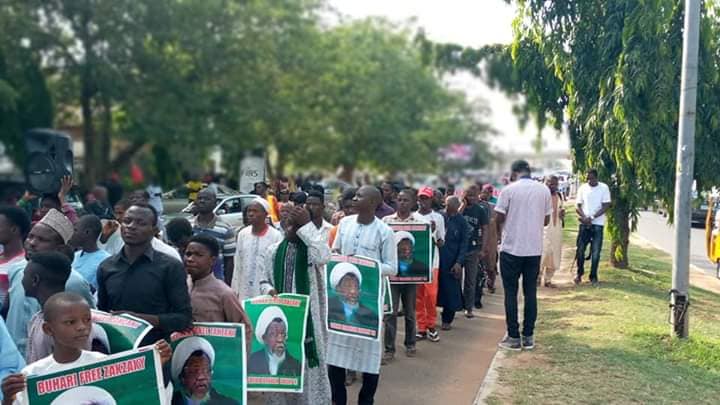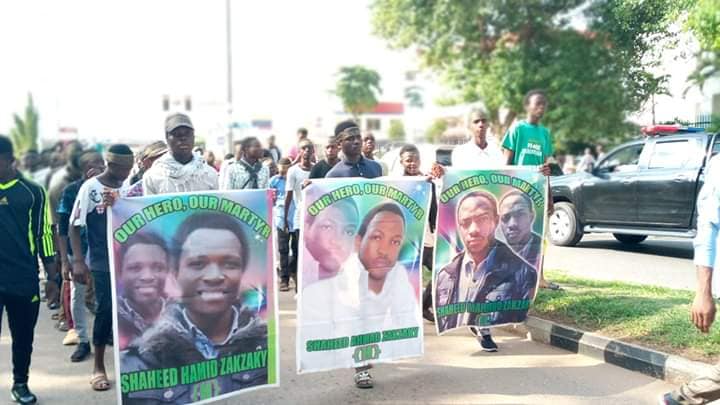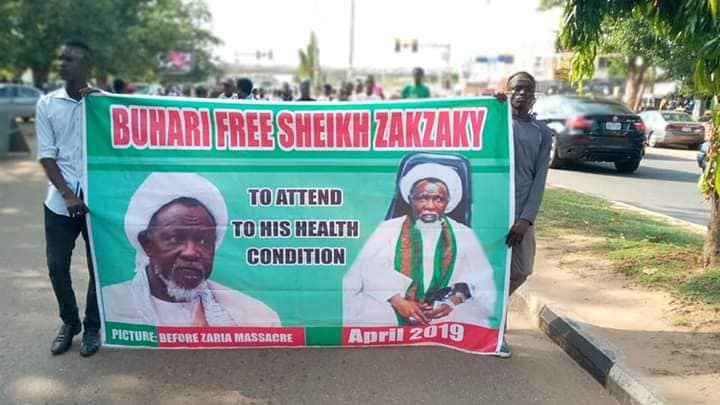 Plot Thickens As Evil Forces Regroup Against Sheikh Zakzaky, Islamic Movement In Saudi Arabia
22 May 2019
There was a subtle but deliberate reenactment of the 'evil assembly' of forces actively working to see to the total destruction of the Islamic Movement in Nigeria and its leader, Sheikh Ibraheem Zakzaky in Saudi Arabia in the past week as the plot to complete what was started about four years ago thickens.
Unlike the first assembly in February 2016 where they congregated to celebrate their victory at the heinous massacre in Zaria in December 2015 however, this one is to see what remains to be done to complete what they started then, and was craftily designed to obscure the nefarious mission. Click here to read more details.
Detained Bauchi Cleric Arrested By DSS For Criticising Buhari Calls For Release Of Sheikh Zakzaky
20 May 2019
A Bauchi-based Islamic cleric, Malam Idris Abdulaziz, who was detained and later released by the DSS has called for the immediate release of the leader of the Islamic Movement in Nigeria, Sheikh Ibraheem Zakzaky. He made the call while giving the details of his arrest and detention to his supporters when he was released some few days ago.
Malam Abdulaziz told his followers that, "imagine how worried you, my supporters are for only a few days I was in detention, and compare this to the situation of Sheikh Zakzaky, who has been in detention for over three years. How do you think his supporters are coping?" He called for the immediate release of Sheikh Zakzaky. Click here to read full story.
VIDEOS
Appeal to Help Recent Nigeria Massacre Victims
Published on 01 November 2018 – IHRC Weekly
The Nigerian authorities have attacked the Islamic Movement of Nigeria leaving dozens dead. They need your help now.
Nigeria: The Zaria Massacres and the Role of the Military
Published on 19 October 2014
Click on the following link to watch the IHRC Side Panel at UN Human Rights Council, 18 September 2014
ARCHIVE
CLICK HERE to read the interview of Ibrahim Musa, the President of the Media Forum of the Islamic Movement in Nigeria. "Zaria massacre was orchestrated in Israel, bankrolled by Saudi, executed byNigerian government". Published on 10 July 2018
CLICK HERE to read the IHRC PRESS RELEASE dated 11 April 2016 – Nigeria: State govt admits burial of massacre victims in mass grave
——————————————————————————
IHRC is an NGO in Special Consultative Status with the Economic and Social Council of the United Nations.
Islamic Human Rights Commission
PO Box 598
Wembley
HA9 7XH
United Kingdom
Telephone (+44) 20 8904 4222
Email: info@ihrc.org
Web: www.ihrc.org
Twitter @ihrc
The opinions expressed in this email do not necessarily reflect the views of IHRC