Islamic Human Rights Commission
6 February 2019
PRESS RELEASE – NIGERIA: Leaked letter exposes plan to attack Islamic Movement ahead of general election
IHRC has obtained a copy of a letter from the chief of Nigeria's internal security service that suggests it is manufacturing a pretext to crack down on supporters and members of the country's Islamic Movement ahead of the general election later this month.
In the communication addressed to the Inspector-General of Police, the director of Internal Security Sanusi M. Galadima advises him to implement measures to thwart alleged plans by the Islamic Movement of Nigeria to free by force its detained leader, Sheikh Ibrahim el-Zakzaky, his wife and other members of the movement.
The letter claims that the Islamic Movement has "commenced mobilization of supporters across the country through social media platforms, to ensure success of the offensive."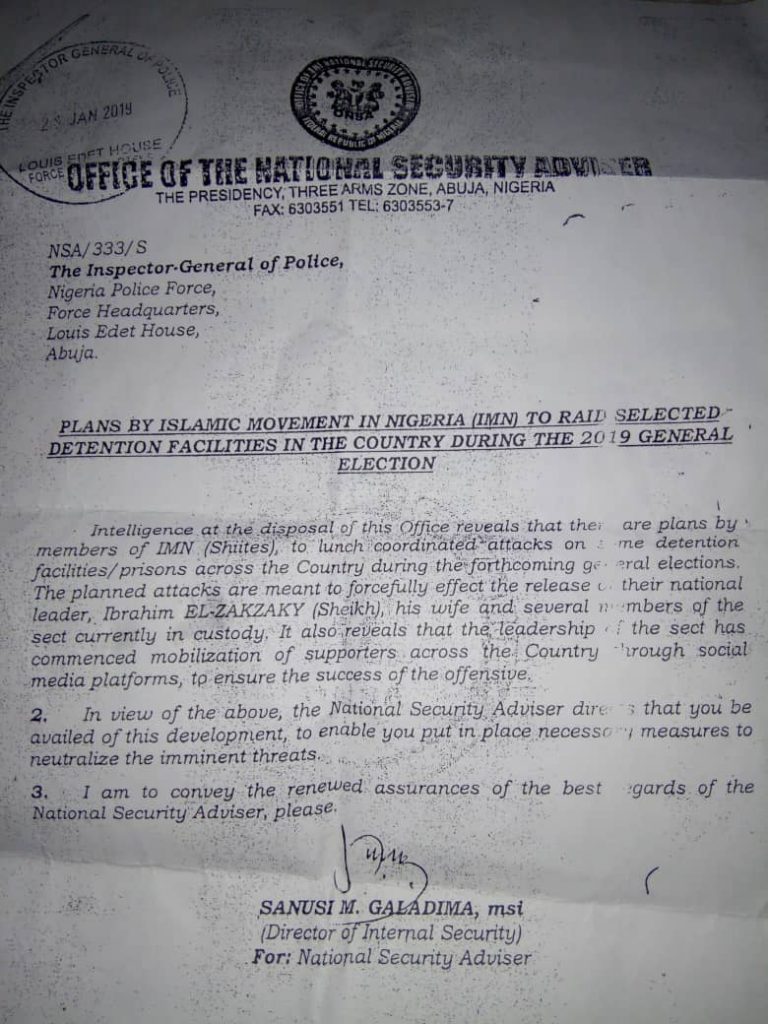 IHRC believes the letter is clear evidence that the government is weaponising the election and planning to use violence to manipulate the democratic process. By seeking to attack and trying to marginalise the Islamic Movement the Nigerian authorities hope to reduce its enormous influence over the voting public. The general election is due to be held on 19 February.
The Islamic Movement has always made clear its opposition to violence and despite being frustrated and often attacked by the authorities has tried to seek justice for its members through peaceful and legal channels.
After holding them without charge since December 2015 Nigerian authorities are now trying the Sheikh Zakzaky and his wife along with two other members of the Islamic Movement on trumped up charges relating to the massacre in the same year by the Nigerian military of over 1000 followers of the Islamic Movement of Nigeria. They are accused of abetting the commission of culpable homicide by blocking roads in the city of Zaria, an act that the authorities allege led to the death of a government soldier. In reality, the charges are designed to deflect government responsibility for a planned and systematic attack by soldiers which is now the subject of a preliminary investigation by the International Criminal Court.
In late 2016 a federal court ruled Sheikh Zakzaky's detention and that of his wife Zeenah unlawful and unconstitutional and ordered the government to release them by January 16, 2017 and pay compensation. That order was never implemented and the charges were brought against the couple in 2018.
For more information or comment please contact the Press Office on (+44) 20 8904 4222 or (+44) 7958522196[ENDS]
——————————————————————————————
IHRC is an NGO in Special Consultative Status with the Economic and Social Council of the United Nations.
Islamic Human Rights Commission
PO Box 598
Wembley
HA9 7XH
United Kingdom
Telephone (+44) 20 8904 4222
Email: info@ihrc.org
Web: www.ihrc.org
Twitter @ihrc