Join the #FlyTheFlag campaign for this year's Al-Quds Day 2021 on Friday 7th May 2021.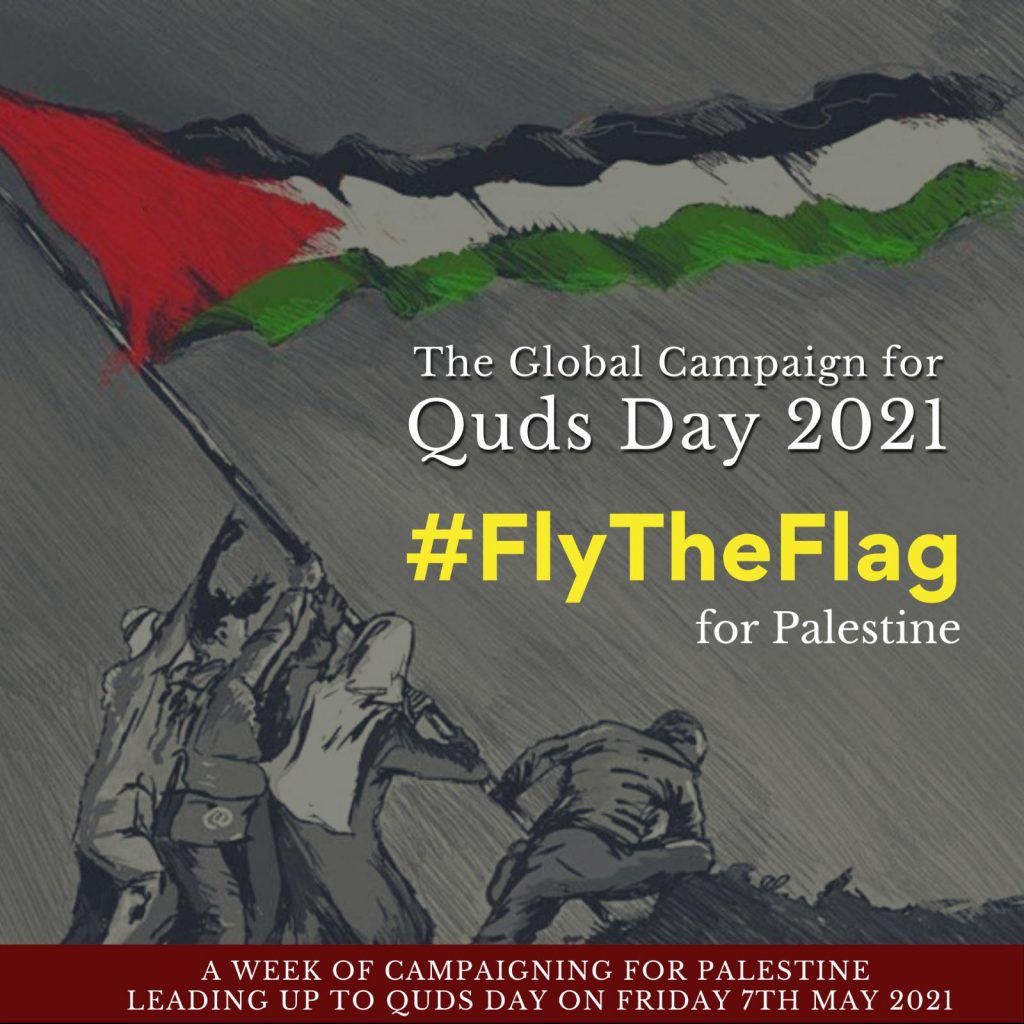 Following on from last year's successful campaign for Quds Day and in spite of the continued challenges, this year's Al-Quds Day will once again be a global #FlyTheFlag campaign where freedom seeking people from around the world raise the flag for Palestine in the last week before Quds Day.
As you know each year millions of people rally on Quds day to voice their support for the Palestinian cause and repeat their call for an end to the Zionist regime's atrocities and occupation of Palestine.
This year we are calling on people to fly the Palestinian flag anywhere and everywhere for the week running up to Quds Day which is on Friday 7th May 2021, and to then post about it with hashtag #FlyTheFlag.
Regardless of the COVID-19 pandemic, this is an opportunity for activists around the world to be intuitive and come up with various activities to mark the occasion in a safe way. We would recommend car rallies, creative arts, social media clips or the usual conventional protests if safe and permitted.
How does the #FlyTheFlag Campaign work?
From Friday 30th April until Quds Day which is on Friday 7th May 2021, we are asking people around the world to fly the Palestinian flag in solidarity with Palestine. You can fly the flag outside your home, work place, car, or wherever you see suitable.
Taking part is very simple:
Take a picture or video of yourself with the Palestine flag.
Share it on your social media with the hashtag #FlyTheFlag.
Tag your friends and family asking them to do the same!
You can buy Palestinian cloth flags and those suitable for the car from the IHRC Bookshop here.
You can download an A4 flag and print it at home by clicking here.
Supporting organisations include:

United Kingdom
Ahlulbayt Islamic Mission
Fajr Youth
Football Against Apartheid
Imamians UK
Initiative for Muslim Community Development
Inminds Human Rights Group
Islamic Centre England
Islamic Human Rights Commission
Neturei Karta
Scottish Palestine Solidarity Campaign
Europe
Bab-ul-Ilm Society (Ireland)
Den Internationale Quds Dag (Denmark)
Fatemiyun (Denmark)
Imam Ali Moske (Denmark)
Movimiento Alternativo por la Justicia los Derechos y la Inclusión (Portugal)
Union of Islamic Students Associations (Europe)
Asia
Al-Quds Committee Mumbai (India)
Qods TV (Turkey)
Imamia Students Association ISO (Pakistan)
Majlis-e-Wihdat Muslimeen MWM (Pakistan)
Tehreek e Bedari Ummat Mustafa (Pakistan)
Islamic Pulse (Iran)
Pure Stream (Iran)
Qom TV (Iran)
Resistance Media (India)
Hidayate Ittehad Organisation (India)
Voice of Palestine (Indonesia)
Africa
Al-Jihaad (South Africa)
Islamic Movement in Nigeria (Nigeria)
Islamic Council of South Africa (South Africa)
Islamic Research Institute (South Africa)
Imam Sadeq Research Institute (South Africa)
Thaqalain Foundation (South Africa)
The Zakzaky Foundation (South Africa)
North America
Al-Quds Committee Detroit (USA)
Canadian Defenders for Human Rights (Canada)
RISE Houston (USA)
South America
Ahlulbayt Islamic Center (Colombia)
Australia
Kia Ora Gaza, Aotearoa (New Zealand)
Palestine Message (New Zealand)