It's an exciting time to want to write a book. Anyone can publish their story or even book-style merchandise for their other projects. The problem is will anyone want to read the unprofessional product you publish? IHRC is hosting a self-publishing workshop to guide would-be authors through the best practices of publishing their own work, making their books optimally enticing to readers.
WHEN: Saturday, 11 August 2018 from 10am to 3pm
WHERE: IHRC Bookshop, 202 Preston Road, Wembley, London HA9 8PA
TICKET PRICE: £25 per person
ONLY 15 SPACES AVAILABLE / Tickets are non-refundable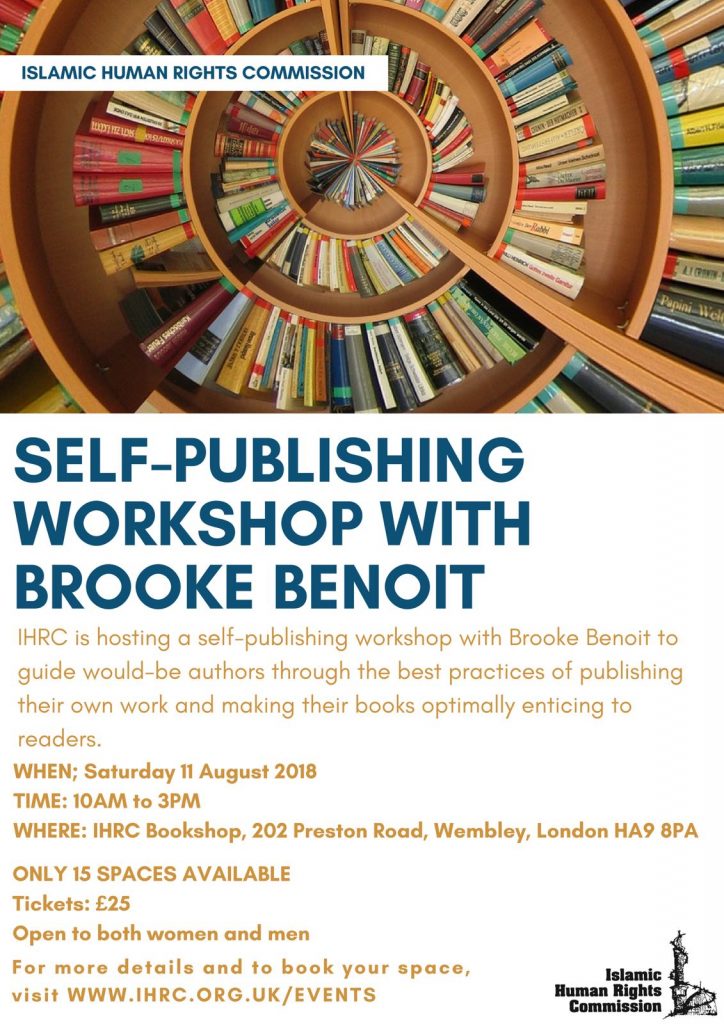 Professional magazine and book editor as well self-published author, Brooke Benoit, will walk writers and other creatives through the steps of converting your work from a manuscript to finished book selling at book retailers. Brooke has been involved in the publication of a variety of book projects, including novels, memoir, planners, self-help journals, cookbooks and anthologies.
This self-publishing workshop will be a thorough primer, covering:
●     Writing – How to act like a professional
●     Editorial Process – Making it painless for all involved
●     Layout and Cover – How to manage the technical details
●     Printing – Where to go, what to expect, how to do it
Writers will leave the workshop knowing exactly what their next step is to be a published author.
About Brooke Benoit:
Brooke studied photography, filmmaking and conceptual art at the San Francisco Art Institute before finishing a degree in English Writing, Rhetoric, Linguistics, and Literacies from the University of Anchorage in Alaska. She is a magazine editor and has published several books: How to Survive Homeschooling, Fitra Journal (four issues) and The Big Reconnecting Selflove Journal. She co-hosts retreats for Muslimahs via The Big Reconnect Sleepover and runs a non-profit education-enriching program near her home in southern Morocco.
This event is open to all writers, women and men. There will be a 40-minute lunch break during the day, and attendees are responsible for arranging their own lunch.
All of Brooke's books will be available to purchase on the day.
Brooke will bring handouts to help you remember everything you will be learning at the workshop, but copious note-taking is encouraged – especially via laptop or tablet