We have a few announcements for you.
Given that the Covid-19 crisis is under control, the Granada Summer School will be returning to in-person instruction. This program includes intensive courses as well as guided tours to the Alhambra, the Cordoba Mosque, and surrounding areas related to Al-Andalus. We will also offer an online instruction option for participants that would like to telecommute. You can click on the application link above to apply to the program and to get the information about the tuition payment. We will have the same dates as announced in this webpage.
The summer school, now in its twelfth year, has established itself as the primary centre in the world for Critical Muslim Studies. The school welcomes participations from Muslim and non-Muslim heritages and associations. The seminar will be held in the Escuela de Estudios Arabes. Previous and affiliated faculty include internationally recognized scholars and intellectuals from a range of disciplines:
Joseph Massad – Ella Shohat – Hatem Bazian – Ramon Grosfoguel –
Houria Bouteldja – Farid Esack – Amina Teslima – Ashraf Kunnummal – Mohamed Mathee – Salman Sayyid – Santiago Slabodsky –
Nelson Maldonado-Torres – Arzu Merali –
Asma Barlas – Nadia Fadil – Jasmin Zine – Iskander Abbasi
The course covers several topics such as Introduction to Critical Muslim Studies, Islamic Theology of Liberation, Islamic Decolonial Pedagogy, Inter-Faith Dialogues, Women and Islam, and Islamic Spirituality. The focus of the course is to inquire into Islam as a postcolonial/decolonial perspective.
Islamophobia Conference 2022
On 9th December-11th December 2022, IHRC hosted the annual Islamophobia Conference. Click below to watch the video.
Part of the Conference: Is the Sun Setting on the Western Empire? Exploring Shifts in Global Power and Islamophobic Thinking Speaker: Ramón Grosfoguel, Chair: Saeed A. Khan
As you might be aware, Ramadan is three months away and is the month that the Holy Qur'an was revealed to the Prophet Muhammad. IHRC Bookshop have many Qur'anic and Islamic literature currently in stock and would like to share them with you. To explore more books, click here.
A new transliteration of the Holy Qur'an by scholar and Imam, Muhammad al-Asi. Author of the remarkable multi-volume Tafsir series 'The Ascendant Qur'an'. This new translation serves as a great companion piece to that work, as well as an informative and lively translation suitable for first time or familiar readers.
Hardcover with beautiful golden foil edged pages.
A Brief History of the Islamic Movement in Nigeria – Zeenah Ibraheem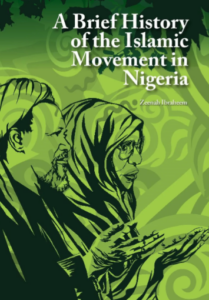 As a leader of the Islamic Movement in Nigeria, Zeenah Ibraheem's history of it is a first-hand account, not just of its ideas, and their fruition, but some of the many turmoil's and persecutions it has faced in the last four decades.
This books covers some of the key incidents in the movement's history, including the Funtua Declaration, as well as the Zaria Massacres of 2014 and 2015.
All profits go to IHRC Trust's Nigeria Fund that assists victims of the violence who need medical assistance, and the families of those killed by the security services.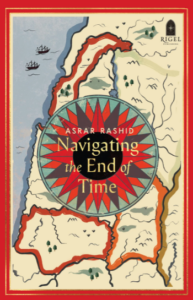 Navigating the End of Time – Asrar Rashid
In his earlier work 'Islam Answers Atheism', Asrar Rashid enters the territories of the New Atheists and those pursuing kufr humanistic sciences—particularly those bent on debunking a Divine Reality. Intent on showing the false trails laid out for the unwary, he aims to rescue those who have been misled by showing the weakness and fallacies in their arguments and that in most cases, behind their disparagement and denigration, the Hand of God is merely replaced by straw-man arguments, emotional content, and fantasy.
'Navigating the End of Time' sets a course for a navigation of the dangerous ways that Armageddon-watchers have invented or twisted prophecies to their own advantage. Rashid draws on examples of how both Muslim and non-Muslim millenarians have cajoled and brainwashed followers, in many cases, to their doom.
The trials and tribulations of our time are indisputable, but Rashid lays bare the fitan which are essentially a result of our own miseducation or dependence on the products of the industrial revolution—the apotheosis of which is the smart phone in our hand—which completes what has been called the mass-formation (or crowd psychosis) of our 'technic society'. These he juxtaposes with the language of the Qurʾān and the key prophecies of the Messenger of Allah (peace be upon him) and what he says about the fitan of the End Times. These eschatological matters were further collected and mapped out by a few Muḥaddithūn and Rashid gently teaches us how to map read; 'Do not travel there until you learn to read the signs properly, and if possible find a very good guide.
A Collection of Imam Abu Hanifah's Hadiths & Fatwas – Imam Omar Subedar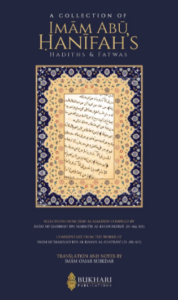 Selections from Jami' Al-Masanid compiled by Imam Muhammad ibn Mahmud Al-Khawarzimi (d. 665 AH). Commentary from the works of Imam Muhammad ibn Al-Shaybani (d. 189 AH). Translation and notes by Imam Omar Subedar.
This book has been prepared to clarify the many misconceptions about Imam Abu Hanifa. It takes the reader on a journey to observe the unfiltered of Abu Hanifah in his fiqh and his true attachment with hadith literature.
This book contains over 500 narrations, which the Imam has reported himself. Many of these narrations have been supplemented with relevant rulings that have been drawn from the books of Muhammad ibn Hasan al-Shaybani such as Asl, Jamir al-Saghir, Kitab al-Athar and Kitab al-Hujjat ala Ahl al-Madinah.
Whether one follows the Hanahfi madhhab, another maddhab or no maddhab at all, this book will provide immense value in understanding classical Islamic law.
The Latest Issue of The Long View – Volume 4 – Issue 4 – October 2022 / Rabi ul-Awwal 1444
This issue has contributions from John Holmwood, Saeed Khan, Zviad Jughashvili and Muhammad Muhammad Nihad PV and highlights the lack of easy answers and made-to-fit solutions for world problems, notably for Muslims in whatever setting.
However this uncertainty, if accepted, need not be one to be (solely) feared. Understanding that we need to work and think hard for ways to create better societies – in whatever context- is the beginning of the process of transformation. We hope you will join or even start the necessary conversations where they are needed.